31 Things You Need to Explain to Out-of-Towners About OC
At some point, you're going to have friends or family come in from other cities to visit, and they're going to ask you to show them around "The OC." First, get them to stop calling it The OC. Second, you're going to need to let them know about these 31 things before you go anywhere.
1. OC is not LA
Nor is it "North San Diego." There's nothing Orange County people hate more than being considered a collective suburb of either larger city. It's bad enough they have to watch Mike Trout play for the Los Angeles Angels of Anaheim.
2. No one says "behind the Orange Curtain" anymore
And no self-respecting native ever refers to it as The OC. If you utter either of these while in the vicinity of a local, drinks are on you.
3. All the TV shows you've seen are bogus
Remember that episode of The Big Bang Theory where Wolowitz's robot fails at throwing out the first pitch at an Angels game? That's the most realistic portrayal of Orange County in television history. The OC wasn't filmed in OC (neither was the Jack Black/Colin Hanks flick Orange County). Laguna Beach was all lies. The Real Housewives are a bizarro atrocity unto themselves. Your perception is skewed.
4. Everyone doesn't live at the beach
Some 33 enclaves plus Stanton, with mayors all their own, comprise OC (if you drive five miles in any direction you'll have crossed another city line). The majority of people, it turns out, live in hamlets that aren't filled with wannabe models, faux-sailors, and d-bag bros. (Though, lets be honest -- some people do, indeed, live in those hamlets. Sorry, people.)
5. North County people are not the same as South County people
NC types do backyard BBQs, loiter around the Brea Mall, think driving 45 minutes to Dana Point is a ludicrous idea, and make regular trips to Havasu with their outdoor toys. SC types surf a lot, say "dude" too much, wear khakis with flip-flops and Tommy Bahama floral prints, and get overcharged at South Coast Plaza.
6. No one really knows Gwen Stefani personally
If your friends say they do, they're probably lying. Yes, Mrs. Rossdale and the rest of No Doubt grew up and got famous not far from their beloved "Tragic Kingdom." Then most of them left for LA. If you want to sound like you know something about the area, ask your OC pals whether they've ever hung out with Mike Ness or M. Shadows, or maybe had drinks with the guys from Lit at the Slidebar Rock-N-Roll Kitchen.
7. That giant glowing hermit crab off the 57 is not a nightclub
It's a train station. And unless you're taking Metrolink in for an Angels or Ducks game, you have no reason to be there.
8. Anaheim has more to offer than a theme park, a hockey arena, and a baseball stadium
There are also strip clubs! And motels! And apartments! Lots of apartments! Many of which are right next door to strip clubs and motels!
9. You're a fool not to buy a Disneyland pass
You're wasting opportunities by buying a single-day park-hopper. You'll never do everything on your Disney bucket list, especially during the busy season, which lasts... uh, all the way from January to December. Splurge to become a "passhole" and make D-land your personal playground.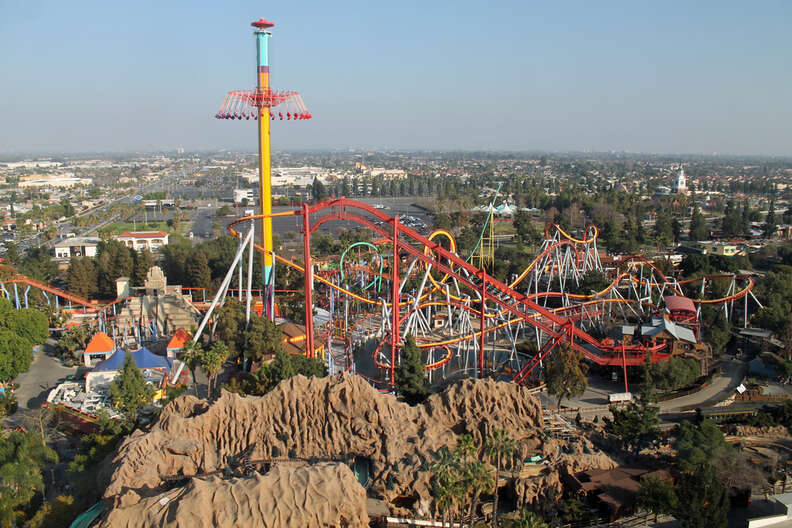 10. But you do not need a Knott's Berry Farm pass
A long afternoon in February ought to do it. You'll probably get on every roller coaster twice.
11. Our Grove is different than LA's Grove
When OC people say they're going to the Grove, they mean they're going to a venue nestled next to the Big A to see Styx -- not going to Splendid and Sprinkles for tees and cupcakes.
12. Irvine Lake is not in Irvine
It's technically nestled into Santiago Canyon. Also: Irvine Park is actually in Orange, Anaheim Hills is nowhere near the heart of Anaheim, Irvine Meadows is a hillside slope, and Fashion Island is just an inlet. Got it?
Now keep driving past it before you burst into flames. Also not to be looked at directly, for fear of retina scarring: Trinity Broadcasting Network's headquarters, viewable from outer space and glaring like the Griswolds' house in Christmas Vacation, just off the 405 in Costa Mesa.
14. The swallows annually return to San Juan Capistrano, not Mission Viejo
You, however, needn't go to either location unless a family obligation demands it, or if it's the only place still showing the new Tarantino movie.
It's an impressive sprawl situated in an industrial compound where the 91 meets the 57, with an excellent facility tour, a simple-but-chill tasting room, and a regularly rotating round-up of some of the best brews in SoCal.

16. GPS is required when traveling through Irvine
In addition to being mildly fascistic about remaining Stepford beige, the layout of this occasional Safest City in America was stolen from Bowie's hidden lair in Labyrinth. Culver, Jeffrey, University -- pick a major thoroughfare and it will eventually coil back in on itself. Suddenly that right turn you thought you were taking toward Newport somehow spilled you right back in front of UCI.

17. The Observatory has nothing to do with astronomy
Seeing stars is what the golden dome at Griffith Park is for. Our Observatory is actually the best small venue south of the Sunset Strip with a packed calendar of indie rock, hip-hop (lots of full-album performances), and classic punk and metal that measure up to any LA club's lineup. Bonus: the even more intimate Constellation Room makes it a two-for-one hotspot -- an Echo/Echoplex for OC.
18. Downtown is always where you want to be
Any Downtown: Fullerton, Santa Ana, Brea, Orange, Laguna Beach, Huntington Beach. If a city doesn't have a downtown, it's probably not worth bothering with. HB is a world unto itself, Santa Ana is funkier, Orange (by the Circle) is quainter, Brea is posher (and smaller), Laguna is artier (especially during Pageant of the Masters), and Fullerton is crawling with college students even when Cal State isn't in session. Take your pick. All of them have more to offer than Olive Garden and a coterie of drive-thrus.
19. Garden Grove is home to one of the largest Vietnamese populations in the US
If we're going to be eating our way through one neighborhood, it's Little Saigon. Then once we're done, we shift our attention to Anaheim's Little Arabia. Then scout out all the Korean eateries along Harbor Blvd, before eventually winding up at Rosine's in Anaheim Hills for the best Mediterranean meal between the 213 and 909.
20. The "Y" and the Orange Crush will destroy your soul
The first of these traffic nightmares occurs where the 5 meets the 405 near the Irvine Spectrum. The second is where the 57, 22, and 5 all merge, near Angel Stadium. During rush hour -- let's say 2pm until 7pm -- both get more bloated than Val Kilmer's whale belly. Avoid them, although side-street capillaries can get just as crowded.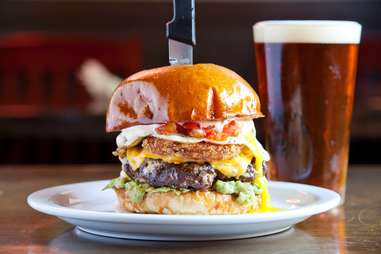 21. The best build-your-own burger joint in America is located in OC
And that joint is Slater's 50/50, which has three locations in OC -- Anaheim Hills, Lake Forest, and Huntington Beach -- more than any other region south of Santa Barbara. It consistently tops local polls for a reason: where else can you get a thick 'n' spicy patty smothered in 'shrooms, Gouda, Fritos, arugula, PB&J, grilled onions, Sriracha mayo, and a sunny-side-up egg, if you so choose? Advice: put bacon ketchup on everything and order at least three pints from the ever-changing array of quality beers on tap.
22. Stay off the 55 freeway while the sun is out
Here's something no longtime OC dweller has ever said: "Hmmm, it's only 3:30 here in Newport Beach... I'll be home in Yorba Linda by 4!" No, no you won't. Try 6. Maybe. You could probably get to DTLA faster -- if there wasn't all that construction on the 5 north.
23. Expect to pay for toll roads
If you really want to head to deep South OC, or cut out a half-hour of drive time en route to Rancho Santa Margarita, or honestly just pick up speed through the heading-outta-town crunch that regularly clogs the 91 east, then you'll need a paid-up FasTrak transponder to travel through less-trampled terrain.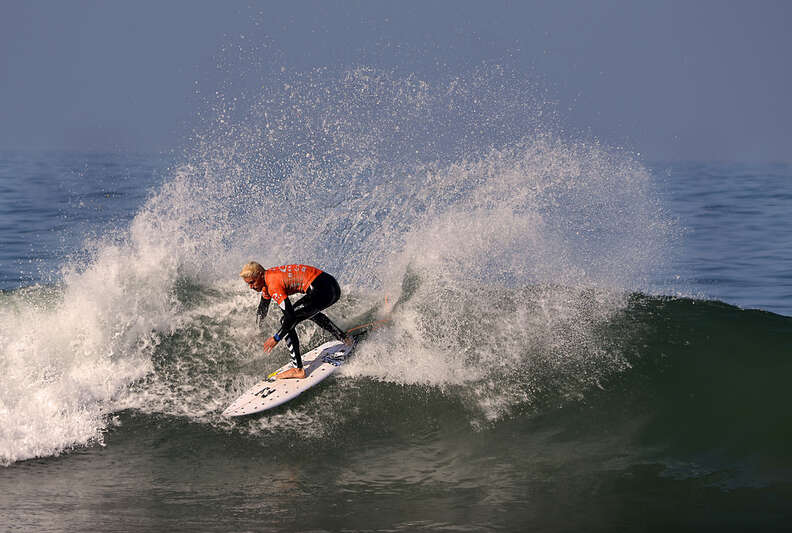 24. OC natives know to avoid beaches during holidays, surf competitions, weekends...
Basically any time that isn't Wednesday.
25. You will rarely have reason to go to House of Blues Anaheim
A decade ago "the Mouse House" was still mighty. Now it's a wasted dead zone of has-beens, third-rate DJs, company parties, and tribute bands. If you're killing time at Downtown Disney, get a bite at either the Earl of Sandwich or the Jazz Kitchen's popcorn shrimp shop, then watch a game outside ESPN Zone instead.
It's just an abandoned Marine Corps air station that remains woefully underdeveloped. Chief selling point: you can sometimes see all of Irvine while standing in a big metal bucket suspended from a giant orange helium ball. Don't waste your time. Go to one of myriad of other parks: Craig, Hart, Mason, Yorba Regional, Crescent Bay, the Commons, Heritage Hill... it's a long list. All of them have more to offer, including better playground areas, peaceful lakes, and bike and walking paths.
27. The monkeys are that great
San Diego has the best zoo in Southern California, and LA's is nothing to scratch your baboon ass at. But the one tucked away in Santa Ana is monkey heaven thanks to a longstanding stipulation: Joseph Prentice, who donated the land for it, wrote into his agreement that the zoo must house at least 50 monkeys at all times. (They've scrambled for fill-ins once or twice when one died and left the count short.) It currently contains more than a dozen species from around the world.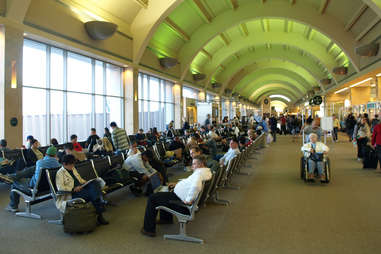 28. Be prepared for John Wayne Airport
Not that it requires adroit navigational skills. It's a breeze compared to LAX and rarely gets traffic-jammed. But don't expect to take any red-eye flights out of there (a sound curfew shuts it down around 10pm) and brace yourself for super-steep takeoffs that are almost as invigorating as spins on Space Mountain.
29. Javier's is not the best for Mexican food
Contrary to what those Real Housewives have led Midwesterners to believe, that place does its dishes so needlessly fancy that it hardly looks or tastes like Mexican food anymore. Pick just about any dive in downtown Santa Ana, or make a trek to Pedro's in San Clemente, and you'll feast on far better tacos.
30. Not everyone is a homophobic, megachurch-supporting, Mexican-hating son of Nixon
There are still quite a few of 'em, so approach with caution, especially when encountering a morass of gray hair. But the under-40 tide has long since turned -- young people in OC actually voted more predominantly for Obama than his competition in the past two elections.
31. That little town between Fullerton and Yorba Linda is pronounced Plah-CENT-cha
Do not say Play-cent-EEah. Nor is it Placenta. Also: Westminster, not WestMINISTER.
Sign up here for our daily LA email and be the first to get all the food/drink/fun Los Angeles has to offer.
Ben Wener is an OC native and a lifelong Angels fan who pays attention to the Ducks only when they make the playoffs. For the better part of the past two decades he served as music critic and editor for the
Orange County Register
and has since written for the
Hollywood Reporter
,
Consequence of Sound
, and others. Hit him up on Twitter, which he hasn't updated in two years, and Instagram, where you will find exactly zero photos.