11 secrets of Disney California Adventure
Disneyland? Awesome. SECRET Disneyland? Even awesomer. SECRET Disney California Adventure, though? Try: awesomest. From a secret, members-only lounge with a martini cart to A SECRET, MEMBERS-ONLY LOUNGE WITH A MARTINI CART, here are 11 California Adventure secrets that will blow your Mickey ears off.
There's a members-only lounge next door to the Carthay Circle Restaurant
If you're a member of Disneyland's secret Club 33, you can also escape from the common folk at California Adventure in the secluded and spacious, members-only 1901 Lounge (named for Walt's birth year), where you can order cocktails from the vintage-styled bar or a portable martini cart (yup, that), and chow on the likes of duck confit sliders and lobster pad Thai rolls (both of which are also available to more common-folks at the not-secret-at-all restaurant).

The park reportedly replaced the original plan for a West Coast version of Epcot
According to, like, a ton of reports, the idea for California Adventure arose when plans for WestCOT -- a science-centric, futuristic Utopia styled after Epcot -- were scrapped in 1995 due to its estimated $3 billion cost and other, um, challenges, like the "Three Great Religions of the World" show. Original plans included an epically rad, 300ft, gold version of the 180ft Spaceship Earth geodesic dome in Disney World, and the first attempt at a hotel within a Disney park. Other awesomeness would have included a Bond-style chase though Europe, a Chinese lion-dragon roller coaster, and whitewater rafting in the Africa pavilion.
The bridge at Pacific Wharf shakes to simulate, yep, California's earthquakes
It's a subtle tremor -- the type of quake that most Californians sleep through -- but according to intense park die-hards, the wooden bridge connecting the pier to the wharf area intentionally vibrates.

Did I just hear Barney Stinson on California Screamin'? Yes. Yes, you did.
Neil Patrick Harris lent his voice to the countdown just before the start of this roller coaster, the fastest ride in the park at 55mph. Thank you, Dr. Howser.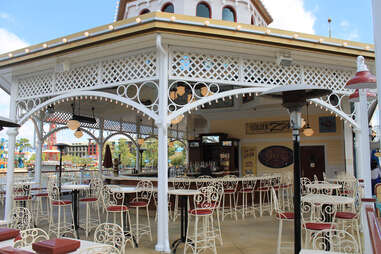 There are super-boozy, off-menu drinks at the Cove Bar
Head upstairs from Ariel's Grotto (not something you do everyday) to order up any of three off-menu drinks (subject to availability): a classic Zombie (multiple rums, liquors, fruit juices), the Black Pearl (essentially a Long Island Iced Tea), and Mickey's Fun Wheel, which is sort of like a cross between an AMF and a tequila sunrise, with the added aesthetic bonus of lemon slice garnishes that look like Mickey ears.

​Ariel's sisters are hidden above the Little Mermaid ride
Yep, all six of them are carved into the facade: there's Aquata, Andrina, Arista, Attina, Adella, and Alana. And if you can tell who's who, you need to get out of your house WAY more often.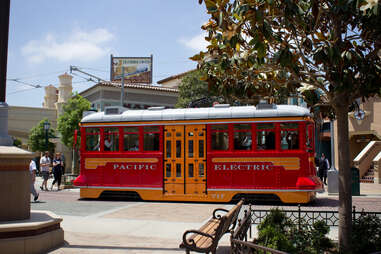 The Red Car Trolleys are battery powered; the overhead wires are an illusion
Not that you should be too surprised by a bit of sleight of hand from Disney, but those overhead wires are all for show. Also, the "23" in the 623 on one trolley refers to the year Walt arrived in LA with no job and $40 (like most of Silverlake's current residents), and the 717 on the other car reflects July 17, the day Disneyland opened its gates in 1955.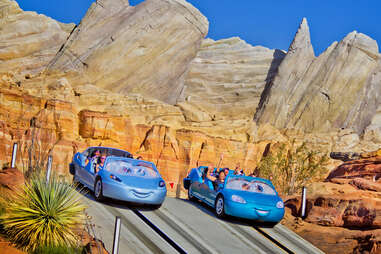 Cadillac Range in Cars Land was inspired by the half-buried Cadillacs in Amarillo, Texas
If you recognized the six mountain peaks of Cadillac Range as the tail fins of Cadillac models from 1957, 1958, 1960, 1961, and 1962, then you are a true American hero. And, if you're as art-nerdy as you are car-nerdy, you may have realized that the landscape was inspired by Cadillac Ranch, the colorful caddies installed in the ground by artsy hippies along Route 66. The rock formation is also the largest in any theme park at 300,000sqft with a max height of 125ft.

You can spot a Hidden Mickey while flying over Palm Springs (and in a million other places)
Keep your eyes out for a Hidden Mickey in your drink while hang gliding over the Palm Springs golf course on Soarin' Over California. A Hidden Mickey can also be found, uh, let's see, all over the place. Good luck spotting them all.
The clock/calendar in the Fly 'n' Buy gift shop commemorates the time/date when the sound barrier was broken
The next time you're blowing your cash in Condor Flats on mystery pin pouches for trading, check out Disney's nod to retired Brigadier General Chuck Yeager, the first pilot to travel faster than sound on October 14th, 1947 at 10:27am.
​The Twilight Zone Tower of Terror is one of the tallest buildings in Anaheim
At a soaring 183ft, it dwarfs most of the city in both height and pants-peeing potential (really though, that second drop will get you pretty bad).
Sign up here for our daily LA email and be the first to get all the food/drink/fun Los Angeles has to offer.
Danny Jensen is a regular Thrillist contributor who is probably looking for Hidden Mickeys right at this moment. Help him out on Twitter @dannyseamus.