19 things you don't understand about Pasadena (unless you're from here)
If you're not from here, Pasadena is kind of a mystery: it's not a suburb -- it's as packed with businesses and things to do as any major part of the city -- but it's not a major city center either, because, uh, it's kind of EXTREMELY inconvenient to get to.
But if you ARE from here (or have, at the very least, spent a ton of time here)? Not only is it not a mystery, but you know allllll about these 19 things:
You may think it's in the Valley, but it's... not
Pasadena IS in the San Gabriel Valley, which 1) is different, and 2) means we're closer to dim sum. Suckers.

We always fly Burbank
Yeah, actual-Valley people will tell you that too. We're just reiterating.
People here are legitimately smarter than you are
We see your state school, and raise you "Einstein once taught at the California Institute of Technology in Pasadena, and NASA's Jet Propulsion Lab is here, too".

You never take Colorado Blvd anywhere. Ever.
It might be the main drag, but it's a pain with all of the traffic lights. Use Green or Union St -- both of which are one way and parallel Colorado -- for smoother sailing.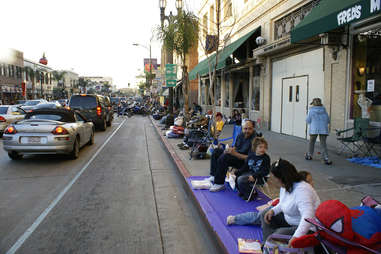 No one from Pasadena camps out for the Rose Parade
Would you like your neighborhood overrun with people sleeping on the street and turning the whole thing into a post-apocalyptic nightmare? You wouldn't? Neither would we. Which is why we leave town.
We actually still read books here
Vroman's, the longest-running independent bookstore in SoCal, has been open for 120 years. And we're gonna keep it open for another 120 because, again, we still read books here.

​It's not ACTUALLY that far
You can be in Downtown in 15 minutes, Silverlake in 20, and Santa Monica in 30 if you drive really, really fast. And there's no traffic.
That flea market you already know about? There's also a secret one.
The monthly Rose Bowl flea market may be full of the MOST stalls, but the best gets are at the OTHER flea market -- at Pasadena City College, the first Sunday of every month.

Never park on the street in Old Town
The meters are coin-operated and the meter maids (and dudes! meter dudes! not sexist!) will hit you with a ticket literally two seconds after the meter runs out. There're plenty of free 90min parking lots, and if you're fancy you can valet, which costs all of... $2.50. Seriously, just valet.
Our hiking > your hiking
The San Gabriel Mountains are our backyard, which means hiking to waterfalls (Eaton Canyon or Sturtevant Falls) and ruins (Echo Mountain) is how we exercise. And, on most days, it's nowhere near as packed as the most popular hikes in LA, even when it's a stifling 95 degrees. And those blinking lights atop Mount Wilson you see from everywhere? We can drive there in 30 minutes -- and then hike along the top of those hills, with astonishing views throughout.
Our parental visits > your parental visits
You know when your Mom comes to LA and all you'd like to do is drop her at a schmancy garden for the day to get rid of her? We can actually do that: the Huntington is in nearby San Marino (free days on Thursdays). The Los Angeles County Arboretum is in nearby Arcadia (free every third Tuesday of the month) AND has peacocks. Descanso Gardens is in nearby La Cañada Flintridge (no free days, but there is a mini train!). And the hidden Arlington Gardens, which some locals only discover after 13 years of living here (ahem), is free every day.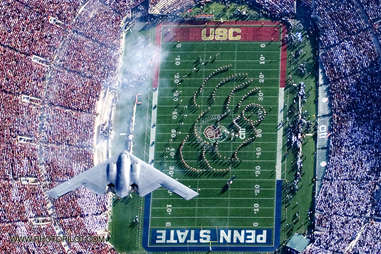 Only suckers park at the Rose Bowl when there's a game
The best way to get to the Rose Bowl is by shuttle, and they run for free from Old Town, every game.

That whole thing about getting free Rose Bowl tickets? Not true.
However, there is a lottery held each year for residents to get first dibs at the annual game. And since we probably don't really care what teams are playing, there's a chance we -- err... our neighbors (yeah, our neighbors) sold them to some Nebraskan for three times face value.
You can skip the parade... and still see the floats
Check out the viewing area at the end of the route -- the floats dock post-parade for three days (Jan 1-3) along Sierra Madre and Washington Blvd, and you can swing by for just a short look. Also: they're always looking for volunteers to decorate them in December, which you can sign up for right here.
We actually have the best burger... and sushi... in LA
Don't believe it? Then you haven't had the burger at Pie 'n Burger, or the omakase at Sushi Kimagure Ike.

We also have the best summer music festival in LA
Seriously, Make Music Pasadena is totally free and books totally great bands -- this year's fest had super buzzy acts like Surfer Blood and Saint Motel -- and basically turns the whole town into mini SXSW for the weekend.
We can actually do bar crawls
LA proper's not known for being specifically proud of its booze, but Pasadena? We're where the first LA-area microbrewery, Craftsman, started, and Old Town is a dream for bar crawlers: you can hit some of LA's best whiskey bars (Blind Donkey), cocktail bars (1886), and beer bars (Stone! Congregation!) in the same night... oh, and Punch, LA's only, uh, punch bar, too.

People actually can -- and do -- use public transit
The Gold Line comes in handy. Hop on the Metro and land in Old Town via two stops, Memorial Park or the Del Mar station. BTW, that last one drops you off at the Stone Brewing door, soooo maybe just use that one?
Yup, those birds you hear in the trees are wild parrots
They were rumored to have been released in the 1950s from a bird farm, and less-rumored to sometimes repeat what you're saying. Sometimes repeat what you're saying.
Sign up here for our daily LA email and be the first to get all the food/drink/fun Los Angeles has to offer.
Lesley Balla has lived in Pasadena for almost 14 years and writes for Zagat.com and Angeleno magazine, among others. You can find her on Twitter and Instagram at @LesleyLA.