Pictures of People Taking Selfies at Coachella
Chris Tuite/Thrillist
Chris Tuite/Thrillist
This year, Coachella -- the massive music-and-art-and-let's-be-honest-fashion festival in the desert outside of Palm Springs -- banned selfie sticks. What they clearly didn't ban, however, were selfie ARMS, which there were a fugload of during Weekend 1.
This guy's taking a selfie... or a picture of the girl behind him. Or both. Either way, GET DOWN WE CAN'T SEE THE STAGE DUDE!
"Can we fit more fingers in the frame? Let's try."
Everyone together: "Awwwwwww!"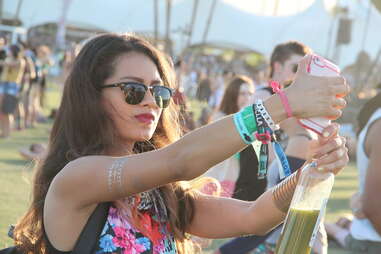 She's done this before. Many times.
The walk-and-selfie is a rare bird. It was amazing to capture in its natural habitat...
Big, big, big, big, big smile. Big smile.
Either a very seriously-taken selfie, or a very seriously-taken photo of... whatever that tent in front of him is.
Disposable camera selfie = most amazing thing we saw at Coachella.
Marina and the Diamonds' singer Marina Daiamandis took a selfie on stage. Of course.
That girl with the hat is NOT in the final picture. Promise.
Guys, there's an amazing art piece for the background if you shuffle your feet literally 5 inches around. Just saying.
Selfie, or blocking the sun? Or both?
A caterpillar art piece became a butterfly art piece... and everyone wanted a photo with it.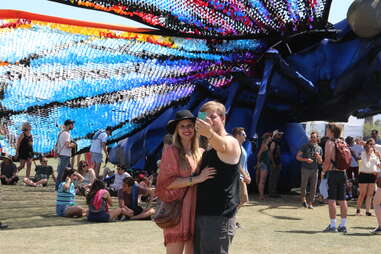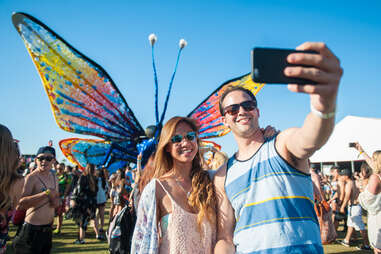 See? (You'll have to trust us with this one... the butterfly is right behind her.)
Of course, there was also duckface...
... and (ugh) selfie sticks. Couldn't you have snuck something more fun in?
And... this guy got a selfie during Bad Religion's mosh pit. Nice work, dude.
Sign up here for our daily LA email and be the first to get all the food/drink/fun Los Angeles has to offer.
Jeff Miller is the Editor of Thrillist LA and he's planning on taking lots of selfies next weekend at Coachella, too. See 'em on Instagram at @jeffmillerla or Twitter at @ThrillistLA.