From boozy island beaches to exclusive pools, these are the 5 best places to swim in and around LA
Because your college buddy with a pool will eventually catch on when you keep claiming to "be in the neighborhood" while drenched in tanning oil and wearing your swimsuit, we picked the five best swimming holes in and around LA not at your buddy Todd's apartment complex.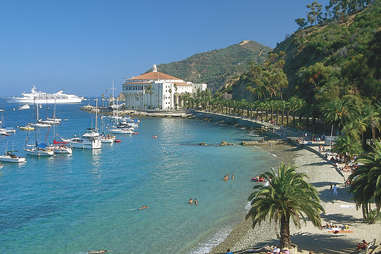 5. Descanso Beach
Avalon, CA
If this boozy, party-hardy beach was in LA proper, it'd be #1 with a bullet. Instead, it's a hidden treasure at #5, 'cause you've got to take a boat to get to it. But once you're there (after an hour or so of pre-party on the Catalina Express on the way over), you've got everything from volleyball courts to private cabanas, plus a 360-degree bar and grills set up for nighttime do-it-yourself steak-offs.
4. Annenberg Beach House
415 Pacific Coast Highway, Santa Monica, CA; 310.458.4904
This multi-purpose former mansion is right on the beach, right by the pier, in Santa Monica; it's got classes like Taekwondo, a full pool, and crazy beach access; and it's always inexpensive and open to the public. So why isn't it further up the list? There are always... kids.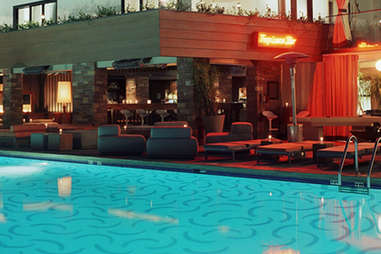 3. Tropicana Bar & Pool at The Roosevelt Hotel
7000 Hollywood Blvd, Los Angeles, CA; 323.466.7000
The pool at the Roosevelt is a notorious party spot: it's often closed for private events, which's why it's not at the top of the list. But when it's not (or when you can get on the list, which is often as easy as figuring out what's going on via Facebook), grab a beer at the bar and actually bring your suit -- the pool's always warm, and there's always at least one lonely bikini-suited girl waiting for an excuse to show you her sick pencil dive.
2. Hansen Dam Aquatic Center
11798 Foothill Blvd, Lake View Terrace, CA; 818.899.3779
This deep-Valley swim spot's got it all: a lake to fish and swim and boat in, a pool with two massive water slides, kayaking, and BBQing. What it doesn't have is permission to booze it up -- alcohol's strictly prohibited, so hit it during the day and earn that nighttime booze.
1. Paradise Cove
28128 Pacific Coast Highway, Malibu, CA; 310.457.2503
It's $25 to park at this private beach, but it's worth it: it's one of the only spots in the city where you can sit on the sand with your own booze. Bonus: rentable bed cabanas!