The foolproof LA guide to entertaining difficult visitors
Out-of-town friends and relatives coming in to visit is perhaps the second most terrifying thing you have to worry about, after sharknados (seriously, be prepared). But luckily, Thrillist has you covered with a bevy of sweet spots to take all those people who don't totally fit in your normal social hangin' wheelhouse
THE GUEST: YOUR SISTER AND HER THREE-YEAR-OLD KID Yeah, of course you love your niece/nephew, but the last time you hung out somewhere that allowed children in was... er... the last time you visited your sister's house in Pennsylvania, probably. Here's where you can take 'em in town that won't bore you to tears, too
El Capitan Theatre, 6838 Hollywood Blvd; Hollywood; 323.467.7674 This Disney-owned theater is a glitzy reproduction of an old-school movie house, with a super-state-of-the-art sound system and screen and a pre-show that includes an organist playing classic tunes from animated films -- plus often-included-with-your-ticket bonuses, like Pixar-themed carnival games and 4D shows.
Santa Monica Ferris Wheel, 200 Santa Monica Pier; Santa Monica; 310.458.8901
They can hit the iconic ferris wheel. You can ride the rollercoaster and eat funnel cake. Everyone wins.

Travel Town, 5200 Zoo Dr; 323.662.5874
Admit it: you still like trains. So does this child-thing your sister has running around. Climb on old trains with him. Bond.
Descanso Gardens, 1418 Descanso Dr; La Cañada Flintridge; 818.949.4200
This 150-acre park/botanical garden's got kid-friendly running areas, plus the "enchanted railroad": a diesel-powered train one-eighth the size of a legit Amtrak.
Mother's Beach, 4101 Admirality Way; Marina Del Rey
The water at this sand-spot's super calm, so it's a great way to hit the shore -- which your sister will clearly want to do -- without her worrying about her kid being swept away into the sea, as that tends to ruin trips.

THE GUEST: YOUR GRANDPARENTS
Just 'cause they're, like, old, doesn't mean they're, like, boring: hit 'em with some classic LA stops, and you'll jog their memories of Clark Gable/ Greta Garbo/ actually being able to drive at night.
Dan Tana's, 9071 Santa Monica Blvd; West Hollywood; 310.275.9444
An institution since the mid-'60s, this cozy, classic eatery may say "Italian Cuisine" over the door, but you're not here for the pasta. Let's be Frank: the pro tip is still to order the Steak Sinatra.
Hollywood Bowl, 2301 N Highland; Hollywood; 323.850.2000
Sure, this one's a bit of a no-brainer, but 'cmon: few places scream "LA" like the Bowl, and even if you end up there for some sort of classical music bore-fest, their young conductor Gustavo Dudamel's a riot to watch on stage.

Petersen Automotive Museum, 6060 Wilshire Blvd; Mid-Wilshire; 323.930.2277
You may know it best as "that place that Biggie got shot outside of" (RIP), but the Petersen's got an ill collection of classic cars, as well as rotating exhibits focusing on everything from souped-up motorcycles to film props like the Batmobile.
The Getty Museum, 1200 Getty Center Dr; West LA; 310.440.7300
Not only does this easy-to-navigate, wheelchair-friendly art-a-palooza have an underrated collection of paintings/ sculptures/ etc., it's also got beautiful gardens and one of the best views of the city.

Musso & Frank Grill, 6667 Hollywood Blvd; Hollywood; 323.467.5123
You'll get a perfect martini. Your grandparents will get to see the Walk of Fame and take a photo in booths where Marilyn Monroe and Joe DiMaggio once sat. You'll get another perfect martini. You will all win.


THE GUEST: YOUR FRAT BUDDY WHO CAN'T DRINK ANYMORE FOR VARIOUS REASONS
For the friend who is taking a time-out from the sauce, here're five places where drinking is secondary (or doesn't even exist), but you can have fun anyways (seriously!).

The Echo/Echoplex, 1822 W Sunset; Echo Park; 213.413.8200
This duo of clubs is booked by Spaceland Productions, by far the most consistent live-music promoters in town, which means that you're guaranteed quality indie-rock or dance parties with out-there soul and mash-ups, often with no cover at all. And, since they're 18-plus, the impetus is on the party, not the booze.
iFly Hollywood, 1000 Universal City Plaza; Universal City; 818.985.4359
Citywalk's a tourist mecca for a few reasons: proximity to Universal Studios; an IMAX theater; Buca di Beppo. But you'll go for this skydiving simulator, an actual rush in the middle of a bunch of people just, uh, rushing.

Los Feliz 3-Par, 3207 Los Feliz Blvd; Los Feliz; 323.663.7758
LA's got a slew of affordable, friendly, generally-not-too-crowded public golf courses, but this one's actually playable even if you don't know the difference between a putt and a slice. (Those are both swing types, right?) Added bonus: nine holes doesn't eat up your entire day.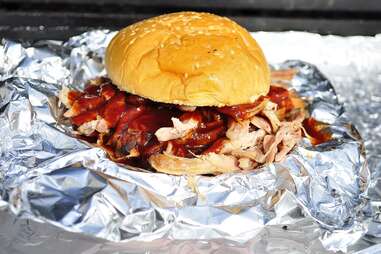 Bludso's, 811 S Long Beach Blvd; Compton; 310.637.1342
Yep, we're sending you to Compton: bragging rights will be his after you both eat the perfect ribs/ brisket/ pulled pork at this BBQ staple, whose newer location on La Brea's a bit more boozy, a bit more expensive, and a lot less gangsta.

Museum of Jurassic Technology, 9341 Venice Blvd; Culver City; 310.836.6131
Perhaps the oddest place in all of LA is this is-this-a-joke-or-not "museum", which has "exhibits" like a diorama-laden history of trailer parks and a display of magician/provocateur Ricky Jay's playing cards. Added bonus: a tea room upstairs. Which has live violin players. And looks like it's set in Russia, from a James Bond movie.