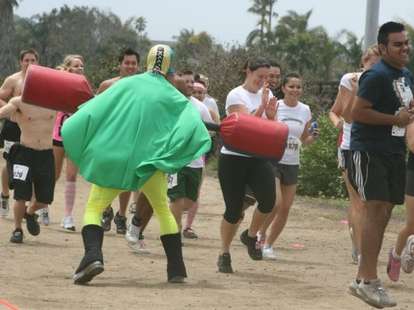 Just now coming to LA after finding success in the whale's private area, Roc Race's a costumed "Ridiculous Obstacle Challenge" that, according to the organizers, is kind of like Wipeout meets American Gladiators -- so expect it to be less focused on endurance/ athleticism and more focused on gliding down a zipline and kicking Nitro in the chest.
Among the 18 levels of nutsiness:
A giant structure of beams set up like a lighting rig with dangling, moving balls you need to dodge, and no, that's not the joke.
A pitfall-style moat-and-swing, filled with water, though the promoters promise no mud, but really if you'd like to wear a flare-legged woman's jean marketed to teenagers, they probably won't stop you.
Two ginormous inflatable slides!
A run through a gauntlet of dudes holding foam-padded, double-sided attack poles, who were surprisingly much more into it than the attack Latvians.
Once you're through embarrassing yourself, there's a massive after-party that R. Kelly unsuccessfully petitioned be moved to the hotel lobby, featuring music, and booze (your first beer is already included), and food trucks, which'll hopefully be as much of a most excellent hit as the one Malibu took in the chest.