Are SoCal Ska Legends Reel Big Fish and Save Ferris Opening the Door for a Ska Revival?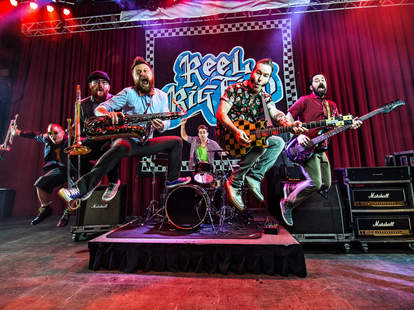 Remember when ska reigned over rock stations in the '90s? It was an era when it was the norm for 12-person bands to be packed on stage like sardines and when the BASEketball movie was a thing. If you saved your two-tone Creepers and pork-pie hats, you're in luck. Ska, which never really died and just went underground, might be getting another chance in the mainstream.
In a thirsty quest for '90s nostalgia, we've delved deep into how third-wave ska bands of yore like Reel Big Fish and Save Ferris are leading the charge for a potential resurgence of the SoCal ska scene, and how a new generation of SoCal ska outfits may be the sound of the fourth wave.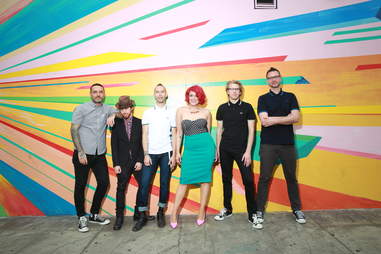 Save Ferris

| Piper Ferguson
The kind of, sort of comeback of ska royalty
First off, we have to give credit where credit is due: In the '90s, Orange County was a breeding ground for some of the most influential third-wave ska bands, from No Doubt to Reel Big Fish and Save Ferris. These guys (and more: shouts to Buck-O-Nine, Goldfinger, The Skeletones, and many more) helped shaped the SoCal ska sound, and propelled the genre into popularity, getting tracks on the radio and air time on MTV.
It's been 20 years since Reel Big Fish's hit album Turn the Radio Off (TTRO) was released. And in celebration of its anniversary, the band (whose only remaining original member is Hawaiian-shirt-wearing and sideburns-sporting frontman Aaron Barrett) is about to embark on the second leg of their celebratory cross-country tour with Anti-Flag in early 2017.
It's unfair to call this tour a comeback, though. Reel Big Fish never stopped touring and has even released 10 albums since TTRO. Earlier this year the group went on another multi-city tour celebrating the 25th anniversary of the band's existence.
"I think I'm finally able to admit that maybe people really do like my band!" Barrett says, reflecting on that 25-anniversary tour. "It was pretty amazing to see all the fans come out to celebrate the band being around for so long and show us so much love. They are the one and only reason this band has lasted so long."
Being in a ska band for decades hasn't always been easy. Barrett says one of the biggest challenges is dealing with so many different personalities (obviously, because there are usually a gazillion members in a ska band), especially on long and exhausting tours. Fortunately, the current Reel Big Fish bandmates have been getting along pretty well, Barrett says.
Singer-songwriter Monique Powell is also the only remaining old-school member of ska band Save Ferris, who broke through in the '90s with their high-energy cover of "Come On Eileen" and the original "The World Is New." That energy hasn't waned: At a recent practice in LA, Powell and her new seven-piece band were catching up like old friends, laughing and joking with each other while getting ready for their upcoming show in Indonesia. Powell's signature fiery red hair has been replaced with a white, cropped short hairdo; she dons a scarlet wig when she performs live.
It's a comeback for the band that's been three years in the making. Like Reel Big Fish, Save Ferris is also about to embark on a weeks-long North-American tour, with some new material in tow. The band has a new EP that's expected to be released this month, one that was funded through a crowdfunding campaign they launched last year.
Save Ferris drummer Brad Dickert, who joined the band last year, says, "Especially with the EP, we tried to go back to the roots of Save Ferris and throw in some stuff that has that happy, hooky kind of punk-ska sound, and then tried to go from there. [We] tried to recapture that energy of what we do. It's a live band. It's important nowadays; not everyone's doing that, which is unfortunate."
Dickert had grown up in Chicago listening to ska and going to shows from third-wave bands like Voodoo Glow Skulls and The Blue Meanies. He says he never went to a Save Ferris show in the '90s, but was a fan nonetheless and remembers seeing them on MTV, so he was stoked to join the band.
As for why Powell decided to crowdfund their new music, she says, while laughing, "It was just because of a lack of funds. You know when you're dormant as a band for 10 years you've got to figure out how to pay for that shit."
She was a little nervous about trying to re-start the band. "At first I was really scared," Powell says. "I was like, you know what, let's just set [the crowdfunding campaign] at $10,000 and we'll be lucky if we get that. And we've made almost three times that now without really trying and it's great because the album is funded by our fans, which is really cool. And it gave me faith in the band. It made me go, OK, we're going to be alright. People still like us."
Over the summer, Save Ferris played a secret show at the Echoplex as a warm-up gig to their next performances at Santa Monica Pier and in Mexico City. The band was surprised to find a line around the block. At Mexico City's Ska Fest, where they shared the bill with The Mighty Mighty Bosstones, Reel Big Fish, and Less Than Jake, Powell was once again surprised to find fans swarming around her for photos as she stood in the crowd. The band's star power continued all the way to October when they opened for Gwen Stefani at the massive Irvine Amphitheater.
When Save Ferris originally broke up in the early aughts, the rest of the band members, including songwriter and guitarist Brian Mashburn, formed another OC ska band called Starpool along with Alan Meade, who used to sing with No Doubt. Starpool later went on hiatus, but ever since they got back together in 2007, they've been going strong in the SoCal ska scene, oftentimes performing at festivals and shows alongside major old-school names like Fishbone and The Aggrolites.
"The one thing that always brings me back to playing with Starpool, or ska music in general, is the instant reaction you get when performing," Mashburn says. "Not many other styles of music get people throughout a whole venue dancing and going like you see at ska shows."
starpool

| Michelle Alvarez
Why now?
Save Ferris' Dickert thinks a ska comeback is imminent thanks to the overall '90s resurgence -- and Barrett, of Reel Big Fish has some similar thoughts. "Even though it never really went away -- and there has been a loyal following of fans that never gave up on it — to a lot of people ska became something to be embarrassed about, a guilty pleasure, something that was just not cool for a while," Barrett says. "But I think enough time has passed and some of the people who gave up on it a long time ago are starting to realize what a great genre it is and how fun ska music and ska shows are. Plus, I think there is a big nostalgia for the music and bands of the '90s nowadays, so for a lot of people it's not necessarily a ska revival but a '90s music revival. And that definitely helps out the ska bands of the '90s."
Kevin Lyman, the founder of Warped Tour, has been running his event for over 20 years and has repeatedly put ska bands like Reel Big Fish and Less Than Jake on the lineup. He thinks the current political climate in the United States might bring ska into the fold a little more. "There might be more of a political movement of ska, like The Slackers, and some of those bands could have an influence now," Lyman says. "Any time politics get rough usually punk and ska come back. There were some big songs written [in the '90s and I think certain new presidents can give [bands] a lot of new material."
Powell, who considers herself a "deeply political person," feels the same way. However, she doesn't bring up politics on stage or in Save Ferris' music. "I think there are two schools of people: There are those people who want to get angry and get it out at a show and fight the power or whatever," she says. "And then there are the people who want to forget about shit for 45 minutes, and I think we're the forget-about-shit band."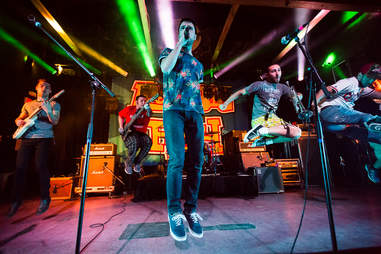 Stacked Like Pancakes

| Nicole Mago
Well then, how much is the ska movement growing?
There are a lot of mixed thoughts on the possibility of a ska revival or if it will hit the mainstream. Although Lyman would love to see bands like Reel Big Fish and Save Ferris get airplay on the radio again, he's not sure if ska is going to make a comeback in the mainstream.
"I don't know if the mainstream is going to embrace it, but you could make a living without the mainstream," Lyman says, pointing out that ska was only embraced by the masses for a short time in the '90s, but bands like Reel Big Fish and Less Than Jake have still been touring successfully. "You can have a good career without the mainstream."
The Warped Tour founder thinks there is room for new ska bands like Baltimore's Stacked Like Pancakes, which has been heavily influenced by the likes of Reel Big Fish, and has toured with not only the band but performed on the Warped Tour circuit.
Sire Dhone Johnson, the Event Programming Director at LA venue Los Globos, says he's been seeing a growing resurgence in the popularity of ska over the last five years. Johnson, who's from Jamaica and is 60 now, says he's very familiar with the traditional ska movement and watched it evolve into classic two-tone ska from older acts like The Selecter and The Specials.
"I moved [from Chicago to LA] six years ago and I was extremely surprised by this new ska revival," Johnson says. "I'm seeing where it's now the fourth generation of ska kids. It's really amazing."
Johnson puts on an occasional event at at Los Globos called Skamania, which features up-and-coming bands in the LA ska scene.  He's been seeing a younger crowd, from ages 19 to 30, at Los Globos' ska shows, and has noticed that the Latin ska scene, specifically, has been taking off locally. Johnson names some notable groups in the scene, like The Delirians, a more reggae and dub-heavy ska band, and The Steady 45s, whose sound is more along the lives of rocksteady and traditional ska.
Liz Garo, who books artists for Spaceland Presents (The Echo, The Echoplex, and The Regent), agrees, "Latin ska has always had a following and I see that genre growing."
Not only is the Latin ska scene bubbling in LA, it has also been growing internationally. When Save Ferris performed at Mexico City's Skafest in August, Powell and Dickert played alongside not just old-school heavy hitters, but also a slew of powerhouse Latin ska bands like Los Estrambóticos.
"The sound of Latin ska has definitely evolved [ska] into something new," Powell says. "[Some of] it sounds almost like metal with horns."
According to Starpool's Mashburn, there are three different ska scenes happening in SoCal right now. "You still have a couple of the real OG ska bands from the '90s that never stopped touring like Reel Big Fish and the Aquabats, who continue to put on great shows," Mashburn says. "Secondly, you have the LA Skacore, or Latino ska scene that's its own awesome entity that has been going strong for over a decade. And lastly, you have the local ska scene in OC that's made up of some newer bands (Hooray for Our Side, Karate in the Garage, Skapeche Mode, Comrade Cat, Half Past Two, Stupid Flanders) that have kept the scene alive.
"In a lot of ways locally it feels much more like how ska shows were in the early '90s before the big commercial movement of the late '90s. All the bands know each other and support each other. Fans go to all the shows. The bands know a lot of the regulars. There's a great camaraderie amongst the core people and it's still a lot of fun to play for and be a part of."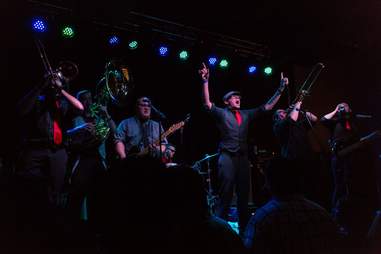 hooray for our side

| Matthew L King
Is the fourth wave really happening?
What a lot of these bands are noticing is that a much younger demographic -- along with a mix of loyal older fans -- are attending their ska shows.
"The age thing was the most interesting thing to me," Dickert says. "I assumed it would be people who were fans in the '90s or early 2000s who just still really love that music. There was a lot of that in Santa Monica and especially in Mexico City [for our shows], younger kids 18 and up who knew every word and were really really into it."
Powell thinks it makes sense because when she was 18 she was going to The Selecter and The Specials shows. "That sound just worked for me at 18 years old and it never got old for me," she says.
Dickert adds, "It's that vibe, that anthemic real band, a big band with horns. It doesn't really ever get old. It's timeless."
Hooray for Our Side, a newer ska-punk band that formed in OC in 2010, was originally influenced by the likes of Save Ferris and Starpool, and now takes inspiration from the Mad Caddies and The Slackers. The band's frontman, 26-year-old Evan Wohrman, thinks ska has evolved a lot because so many bands have been putting their own spin on the genre and forming sub-genres of the style. As for if we're in the fourth wave of ska, he doesn't think we're quite there yet.
"We're definitely not in the third wave anymore, no," Worhman says. "We're not in the fourth wave until the genre has mainstream recognition. Stylistically speaking, yes, I think the music has changed significantly since the third wave of the '90s. If ska artists continue to innovate, we can hope to see some mainstream long-lasting recognition of the genre. There is a lot of damn good music coming out from bands all over the world that most people simply haven't heard yet. Until then, we keep doing what we do best."
Kellen McKay of Stacked Like Pancakes says he's been thinking a lot about all this talk about an imminent fourth wave. The 24-year-old singer-songwriter has been helming his band for nearly a decade. He first got interested in Reel Big Fish in junior high after his friends introduced him to the band's old music videos for tracks like "Everything Sucks." He's found that everyone has a different opinion about whether or not the fourth wave is here and that part doesn't concern him.
"I hate to be so blunt, but I don't really care," McKay says. "I don't really care what it's called."
Reel Big Fish's Barrett has similar thoughts: "Oh, I don't know, people have been speculating about when the 'fourth wave of ska' is going to come or if it will come. I think after the '90s, ska was just here to stay so who knows and who cares about a fourth wave!"
What McKay does care about is that fans will tell him Stacked Like Pancakes is a "breath of fresh air in the ska scene." To him, there's a big age gap with ska bands. "I see people my age and younger at Reel Big Fish shows all the time, but I don't necessarily see people my age and younger playing in the bands on stage," he says. "I like to think we are kind of -- I don't want to make a bold claim about ourselves -- we're kind of birthing this new generation or branch of ska. It's heavier... I made up the genre 'brass rock.' That's something that kind of resonates with me as far as writing our music: brass rock or ska songs. I like to think we're a part of that growth, and hopefully we can inspire other bands to do the same things."
Save Ferris members think the Latin-metal-ska sounds they were hearing in Mexico City ("[It's] like Refused with horns," Dickert says) could be the new fourth wave.
And then there are The Interrupters, an LA ska-punk band with a female lead singer that were just announced as part of this year's Coachella lineup. The grittiness and two-tone sounds of the band are reminiscent of Operation Ivy and Rancid, and it seems apropos that the godfather of ska Tim Armstrong took interest in them and produced their most recent album, Say It Out Loud.
Mashburn says of the band, "Right now it is exciting to see a band like The Interrupters get some attention."
In June, radio DJ Jimmy Alvarez wrote a ska retrospective for OC Weekly, giving kudos to The Interrupters for potentially being the leaders of the next generation of ska. He writes, "Of all the predictions I've heard, there's one that may come true. Aaron Barrett once told me that the 4th wave will come from that one song that gets radio love. Once that happens, it's on! The band that just might pull that off may be in our midst. That band is The Interrupters. They feature the Bivona brothers (Justin, Jesse and Kevin), and a dynamic lead singer in Aimee Allen. The guys belt out a great sound, and their interaction with the crowd is always high energy. Aimee has a Joan Jett-esque voice, with a Chrissie Hynde presence. Together, they put out a sound and stage show that works!"
The fourth wave may already be here, but that's not really the point. Ska music is very much alive and kicking, underground or in the mainstream, and something new seems to be bubbling under the surface.
"I hope to see a new generation of bands form up and keep ska music going," Mashburn says. "My guess would be that the next big popular music movement that has ska roots will come from somewhere unexpected."
Sign up here for our daily LA email and be the first to get all the food/drink/fun Los Angeles has to offer.
Jean Trinh is a Thrillist contributor who spent her formative years skanking at Save Ferris, Reel Big Fish and Aquabats shows. Follow her on Twitter and Instagram.