Rental Car Rally 2015 Is the Craziest Yet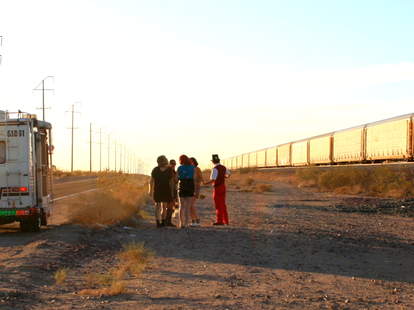 This weekend (July 17th-19th) marks the still-open-for-registration Rental Car Rally, a costumed, totally crazy, all-night scavenger hunt in which you're not required to rent a car, but you're gonna want to, because at the end of the whole thing it'll be covered in eggs/gunk/gunky eggs (yeah, you should get the full insurance).
Each year the Rally hits a slew of not-announced-until-you-get-a-secret-box-of-stuff checkpoints that can range from abandoned amusement parks to, uh, abandoned missile silos, with the after-party a debauched affair where the organizers announce the winners who completed the hunt with the lowest odometer reading, and bless them with a golden gas pump. But we can safely say that this year's event will be the best ever. Why?
Because the after-party is at the legal brothel The Chicken Ranch in Pahrump, NV, where they've organized a BBQ with the Ranch's ladies in their penis-shaped swimming pool.
What are you waiting for?
Jeff Miller is missing the Rally this year because his band stupidly took a gig before he knew about the whole Chicken Ranch thing, and he is taking a lot of shit about it from, like, everyone, even Eleanor, and doesn't want to hear it anymore. But you can give it to him at @jeffmillerla on Instagram or @ThrillistLA on Twitter, anyway.