Rent a car. Put on your full-body banana costume. Then get crazy.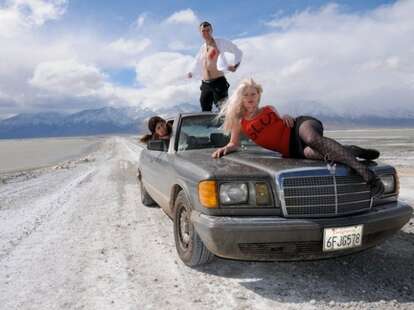 Even though you totally remember every Thrillist email, including that one about the world's first weed ATM, consider this a just-in-case, timely reminder about Rental Car Rally, the day-long costumed road race to places so odd, your math teacher puts them on par with "5" and "11". The action is back, with a twist: this time, races start in both LA and SF (more on their FAQ), with North and South meeting in an undisclosed location to do battle with messing-up-carstuffs like eggs, shaving cream, and peanut butter, whiff ith reatty hawd ta geth off the thop of yu mopth, or an engine.
The whole thing kicks off with an after-dark pre-party (with drink specials!) at a still-undisclosed LA locale, where you and your team will pick up your RCR briefcase, which'll include necessities like "bottle rockets, smoke bombs, condoms, cigarettes, chaw, eggs", and the rally booklet w/ rules and coordinates for checkpoints you've got to take pictures at: think a bizarre Victorian mansion, a junkyard full of rare cars, and an actual ghost town, though good luck getting that uppity Ricky Gervais to pose for you. From there, you'll hit the road around midnight for a 12hr journey where you'll meet up halfway with the NorCalians (and basically just throw everything in your briefcase at each other's cars), before continuing as a group to the final top-secret location for a massive after-party (with drink specials!); organizers promise it's only a 4-5hr drive back to LA and you'll be home in time for work on Monday, or, if you're Macaulay Culkin, you'll be home in time for Monday.
Because we're totally awesome/handsome/well-endowed, we scored you a not-available-anywhere-else, super-deeply discounted ticket package through Thrillist Rewards, which'll also come with an extra carton of eggs, so you can get more than even with the dudes from SF.