The good news is, unlike in the movies, you don't have to bring DJ Qualls on your summer road trips. The better news is, you... don't have to bring DJ Qualls on your summer road trips, which pretty much 100% should include these 10 badass options near LA (assuming you've already worn out the eight ideas we dropped on you in the winter).
Perris
Distance from LA: 82 miles; 1.5-hour drive
It's time to quit saying "I should totally try skydiving," and actually, totally try skydiving just two hours Southeast of LA. Don't worry, if it's your first time you can jump while attached to your instructor (the only class where that's appropriate), or, if you chicken out, you can still get the Drop Zone experience at the 96ft-tall indoor simulator. Don't forget to hit the Bombshelter Restaurant for burgers and beer after or take a dip in the pool while watching others fling themselves from a soaring plane.
Ventura Harbor/Channel Islands
Distance from LA: 60 miles; 1-hour drive
Once you've conquered Catalina Island, it's time to set sail for the lesser traveled, though supremely rad Channel Islands. Head up to Ventura Harbor where you'll board a high-speed catamaran to the Channel Islands National Park. Once there, you'll snorkel through a kelp forest (!), break for an included lunch (!!), and then kayak through the mind (!!!) blowing (!!!!!!) sea caves (!!!!!!!!!!!!!!!).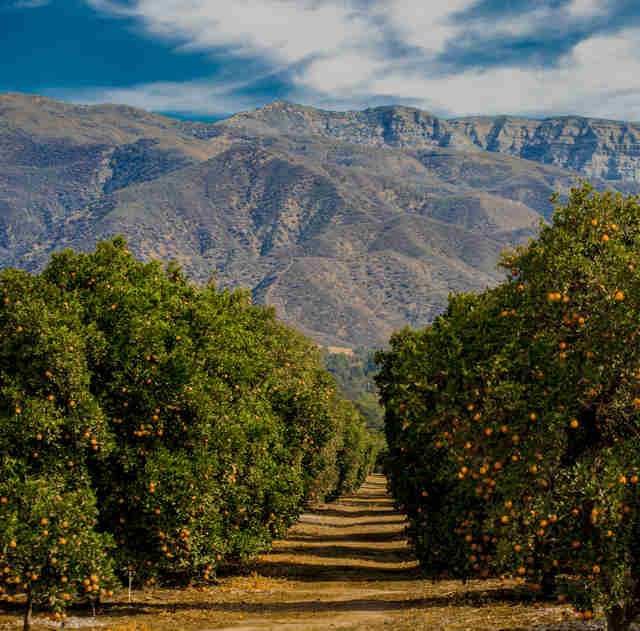 Ojai
Distance from LA: 82 miles; 1.5-hour drive
Even if the last time you were on two wheels you were popping wheelies on your Huffy while your little brother rode the pegs, you can still hit the trails for some breathtaking (literally!) mountain views along the converted rail line of Valley Trail. Unwind after you rip up the trail with some pizza at Boccali's or killer bacon-wrapped dates and other farm-fresh tapas at Azu before you head back to reality.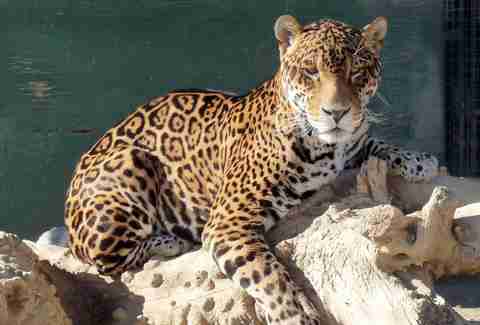 Antelope Valley
Distance from LA: 70 miles; 1.25-hour drive
Head up the 138 and hike your way through the trippy orange hills of poppy fields in the Antelope Valley, then stop by a different, better (??) kind of Cat House afterward where you can hang with giant endangered felines. On your way back home, drive along the left lane of the Musical Rd on Ave G in Lancaster, which plays the "William Tell Overture" (aka The Lone Ranger's theme) as you drive along it. No, really, it does.
Dana Point
Distance from LA: 67 miles; 1.25-hour drive
Did you know you live only 90ish minutes from the "Whale Watching Capital of the West??" Well, you do. And it's time you put your Capt. Ahab impression to good use and check out blue whales, gray whales, other-colored whales, dolphins, and more on Capt. Dave's whale watching safari. And once you've Instagrammed all the mega-pods you can handle, head back to shore for a round of golf, paddle boarding, or the always popular American pastime: drinking-by-the-harbor.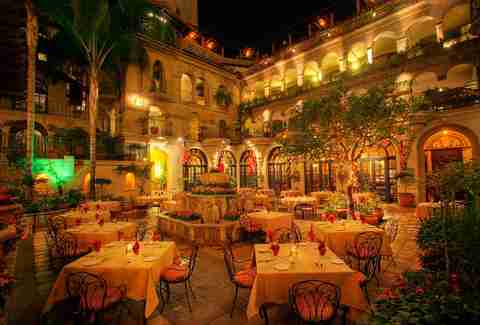 Riverside
Distance from LA: 60 miles; 1-hour drive
The stunning Mission Inn Hotel & Spa is just a short drive East on the 60, but feels worlds away from LA. If Cary Grant and JFK considered these European-inspired digs to be a great place to unwind, you can bet you'll be easily impressing your date when you take them for a spa-cation day here, followed by one of the legendary multi-course wine dinners, which take place in a Spanish art gallery and feature notable winemakers. (Don't be surprised if this day trip turns into a weekend trip.)
Azusa
Distance from LA: 52 miles; 1.5-hour drive
Head toward Mt. Baldy and join other intrepid day trippers as they hike to the Bridge to Nowhere, which was abandoned after flooding in 1936. And while you could just enjoy a beautiful hike spotting bighorn sheep along the way, why not crank things up to 11 and bungee jump off the bridge? Yeah, better story.
Newport Beach
Distance from LA: 51 miles; 1-hour drive
To escape the hustle of LA, hop on a slow moving Duffy Boat, sip on a cold one, and cruise the hustle-free harbor near Newport Beach. Also, regardless of how you felt about Season 4 of Arrested Development, you're definitely going to want to hit up the Original Frozen Banana Stand before you head home.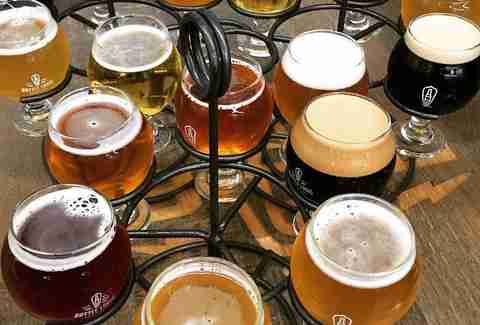 Orange County
Distance from LA: 37 miles; .75-hour drive
While you might not have ventured down to the OC since doing that 11-burger super crawl, chances are you've probably been drinking some mighty fine craft beers brewed there (think The Bruery, Bottle Logic, and Cismontane). Why not pile into a luxury SUV, stretch limo, or Hummer for the OC Brewery Tour and hit up two or three of those? Yeah, we don't know why not either.
 
Vasquez Rocks
Distance from LA: 40 miles; 1-hour drive
While you may feel like you've already seen the Vasquez Rocks thanks to Star Trek and Bill & Ted's Bogus Journey, you owe it to yourself to head out to these massive, otherworldly geologic formations in person. Named after the notorious bandit Tiburcio Vasquez (who used to hide from the law here back in 1874), the rocks are also home to tons of great trails to explore, rocks to climb, and knowledge to be gained at the "interpretive" center. (But we all know you're here to play Captain Kirk.)
Sign up here for our daily LA email and be the first to get all the food/drink/fun Los Angeles has to offer.
Danny Jensen is a regular Thrillist contributor who feels that every day trip should include both a Captain Ahab and a Captain Kirk impression. Give him your best impression on Instagram and Twitter.