18 Things You Don't Understand About the SGV (Unless You're From There)
Sure, you've had dim sum on Sunday and seen that one episode of Bizarre Foods, but there's more to the San Gabriel Valley than just dumplings. Like, um, well, these 18 things, which you definitely don't know about the SGV (unless you're from there).
 
1. There are actually non-Asians in the SGV
In 1990, Monterey Park became the first majority-Asian American city in the mainland US, it's home to potentially the best Asian hot sauce in the known world, and from 2000-2012, more than a half-dozen additional suburbs in the region have become majority-Asian. But, dude, El Monte actually has a Latino majority (!), and Rosemead's Asian population decreased between the 2000 and 2010 census.
 
2. Older women in the SGV REALLY hate the sun
In addition to pulled-down dark, Vader-esque sun visors, it's not unusual to see women wearing elbow-length gloves while driving, and also covering their driver-side windows with old Chinese newspapers -- which, by the way, is illegal in the state of California.
3. No one calls San Gabriel Square "San Gabriel Square"
It's Focus Plaza, even if Focus has been closed for 10 years.
 
4. And Kang Kang Restaurant is not Kang Kang Restaurant
It will forever be Shau Mei.
 
5. Buuuuuut there are three Shau Meis
So no one knows which one you're talking about, ever.
6. Everyone graduated from Mark Keppel and Diamond Bar High School
Even if they didn't.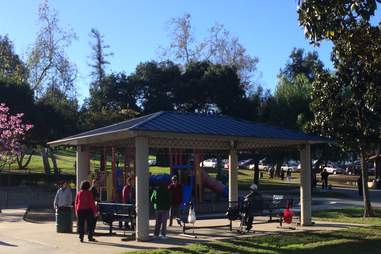 Tony Chen/Thrillist
7. Our public parks double as martial arts studios
Tai chi, calisthenics, pelvic thrusts, kung fu sword fighting, badminton, ballroom dancing -- you name it, someone will be doing it at one of the public parks, typically near the children's playgrounds.
 
8. Phil Spector killed his girlfriend, Lana Clarkson, in Alhambra
Spector's wife (whom he married before the beginning of the trial) still lives in the 8,600sqft "Pyrenees Castle" where it happened, which is located in Midwick Tract of Alhambra. The house even has a Yelp listing.
Tony Chen/Thrillist
9. The SGV loves French landmarks -- to the point that Alhambra recreated one (or tried to)
Inspired by a magazine photo of the Arc de Triomphe, Alhambra's then-city manager spent $300K of the city's money building a, uh, not-entirely-beloved recreation in 2010. He's now in Santa Clarita, but the monument remains.
 
10. It's super-duper close to Downtown
Szechuan Impression to Stumptown Downtown: 12 minutes. Monterey Park to Rose Bowl, though? Totally slower than to DTLA, thanks to the abrupt termination of the 710 Freeway. DAMN YOU 710!!!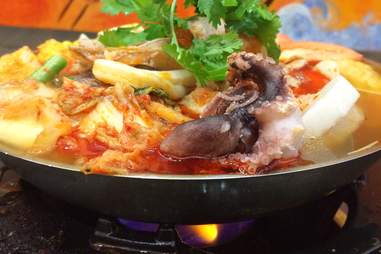 Tony Chen/Thrillist
11. We have Chinese restaurants that serve things other than dumplings
In fact, if you want to get down true SGV style, hit a hot pot place: Boiling Point, A&J, Wok BBQ, Hot Pot Hot Pot, and Jiou Ding are among the best.
Tony Chen/Thrillist
12. Also: you can eat food that's... not even Chinese at all!
There are Chipotles and Rose City Pizza is wildly popular. There's even a Chicago beef and Chicago deep dish pizza restaurant. There are kebabs. There's Indonesian. Seriously! There's great food!
Tony Chen/Thrillist
13. SGV has the oldest and best street food festivals in all of LA
Monterey Park's Chinese New Year festival started more than 20 years ago, and hosts up to 100,000 visitors for three-plus days every year. In contrast, Feast of San Gennaro started in 2002, and the LA Street Food Fest is an infant compared to SGV's various Lunar New Year festivals. Also, the only festivals selling Darth Vader masks along with stinky tofu, Taiwanese sausages, fresh "cold pressed" sugar cane juice, and cumin lamb skewers? They're in the San Gabriel Valley.
 
14. Pasadena is not SGV, no matter what Wikipedia says
But Diamond Bar is SGV -- for real. To anyone living there, Huntington Dr might as well be the DMZ between Pasadena and SGV. But that also means we don't have a Whole Foods or even a Trader Joe's... so, uh, maybe Pasadena IS in the SGV?
15. The Alhambra Farmers Market is on par with Santa Monica
There are enough organic Asian vegetables and fruits offered here to embarrass Westside markets on a weekly basis. Certified organic chrysanthemum greens, Taiwanese cabbage, yu choy, and red amaranth, etc. make regular appearances here. Good luck finding them in "greater" Los Angeles.
 
16. Dates always start at a bad sushi bar
Because they're nicer than filthy noodle houses.
17. And you always get boba milk tea afterwards
And you can tell if the date went well by which one: Half & Half Tea Express -- not so hot. Hit it off? Factory Tea Bar, or AU79.
 
18. And if there's an after-boba, it'll be at a Hong Kong Cafe 
Buddha invented sizzling beef udon at Garden Cafe so no one would be hungry after starting a date at a sushi bar.
Sign up here for our daily LA email and be the first to get all the food/drink/fun Los Angeles has to offer.
Tony Chen lives in the best eating part of LA -- Monterey Park -- with his two chickens. He enjoys pulling dandelions and stinging nettle while throwing back some cider. Find him on Instagram at @sinosoul.