I Did the Gwyneth Paltrow Vagina Steam... and I'm a Man
Jeff Miller/Thrillist
Jeff Miller/Thrillist
First things first, there are a few things that you should know about me: I'm fat. I have a bizarre beard. And yesterday, I steamed my asshole.
Sorry if that grosses you out, and double-apologies if you're related to me. But it's true: this fat, hairy asshole was given the royal treatment -- literally. In fact, Tikkun Holistic Spa in Santa Monica, which generously steamed my asshole, claims that the practice goes back 1,000 years to Chinese Royalty, only resurfacing recently thanks to Gwyneth Paltrow, who recently revealed that she uses the services at Tikkun to regularly steam her vagina. Once Paltrow wrote about it, the Internet went nuts: the news spread internationally, with scientists weighing in on whether vaginal steaming was healthy or wise.
I didn't care about any of that. I cared only about what it felt like. And so, accompanied by my girlfriend Claudia (who steamed her own vagina next to me while my asshole was being steamed), we hit Tikkun to find out if it was, as Paltrow claimed, "an energetic release," or whatever. Here's what happened: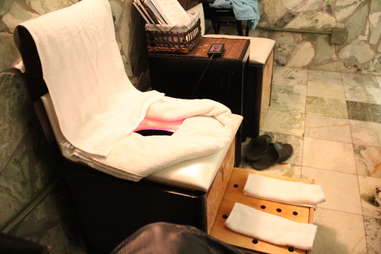 After your typical "hey we're checking in to steam our asshole and vagina howyadoing" to the very nice ladies at the front, followed by your typical locker room change into awkward plastic robes (which, we'd find out later, were made of such an odd material in order to hold in the heat), we were led into a room with five of these steam seats, with towels we'd learn were not just to protect our butts, but our feet as well since...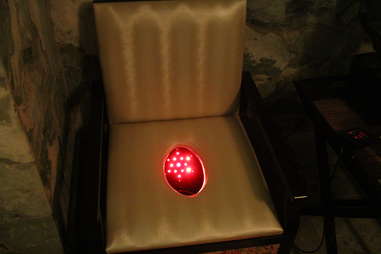 ... this throne glows with the heat of 1,000 SUNS and an infrared light that lightly roasts your starfish. As for the hole in the chair, it blows out the steam of a tea of mugwort, a sort of musty-smelling herb that the woman helping us says "you can totally, healthily drink" -- enough times to make me wonder if she remembers that I'm actually planning on taking it from the other direction.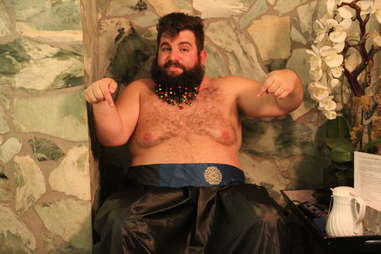 So, I sit down. And I feel like a prizefighter, 'cause, damn, look at that belt. And then... for a bit... nothing more than, like, a seat-warmer in a car and a bit of mugginess. Not so bad...
... and then, there's a different feeling. One that I recognize from occasional summers in Virginia, and New York, and anywhere that's not LA that has humidity: it's drippy, gooey, uncontrollable swamp-ass. Bad.
Balls of musty, mugwort-y sweat drip through me and into the nether-region of the throne and are eaten by the ether, like all of Jabba's foes that were fed to the Rancor before Luke. I look at my girlfriend. She is uncomfortable. "I'm dripping from everywhere," she says, as I see the beads of sweat that have collected on her face, and all of a sudden I realize that I'm feeling kind of all over the place.
Thankfully, the timers on the heaters turn off, leaving my little guys dangling like a nearly-done bag of lemons. Did it change our lives? No. Were we cleaner and more energetic? Maybe. Did we celebrate afterwards at Benihana across the street? Of course. And when we saw the inevitable flaming onion volcano, we were thankful we weren't sitting on top of it.
Sign up here for our daily LA email and be the first to get all the food/drink/fun Los Angeles has to offer.
Jeff Miller's asshole is steamier than ever before. He's got videos of this whole thing (minus the gross stuff) at @jeffmillerla and @ThrillistLA on Vine. Check 'em out.