19 Things You Don't Get About Santa Monica (Unless You're From There)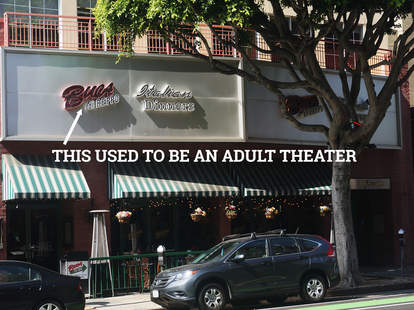 There are things everyone knows about Santa Monica: it's got a huge Ferris wheel, and it's... uh... named after Saint Monica? Yeah, it turns out no one really knows anything about Samo, which's why Thrillist commissioned a local (that's me!) to fill you in.
1. We don't call it "Samo"                 
"Samo" specifically refers to Santa Monica High School (also: Samohi). Know how I know you aren't from here? You just called it "Samo" beach.
 
2. We're very proud that the Penns, Estevez-es, and Sheens went to Samohi
Take that, Fairfax High!
3. We're not all lazy beach bums
Some of us work at uber-brilliant think tank RAND Corporation or run renowned art galleries at Bergamot Station or... were the geniuses who made Pimp My Ride and Cribs.
 
4. We never, ever go to the Pier
Unless you are 1) a young child or 2) the parent of one -- 3) it's crowded as hell, and 4) we're programmed to stay 100 yards away from the Bubba Gump Shrimp Co. at all times.
5. We've actually got a ton of far cooler, under-the-radar tourist attractions
Like Frank Gehry's house on Washington (he's the dude who designed the Walt Disney Concert Hall), or the home of 1920s and '30s starlet Marion Davies, which William Randolph Hearst had built for her (yeah, the guy with the castle).
 
6. You don't actually need to wait in line at Bay Cities 
If you're local, you know to order online and bring cash -- the cash-only line never has a wait.
7. There's no better combo than an Extra Super Mule at Gilbert's El Indio & a show at McCabe's
Truth.
 
8. Rae's and Izzy's are the best diner and deli in all of LA
Or... at least the closest diner and deli to us. And that counts for something.
 
9. That Buca di Beppo on 2nd St? It used to be worth sneaking into.
That's because it was the all-adult Pussycat Theater. Sexxxy.
10. That statue of Saint Monica at the end of Wilshire isn't what you think it is...
... 'cause if you look at it from the back, it's a penis!
 
11. Growing up, you were either North Side or South Side
The side of Wilshire you grew up on (or Montana, depending on your orthodoxy) defined you until you were 16 and could drive. Speaking of which, SOUTH SIDE!
 
12. The only viable North-South routes are 14th and 17th
26th St seems promising, but she's a vile temptress.
13. The yellow line on the bottom of our street signs? It represents sand.
#themoreyouknow
 
14. If we're going to the beach, it's South of where you're going
We head to Station 26: parking is better, water is better, surf break is better, sand is better. Dude, it's just better.
 
15. Anyone who played in middle or high school orchestra has played on a former Oscars stage
Though it's mostly unused now, the Santa Monica Civic Auditorium wasn't just once the Academy Awards' home, it also has hosted Prince, Motley Crue, and Weird Al Yankovic.
16. Our mall is more famous than your mall (shut up, Torrance)     
True Santa Monicans recognize the old Santa Monica Place (before they tore it down and put up... whatever's there now) as Ridgemont Mall in Fast Times at Ridgemont High, and where John Conner had his first encounter with Ah-nuld in Terminator 2.
 
17. If you want to see your favorite chef in the whole city, just head to the Farmers Market here
It's considered not just the best in LA, but the best in the country, which means literally whoever you were watching on the Food Network on Tuesday is there on Wednesday. Every week.
18. You, or someone you know, worked at the original Hot Dog on a Stick in high school
But it was still impossible to get a discount.
 
19. The Promenade used to actually be rad
I know this one is shocking, but trust me on this. Before there was Benetton, there was Midnight Special Books. Before the Levis Store, there was the head-shop-cum-record-store Mayhem. Before J. Crew, there was punk rock supplier Na-Na. AND it's where Pee-wee had his bike stolen. Like we said: actually rad.
Sign up here for our daily LA email and be the first to get all the food/drink/fun Los Angeles has to offer.
Michael is a native Santa Monican, and, except for a month in the UCLA dorms, has never lived East of the 405. His preferred bus line is Big Blue. You can find him on Instagram @michaelgross and Twitter @_michaelgross.