If the only thing you know about Silver Lake is that it's full of hipsters and coffee houses and, uh, hipster coffee houses… well, you're not entirely wrong. But if you're from here (or have lived here for a bit), you know there's a lot more to it than that. Starting with these 19 things.
1. You'll have to be more specific than "I'm on Micheltorena"
Or "Effie." Or "Landa." Or a bunch of other streets that either fork off counterintuitively or end entirely and start up in a different location -- some in multiple spots. Remember: GPS is your friend.
2. Silver Lake has a semi-official smell
Not craft beer. Not street tacos. And not artisanal soap. It's skunk (yes, duh, the animal), whose aroma can be detected wafting over the jasmine on a near-nightly basis.
3. Silver Lake is actually two words
This despite what some insist. Proof?  Binary nomenclature on signs marking both the city and Silver Lake Blvd, presumably put there in an official capacity by those who make such decisions. And not people who just pretend to know what they're talking about.
 
4. Also, dude, we ARE on the Eastside
No matter what the Neighborhood Council may think.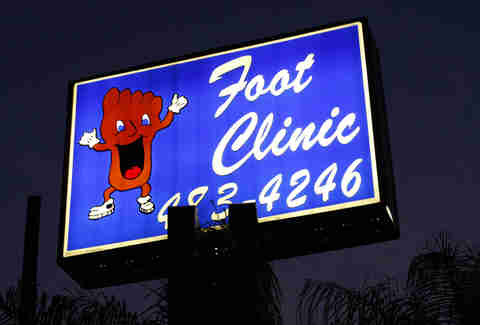 5. We have a foolproof way to know if we're going to have a good or bad day
Is the foot clinic foot happy? Good day! Is the foot sad??? You should have stayed at home.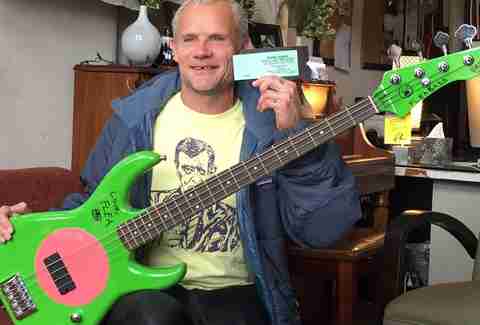 6. Flea prefers our stretch of Sunset to... that other one
Can you blame him? Not only is his Silverlake Conservatory of Music right at Sunset Junction, but we've also got great cafes (Millie's FTW!), a killer cheese store, and much, much more... all that, and no one blasting Def Leppard (unless it's ironically).
7. The stage at The Satellite used to be on the other side of the room
When Spaceland opened in 1996, old-school music scenesters faced the other way at what's now The Satellite (... as proven by this ULTRA AWESOME retro photo. Check out that mullet rat-tail!) Next time you're checking out bands on a free Monday night, turn 180 degrees to where the soundboard is, and where the stage used to be -- the same stage where Foo Fighters made their LA debut, opening for Beck and a little-known band called Lutefisk.
 
8. Even older-school music scenesters went to the Satellite when it was called Pan.
Seriously! People be old!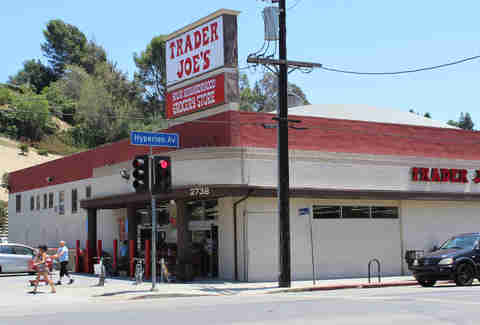 9. Nobody uses that Trader Joe's parking lot
Because we're not crazy, Silver Lake locals don't deal with that cramped and teeming mess of a lot. Use the adjunct lot up the block, feed an easy-to-find available parking meter, walk, or -- and you didn't hear this from us -- use the Gelson's across the street, which reportedly doesn't tow trespassing vehicles. Also, props to the dude who mans the lot, he's the best!
 
10. Walt Disney loved it here
Disney's first studio was on Hyperion, where the aforementioned Gelson's is now, and the name lives on in Disney creations like their Hyperion animation software (used to create Big Hero 6) and Hyperion Books, part of Disney until 2013.
11. Our streets have the best staircases. With the best views.
With approximately 50 public staircases in the area (mostly built for the no-longer-needed purpose of easily accessing the Red Car trolley -- there used to be a trolley!), we can ascend to views of the Hollywood sign, the reservoir, and Downtown. And, of course, we have the famous "Music Box" steps. Speaking of which...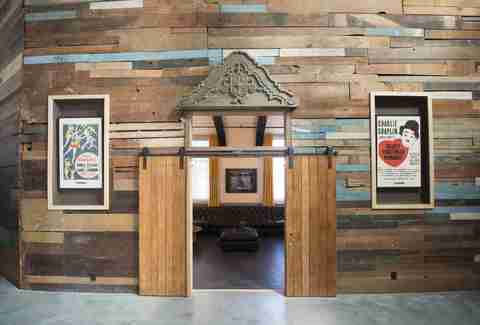 12. Our movie history runs DEEEEEP
Fatty Arbuckle and the Keystone Cops became stars with shorts filmed at our Mack Sennett Studios. Part of Birth of a Nation was shot here. And not only did famed movie cowboy Tom Mix have his studio here, but his horse is buried underneath our CVS. (Okay, not his super-famous horse, Tony the Wonder Horse. It was the horse before that. But still!)
13. There is an actual Silver Lake! But...
... it's really a reservoir. That will soon become inactive. So it'll be a lake again?? Either way: great running path.
14. If you're looking for someone... check Edendale
Because somehow that restaurant/bar manages to be appropriate for your Grandma, your hipster friends, your boss, your Tinder dates, your ex-Tinder dates, and your Grandma's hipster friend's boss's Tinder date's ex-Tinder dates.
15. Our kids > your kids
John Marshall High School has one of the most successful Academic Decathlon teams in the history of the program, including the second-highest scoring participant of all time. ALL TIME.
16. We have the best movie theater in LA, bar none
The Vista Theatre removed every other row of seats so attendees can have more legroom. Take that, ArcLight!
17. Real Silver Lakers don't mess with the Elliott Smith wall
Seriously, it is a goddamn historic treasure, which means it shouldn't be messed with. Okay, a little heartfelt fan scribbling is okay, but well-meaning-but-stupid "restorers" keep adding touches like song lyrics and pictures of Elliott himself, which is like those Halloween skeleton costumes with pictures of dancing skeletons on them.
18. The Virgil? You mean the Garage.
That's the grungy '90s-era spot where Miller Beer ruled the bar, with nary a basil leaf or shrub syrup to be found. In particular, we miss Sunday afternoon's infamous polysexual indie rock hotspot Club Sucker.
19. We're great at hosting festivals... until they get shut down
Sunset Junction was the best music-and-community festival in LA... before the financial shenanigans that ended it. Silver Lake Jubilee seemed to be picking up the mantle... but that didn't pan out. We patiently await the next organizers who understand our love of live bands, margaritas, cheesy carnival rides, and running into all of our exes.
Sign up here for our daily LA email and be the first to get all the food/drink/fun Los Angeles has to offer.
Mara Schwartz has lived in Silver Lake for the past 20 years, where she works in the music industry and tries to avoid traveling West of Vermont. Follow her on Twitter at @mara_schwartz.