18 Things You Don't Understand About the South Bay (Unless You're From There)
A while back, we told you about a few things you didn't understand about Torrance, including the fact that it was actually in the South Bay. Well, here's something you maybe didn't know about the South Bay: it's actually much, much bigger than just Torrance. Like, much, much, which is why we got someone from a totally different section of South Bay (Redondo FTW!) to drop science on LA's Southern neighbor.

1. Special C > Double-Double
We love In-N-Out as much as the next Californian. But we may love a Special C at El Burrito Jr. (aka El BJs) more. And sure, there are other locations somewhere in the South Bay, too, but we'd rather wait in line at the PCH one.
2. We will rarely (if ever) go to PV to see friends
But we have plenty of PV friends who will come to see us. Because, hill. And also beach.

3. An overcast morning is no big deal
Clouds and fog will usually burn off by lunchtime, making one of the only jackets you own worthless by the afternoon. And no, knowing this doesn't mean we can't also complain about being cold if it's grey and under 60 in the morning.

4. There isn't really universal agreement on what counts as the South Bay
When labeling the borders of the South Bay, people usually start with the beach cities. Then, they'll move on to more inland cities like Hawthorne and Torrance. But the conversation will get tricky the farther away you get from the ocean. Yes or no on Gardena? How about Wilmington? And Pedro? We know that these cities are obviously OFFICIALLY included, but -- c'mon now.
5. Hermosa has allllllllll of the bros
Just when you thought there wasn't a combination of tank tops and board shorts you hadn't seen on Pier Avenue, there's a combination of tank tops and board shorts you hadn't seen on Pier Avenue. Without fail.

6. Fiesta Hermosa is the same every year, but we still go. Twice.
Summer isn't summer around here unless it both begins and ends with Fiesta Hermosa and everything that comes with it, from the glorious food booths, to the classic rock revival band, to the mind-numbing parking situation.

7. Someone else's picnic spread at the Hermosa Beach concerts is always better
You always think that a pizza from Paisanos is enough, until you see that one group with a tiny foldout table and a full-on serving board of charcuterie.
8. Everyone here knows exactly when to swim under a wave, and when to hop over it
If you grew up here, then you know that 1) 2nd Street is still the ultimate teen hangout, and 2) that spending a couple of hours in the water is bound to happen. And you've gotten enough ocean water up your nose during those many, many, many couple of hours to know how to time the waves just right.

9. If you're dressed up for a night out in Hermosa, you're probably not from here
Once it gets dark in downtown Hermosa, the crowds change. Swimsuits and sandals are gone, and club attire is everywhere. No matter how many times it happens, seeing high heels a few yards from the sand will always be strange. And so will waiting in line to get into Patrick Molloy's.

10. The turf-obsessed PV surfers intimidate literally everyone
We'd rather head to El Porto than deal with that, anyway.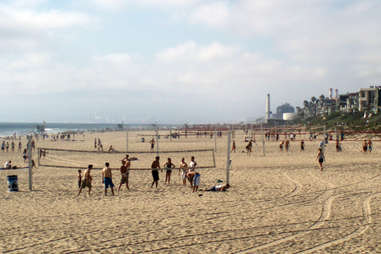 11. Manhattan Beach's sand was once exported to Waikiki
It's internationally recognized as some of the best sand in the word, which is why it's so easy to nap on, which is why it's also so easy... to get a parking ticket.

12. You don't need to get on the freeway to go to LAX
It's just a hop, skip, and some surface streets to the Sepulveda tunnel.

13. We're still not over the change in the Six-Man Tournament
Remember the days when Six-Man was a local holiday right up until Manhattan's city council went all wet blanket and moved the event away from the weekend? Yeah, still not over that.
14. The last time we went to the Redondo Pier was... ? Exactly.
The Redondo Pier has its gems, like Tony's on the Pier and the throwback arcade, but it usually gets passed over for what's happening elsewhere. Maybe you'll head over after the renovation... or so you tell yourself.

15. You can't really go anywhere without running into someone you know
Going to see a movie at Del Amo? Heading out for a walk on the Strand? Yeah, good luck avoiding that one girl you went to high school with 12 years ago.

16. When we mention "The Bubble," we're talking about here
Yes, the South Bay is officially in Los Angeles. And yes, the 405 is just right over there. But it's tough for us to leave. That's why we make such a big deal out of a night at the Hollywood Bowl. BECAUSE IT TAKES LIKE 50 HOURS.
17. We're secretly super psyched about becoming a food mecca
It used to be that King's Hawaiian and Gardena's plethora of ramen outposts were the only great things to eat in the South Bay. But those days are long gone. M.B. Post, Hudson House, The Strand House, Little Sister -- hell, even The Standing Room -- are just a few of the places that are turning the South Bay into a dining hotspot that the rest of LA is paying attention to, which means big crowds, long waits... and, let's be honest, for us, a lot less driving.

18. The beginning of summer is the worst time to go to the beach
Poor school kids. Their first days of freedom are in the midst of June Gloom, and that struggle is real. The actual best time to go to the beach? Usually right when kids are heading back to school, since that's when that morning fog is finally mostly dissipated, which sucks for them but is great for you. Someday, children. Someday.
Sign up here for our daily LA email and be the first to get all the food/drink/fun Los Angeles has to offer.
Kelly Dawson grew up in Redondo and wants to dedicate this post to her childhood friends and siblings, who all agreed that the "Special C" needed to be on here. Follow her on Instagram and Twitter: @atthecrosswalk.