The 99 problems with Los Angeles
LA may be the greatest place to live in the country, but no amount of plastic surgery can make us perfect all the time (actually... could it??). Here are our 99 problems (and the Laker Girls ain't one)...
1. The 405 at 3pm
2. USC fans who didn't go to USC
3. Some USC fans who did go to USC
4. Sign twirlers who are bad dancers
5. Absurdly confusing parking signs
6. Anyone with the last name Kardashian
7. Anyone with the last name Hilton
8. Anyone shooting a reality show in the restaurant you happen to be at
9. Seriously, get those cameras out of my face!
10. Your scalding steering wheel
11. 2am last-calls
12. That one stretch of Fairfax that's one lane all of the sudden
13. Dodgers fans who leave before the SEVENTH inning
14. This goddamn drought
15. Seriously, stop watering your driveways
16. In-N-Out drive-thru lines
17. Everyone at the beach not in a bikini
18. That moment on the beach when you realize there's a ton of sand in your shoes, and how the hell are you going to get it all out?
19. Chick Hearn no longer being the voice of the Lakers
20. Jerry Buss no longer being the owner of the Lakers
21. Potholes
22. Your friend's webisodes
23. Your friend's improv troupe
24. Your friend's band
25. Your friend's pop-up restaurant
26. Your friend's variety show
27. Ugh, do I actually have to go to a PLAY, too?
28. Valet parking
29. "Silicon Beach"
30. That guy at the bar who's from that thing or junior high. One or the other.
31. Waze telling you to take Wilshire instead of 6th
32. Waze telling you to take Highland instead of Orange
33. Waze telling you that there is no way you should get on the 101 right now
34. Just kidding Waze, we love you, don't go anywhere, please!
35. Actually dangerous Danger Dogs
36. No late-night falafel
37. When there's no water in the LA River
38. When there's too much water in the LA River
39. When there's no Schwarzenegger in the LA River
40. The 405 at 4pm
41. Circling around LAX
42. Circling around LAX again
43. Circling around LAX AGAIN
44. Circling around LAX AGAIN. SERIOUSLY TODD, WHERE ARE YOU?
45. Dating someone geographically undesirable
46. You, yourself being geographically undesirable
47. Brian Wilson being on the Dodgers
48. The Lakers. Just, ugh, the Lakers.
49. A/C bills
50. Not having A/C at all
51. Your favorite restaurant's closing time being 9pm
52. Where the hell can you get a smoked turkey leg that's not at Disneyland?
53. 72-degrees and sunny... again???
54. The Santa Ana winds
55. Hollywood and Highland on a Saturday
56. Ending up on Skid Row accidentally
57. Ending up on Skid Row on purpose
58. Skid Row
59. Those guys on the Sunset Strip who don't realize that 1984 was 30 years ago
60. Sushi places with a B rating
61. The line at Langer's
62. The line at Pink's
63. "I'm sorry, I don't see you on the list."
64. "I'm on there. Can you just check one more time?"
65. The 405 at 5pm
66. Artisanal ice
67. You can get Umami Burger in NYC now, too
68. When you're sure there's an accident up ahead, but nope, it's just traffic for no reason
69. Haha, 69, dude
70. Waving at tourists on those double-decker red buses... and they don't wave back. Dicks.
71. Red light camera tickets -- do you need to pay those, or not?
72. Parking in the wrong color loading zone after 6pm
73. "I'm gluten-free this week."
74. Having to drive... to the subway
75. The debate over taking Metro with a one-day pass, or tickets for each separate train
76. "Fire season"
77. Missing a high-speed chase
78. "Which San Vicente?"
79. Silverlake or Silver Lake?
80. East of Centinela? Beach day. At the beach? Sweater weather.
81. June gloom
82. People who move to LA and then bitch about people who move to LA. So, kind of just people.
83. Fighting a parking ticket: worthless
84. Knowing that someday, Vin Scully won't be announcing the Dodgers anymore
85. The 405 at 6pm
86. No Uber/Lyft/Sidecar pickups allowed at LAX
87. 24-hour dispensaries? They don't exist.
88. Bikers with no bike lane
89. Movie tickets on weekends? Like, A BILLION DOLLARS.
90. Losing production to Louisiana/Vancouver/etc. because they have better tax benefits
91. "I guess I'm in East Hollywood, or maybe Koreatown, or Los Feliz? I'm really not sure. Just come East."
92. Hollywood Bowl season? Add an hour to your commute.
93. Wait, where did Fountain go? Oh. There it is.
94. That "fast lane" on the freeway? IT'S FOR GOING FAST.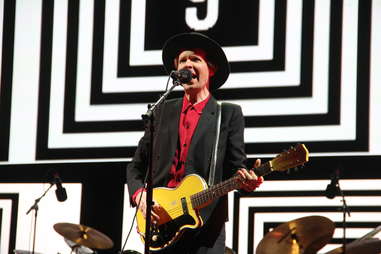 95. There hasn't been a secret Radiohead or Beck show in, like, two years
96. The closest person to being wherever you're going on time is still 30-minutes late
97. "Grand Opening" banners that have been up for three years
98. Your waiter... is busy running lines
99. The 405 at 8am. Or so we've heard.
Thrillist's LA Editor Jeff Miller is a lifelong Angeleno, and gives big ups to his Facebook friends for helping with this list. He's at @jeffmillerla on Instagram and @ThrillistLA on Twitter.