What Every Notable Place in 'The Big Lebowski' Looks Like Now
Do you ever happen upon The Big Lebowski and wonder what it would be like if Jeff Lebowski landed in LA now, almost 20 years later, did a J, then toured his old hangs? No? WHAT IS WRONG WITH YOU?!? Well... we did, which is why we got the littlest Lebowski, fired up the '73 Ford Torino, and drove from La Jolla to Leo Carrillo, and up to Pismo (or just, you know, around LA) to see what those hangs look like now. Mark it, dude.
Dustin Downing/Thrillist
1745 Garfield Rd, Alhambra
Though they wouldn't sell him all the ingredients for a White Russian, the little Duderino found some of his iconic half-and-half and downed it right on the spot. This aggression stood, man.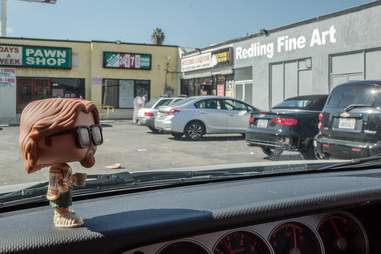 Dustin Downing/Thrillist
6757 Santa Monica Blvd, Los Angeles
Once a Dude-approved weed dispensary, the former Hollywood-ish site of Sobchak Security is now a Western Union, liquor store, and Redling Fine Art, none of which are holding the dirty undies.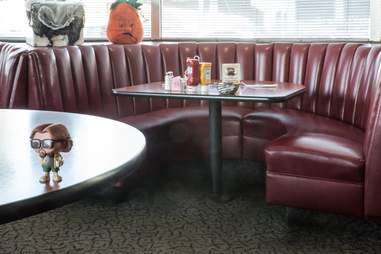 Dustin Downing/Thrillist
6521 S Sepulveda Blvd, Los Angeles
Though the Dude is never seen there in the movie, the little Dude loves it -- 'cause it was actually shot at Dinah's, which is a runner-up on our list of the best fried chicken in LA.
Dustin Downing/Thrillist
1824 Stearns Dr, Los Angeles
No iron lung inside. No car outside. Same paint job.
Dustin Downing/Thrillist
10231 Charing Cross Rd, Los Angeles
Unsurprisingly, the millionaire Lebowski wouldn't let the little Lebowski inside, whether or not he's an Urban Achiever.
Dustin Downing/Thrillist
630 Broadway, Downtown
The cycle -- the what have you -- was shot at this Downtown theatre, which was showing Donnie Darko soon after we showed up. And yes, that makes just about as much sense as the landlord's dance (also, it's nowhere near the In-N-Out, sadly).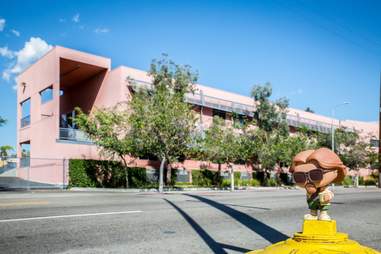 Dustin Downing/Thrillist
5227 Santa Monica Blvd, Los Angeles
Sadly, no strikes or gutters, but just as many rules, because: it's an elementary school. For 8-year-olds, dude.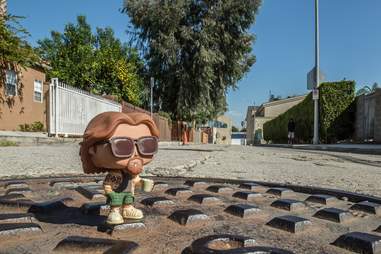 Dustin Downing/Thrillist
6319 La Mirada Ave, Los Angeles
We fired up the Creedence and found the exact spot where the dude hits the dumpster after being chased by Da Fino. Marvel at the differences!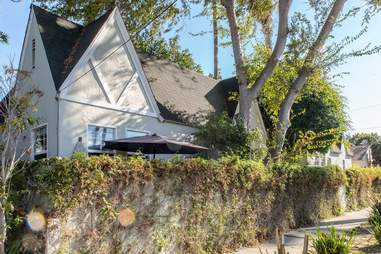 Dustin Downing/Thrillist
608 Venezia Ave, Venice
Why isn't the little Dude in this pic? Because he's in bed with his special ladyfriend trying to conceive, that's why.
Sign up here for our daily LA email and be the first to get all the food/drink/fun Los Angeles has to offer.
Jeff Miller has seen The Big Lebowski approximately 10 trillion times, and is very sorry that Jackie Treehorn's house isn't open to the public. You can yell quotes at him on Instagram at @jeffmillerla or on Twitter at @ThrillistLA.