California Colleges, Ranked by Coolness
There are a lot of things kids who go to California colleges like to hang their hats on when they graduate, like going to the top-rated public school in the country ('sup Berkeley), or attending a university with infinity football titles (hi, USC), or a zillion other things that honestly don't matter even a little bit. What does? Whether you went to the COOLEST school, of course.

Which ones are those, exactly? Well, we did a whole bunch of fancy science to create a point-based system that would help us definitively and once and for all figure it out. Factors that went in:
1) Are they ranked low academically? ('Cause everybody was too busy doing cool other stuff to care about their grades. Duh.)
2) How high is the dropout rate? ('Cause people had too much fun and had to drop out, obviously.)
3) Were they ever ranked as a Playboy Party School?
4) How many bars/pubs do they have physically on campus?
5) Are they in a cool city?
So here they are, 36 colleges in California, scientifically ranked by how cool they are.
(Editor's Note: Any college with less than 10,000 students was not considered. Sorry, Epic Bible College.)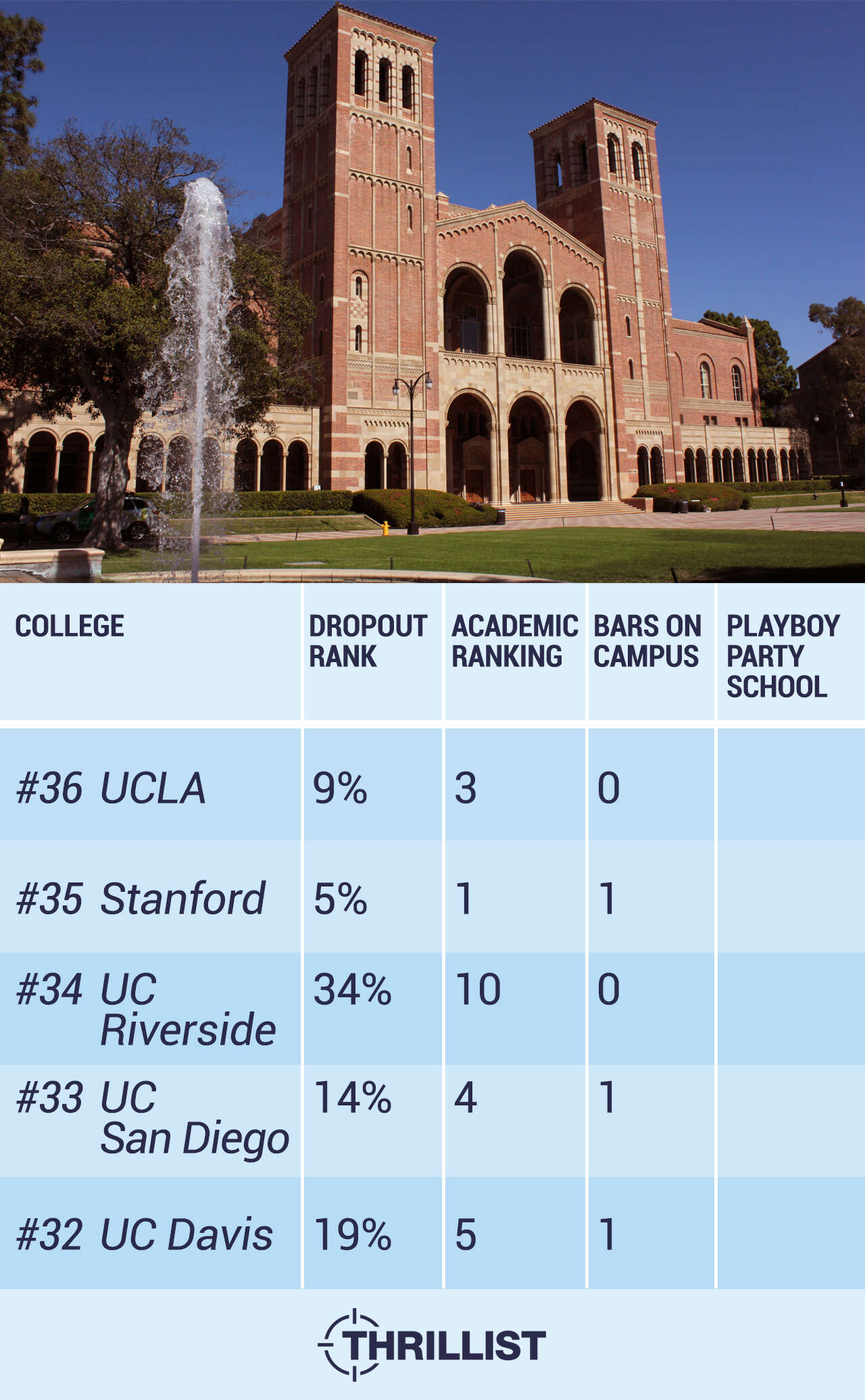 Not a ton of shockers at the bottom of the list, oh right, except for LAST PLACE UCLA, which has as many on-campus bars as UCR and as many Playboy Party School nods as UC Davis. Stanford, meanwhile, avoids super-loser cellar status (thanks UCLA!) despite a super-uncool 95% graduation rate. Also: UCSD, we expected more from you.
Sure, everybody in SLO has the body of a T-1000, but looks can't make up a sad on-campus bar/Playboy Party School showing. Cal is probably the biggest surprise here checking in at No. 28 despite the second highest academic ranking in the state (you go Glen Coco). Crazier still, it'd be EVEN HIGHER had its second on-campus bar (Bear's Lair) been open by the time we put this together (it was supposed to re-open last week). The one it does have, however, earned the Golden Bears some bonus points since it's a secret one (hint: it's in the faculty lounge).
If this thing included "being surrounded by great food" as a factor, CSUN totally would've been higher (King's Burgers FTW!), but those aren't the rules, so, sorry guys. Also, who knew UC Merced was even a thing?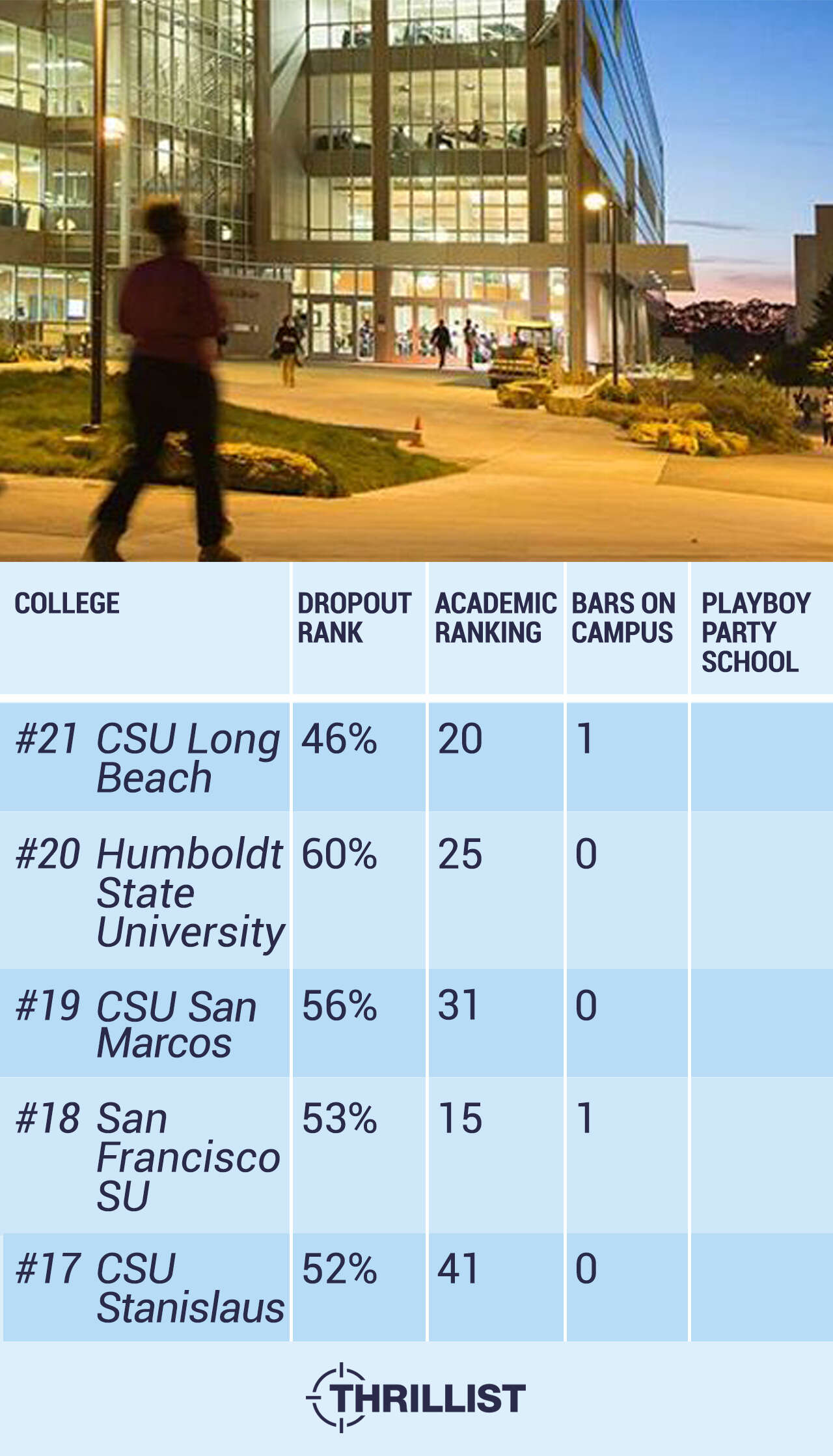 Humboldt is the first to check in at the top-20 (go Lumberjacks!) and also the first to tip the 60% dropout rate scale. As for Cal State Stanislaus and Cal State San Marcos: more than half of your students don't graduate, so, pretty much, keep on doing what you're doing.
It's no shock that Cal Poly Pomona made the top 20 since it has things like cardboard boat regattas and a killer brewery. No surprise with Sonoma State either; it's college in the middle of wine country -- you just can't go wrong. And before you ask, no, Cal State Channel Islands isn't actually on the islands, sadly. Maybe the biggest shocker, though: despite TWO Playboy Party School nods (each of the last two years, even), UC Santa Cruz still can't crack the top 10.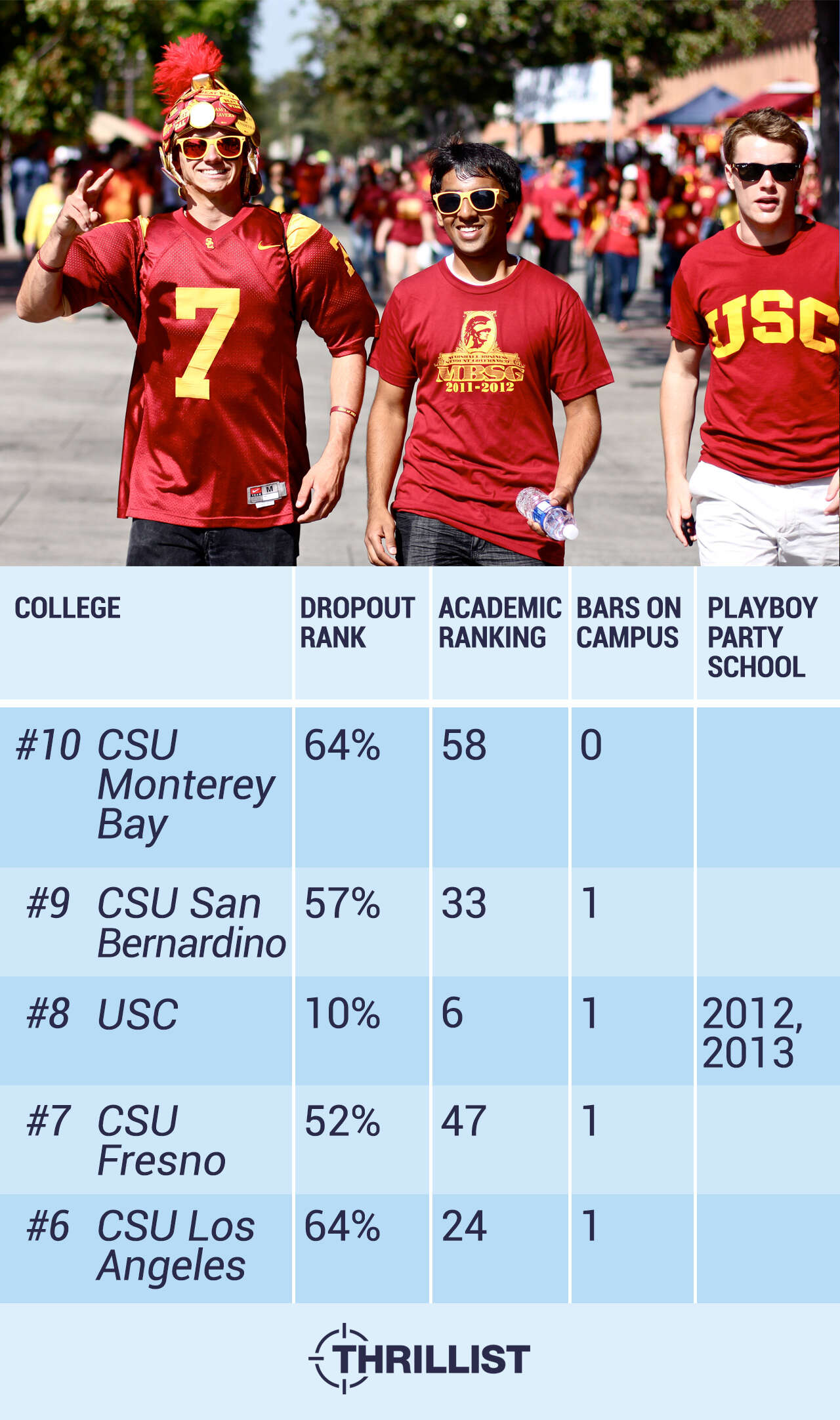 You kind of half expect USC to end up around No. 8, partially because it's as close as LA might ever get to a pro football team, but also because it's a two-time Playboy Party School award winner. CSULA was a pretty big surprise with its top-10 ranking, but there's no greater surprise than Fresno at No. 7. Uhhh. What? Fresno??
OK, so we've already told you that Bakersfield isn't that bad, and here's more proof. It's also well known that Chico is one of the raging-est colleges in the country, so its No. 3 spot is no surprise. And a shout out to SDSU for having academically dedicated students AND three different Playboy nods under its belt. Not exactly sure how that works. As for Santa Barbara, coming in at No. 1: if you haven't been to a Halloween at UCSB, just imagine every single person you've ever met, many beers deep, surrounding you on all sides, and wearing insane costumes while cops ride horses the size of dinosaurs around it all.
And that's just ONE holiday. Way to go, UCSB. You earned it.
Sign up here for our daily LA email and be the first to get all the food/drink/fun Los Angeles has to offer.
Wilder Shaw is a regular Thrillist contributor who went to one of these schools. Ask him which one it was on Twitter at @WilderShaw_ and Instagram at @wildershaw.