Eventually, all your posts touting "another perfect day on the beach" and "the best hike ever" are going to catch up with you -- as in, some of those poor souls outside the state of California have decided to come visit you in LA. You know what that means: you're going to have to take them places. And while you might have a few restaurants and museums your sleeve, it'd be nice to sprinkle in a few not-in-every-guidebook activities. So... what if you don't exactly know what they are?
We're here to help, with a comprehensive guide to the best things to do in LA for tourists and locals alike. Below, you'll find a combination of worthwhile tourist spots, underrated local favorites, and maybe even a few new experiences locals haven't done yet; mix, match, and remember to make reservations.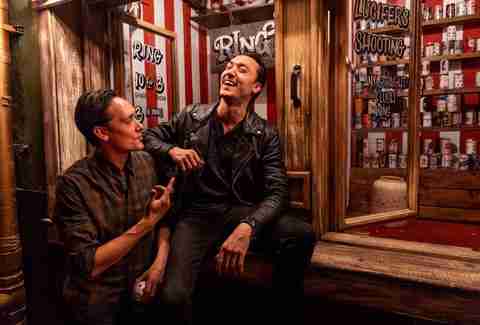 $-$$$
Hollywood
LA nightlife gurus Jonnie and Mark Houston opened their latest venue -- an old-timey carnival-themed club called Madame Siam Sideshow Emporium-- underneath magic spot Black Rabbit Rose in June, and the result is sensory overload (in the best way). Expect whimsical cocktails, classic candy vending machines, and carnival games including the much-Instagrammed gem that involves tossing a ball into the mouths of Donald Trump and Kim Jong Un. Live acts ranging from contortionists to illusionists show up some nights, and there's usually tarot card reader (who might help predict when your guests are finally going to clear out of your apartment).
$-$$$
Various locations
The cool thing about Dodger Stadium is that there's enough going on that you don't have to necessarily be a Dodgers fan (or even a baseball fan, for that matter) to have a good time. There's some seriously great food, alcohol, shopping, and memorabilia; Friday evening summer games end with a fun fireworks display; kids can run the bases after most Sunday afternoon games; and pre-game stadium tours give visitors a special inside look at the historic sports venue. And, oh, yeah, you can also see an actual baseball game while you're there, too.
$$-$$$
Downtown
Neal Fraser has been wowing the LA food world with farm-to-table fare at Redbird -- a stunning space within the rectory of a former cathedral -- for nearly four years, so it makes sense that they finally decided to cut out the middleman and plant a garden within the property's open-air courtyard. To celebrate the first harvest, the bar just rolled out a gorgeous new collection of cocktails using ingredients ranging from flowers to fruit, all grown onsite, that will be available through next spring (along with a menu featuring illustrations made to look like a Burpee seeds catalog). Pair 'em with a fancy dinner in the dining room, happy hour bites in the bar, or a Sunday brunch on the popular patio.
Free
Santa Monica
Santa Monica's concerts on the pier used to be firmly planted on any respectable Westsider's calendar... until so many people started going that it became too crowded to be any fun, crippling the city with even more insane traffic and parking problems than usual. After skipping this summer, Santa Monica has brought a series of shows back for a six-week stretch on Wednesdays beginning September 5 -- ostensibly because less people will be interested in making a trip to the beach later in the year, but we'll see about that. Acts now perform on three stages, and each week centers around a theme ranging from Latin Waves to Australia Rocks the Pier. We're betting big money an Abba cover band shows up for that last one.
Free-$$
Various locations
Watching a movie is good, but watching a movie outdoors is great. We're lucky enough to live in a city that has plenty of al fresco film options come summer, whether you want to picnic in the park with your pup in front of Pretty Woman or sit by a swanky Beverly Hills hotel pool during Breakfast Club. Check out our massive guide to outdoor flicks around town and decide for yourself.
$
Mid-City
It's hard to believe that the only active, urban Ice Age excavation site is less than a mile from The Grove, but at the La Brea Tar Pits' natural-occurring tar (responsible for entrapping animals thousands of years ago) is indeed still bubbling and smart sciencey-type people are continuing to uncover fossils while you sit around Snapchatting. Inside the museum, they've put the trippiest fossils (mammoths, saber-toothed cats, and dire wolves, for example) on display and you can also take an Excavator Tour of the live dig site.
 
$-$$$
Various
You can see all kinds of funny folks -- ranging from big-time acts to level-one improv students -- any night of the week in this city, which you absolutely should do. Hit any of the better-known comedy clubs, and there's always a chance for a famous comedian might drop in to try out some material on you and your visiting cousins. If you want to make sure you see someone you recognize, however, book tickets ahead time for The Main Room at The Comedy Store or The Hollywood Improv where Kevin Nealon and David Spade have been making frequent summer appearances or Jay Leno's long-running Sunday show at The Comedy & Magic Club in Hermosa Beach.
$-$$
Mid-City
You don't have to be an auto enthusiast to be seriously impressed by the Petersen Automotive Museum, which is currently showing exhibits ranging from colorful low-riders to vintage Porsche to custom motorcycles. If anyone in your group does have a penchant for cars, though, you're going to want to book a guided tour of the museum's recently renovated and reopened vault. You'll have to buy a GA ticket and then pay extra for the tour, which will give you up-close access to 250 rare, historic, and iconic cars including a 1929 Bugati, a 2015 McLaren P1, and a 2006 Ferrari 248 F1 race car.
$
Pasadena
There's a reason the 50-year-old Rose Bowl Flea Market is one of the most famous in the country. The massive outdoor event -- set within the 90,000-seat Rose Bowl Stadium in Pasadena on the second Sunday of every month -- draws 20,000 shoppers and 2,500 vendors, hawking everything from vintage clothing and antique furniture to retro records and brand-new goods. If you're looking to do some bona fide picking, it might be worthwhile to pay a premium ($20) for an early admission ticket to get there when the serious buyers do: at 5am. Otherwise, 7am entry will run you $12 and GA starting at 9am is just $9.
Make day-drinking feel educational
$
Various locations
While we don't have the craft beer scene of other West Coast cities, LA certainly has enough breweries to keep you busy for a day and several of them offer behind-the-scenes tours to indulge your inner hop head. Angel City Brewery in Downtown's Arts District does early evening tours Monday-Friday with afternoon additions on weekends; newly opened Belgian-style brewpub Bluebird Brasserie in Sherman Oaks just rolled out happy hour brew tours Monday-Wednesday; Smog City Brewing Co. in Torrance doesn't have official tours on its roster, but should set you up with one if you call ahead and ask nicely. You can also pay this outfit to drive you around, take you to multiple breweries, and give you beer.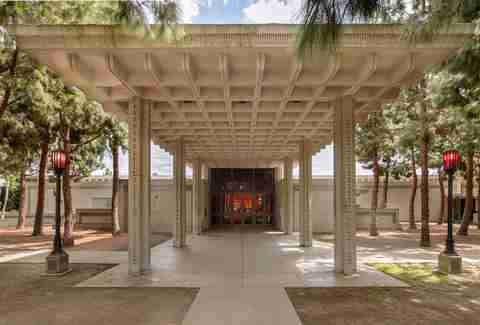 $
East Hollywood
The fabled architect designed the 5,000-square-foot Mayan Revival-style Hollyhock House for an oil heiress nearly a century ago. After a complete restoration a few years back, the hilltop property -- most famous for its seamless indoor-outdoor flow, massive hearth, and hollyhock flower details throughout --  is open to the public for both self-guided visits and docent tours. It's part of Barnsdall Art Park, so you can stroll the grounds and check out the LA Municipal Art Gallery afterward.
Free
Fairfax
Chances are you won't get to run down the aisle screaming, rub elbows with Drew Carey, spin that how-big-is-it-actually-in-real-life wheel, or bid on a Jet Ski and living room set during the Showcase Showdown -- but by God, you can try. Tickets are released about six weeks in advance of when the show is taping, so check this website to get in on the cash-and-prize action.
Free
Downtown
Your out-of-town visitors have most likely seen this exhibit before thanks to the Instagram feeds of every single person in LA, but it's worth an in-person visit to impressive contemporary art museum The Broad to see the exhibits (there are two now) – in which a gazillion LED lights perennially reflect inside mirrored rooms -- for themselves. While admission is gratis, you'll need to reserve your spots well in advance.
$$
Hollywood
For an up-close peek at the nation's most famous sign, hop on a horse's back and let him do all the work. Book a one- or two-hour tour ($50 for one hour, $75 for two), which will take you along a network of trails through Griffith Park, providing killer views of the Hollywood sign, other landmarks like the Griffith Observatory, and Downtown. If saddling up isn't your thing, you can make the hike up there by taking one of several trails.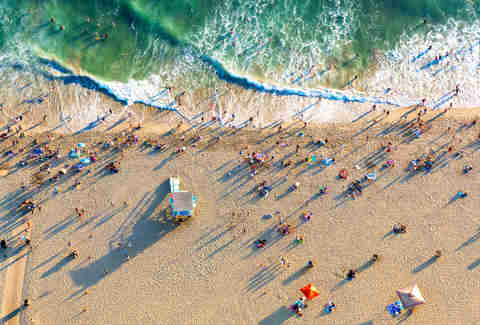 Free
South Bay, Westside, Malibu
LA is literally lined with beaches (but you knew that). Which one to choose depends on what exactly your group is looking for. Miles dotted with pro volleyball courts and plenty of fun bars ready to host you for day drinking? Head for the South Bay. A big swath of sand surrounded by family-friendly activities including a pier full of rides? Go to Santa Monica. Small patches of rocky beach surrounded by some of the most stunning homes LA has to offer? Malibu's your spot. If you feel like seeing them all, grab a bike and hit the 22-mile trail that runs from Torrance in the South Bay up to swanky Pacific Palisades just south of Malibu.
$
Santa Monica
If you're in the Santa Monica area, you're probably mere yards from one of these electric scooters that you can literally pick up on the side of the road (once you have the app) and pay around a buck a ride (plus 15 cents per minute). They're a great way to get from beach to Main Street to the Third Street Promenade, or even over to nearby neighborhoods you want to tour. When you're done, just leave the thing wherever you want and lock it with your app.
$
Westside
Sure, the impressive art exhibits are worth seeing, but it's the actual 110-acre venue itself that makes a trip here a must-do for out-of-towners. The complex -- drenched in 1.2-million square feet of Travertine to catch the light just so -- is perched atop a hill within the Santa Monica Mountains boasting sweeping views of the surrounding city and the Pacific. Try joining one of the daily architecture tours or one focused on the impressive Central Garden while you're there. Admission and tours are free, but parking will cost you $10-15.
Free - $
Various locations
If the Getty's not quite your speed, have no fear: LA's got plenty of other museums to choose from, whether you're looking to explore contemporary art (The Broad), music (GRAMMY Museum), or... just general weirdness (Museum of Jurassic Technology). Pick out your favorite, and get ready to pay next-to-nothing for the privilege of a visit.
Free - $$$
Century City
Yes, there are Eataly locations elsewhere in the country, but this one is decidedly Californian with a light-filled space (attached to a fancy mall, because LA), collaborations with plenty of hip area chefs, and an attached stunner of an open-air rooftop restaurant and swanky gin-centric cocktail lounge -- Terra -- one flight up. If you have more time, check the schedule for ticketed tastings, tours, and classes like gnocchi-making ($80) and olive oil tasting ($35).
See some legendary lounge lizards
Free (plus drinks)
Los Feliz
Singing spouses Marty and Elayne (who remain last-name-less a la Madonna) have been a mainstay of the Eastside real-deal retro The Dresden Room since the early '80s -- with their cruise-ship-style versions of standards and jazz tunes dotted with bursts of falsetto synthesizer magic. Stick around for their famous rendition of "Stayin' Alive" made famous in '90s fave Swingers.
$-$$
Various locations
You don't have to be a local to know the ins and outs of LA's secret bars -- in fact, plenty of locals won't know the first thing about how to get into The Rendition Room. All you need is our primer on the coolest hidden bars in the city, which includes details on how to get into each of them. Not all of them involve a secret staircase… but some do!
Sing late-night karaoke in K-town
$-$$$
Koreatown
If you haven't sung "Like a Virgin" at 1am in a private room in this increasingly cool neighborhood that runs 24/7... well, you've never experienced real karaoke. Try the 17-room disco-esque Pharaoh Karaoke, go for broke by reserving one of the private rooms (complete with Atari and Simon Says games) hidden in the back of '80s-themed club Break Room 86, or do the communal thing at the long-standing Brass Monkey.
Free
Santa Monica
That whole "Oh, all the chefs shop there" line you hear as soon as you mention LA's flagship farmers market isn't just conjecture. Downtown Santa Monica's majorly massive market is indeed full of wandering white coats, especially on Wednesday mornings, when the offerings are even more vast than the Saturday version. If you can dream it, and it's in season, you'll find it here -- from obscure winter greens to fleeting spring ramps to heirloom beans.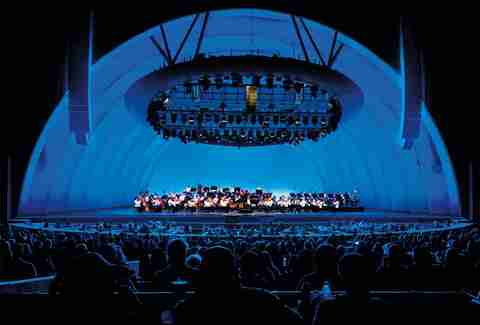 $$-$$$
Hollywood Hills
Few amphitheaters are more magical than this one nestled in the Hollywood Hills. Yes, getting in and out is never fun, but once you get there as the sun is setting, indulge in a gourmet picnic and a few bottles of wine, and then catch an amazing act, you'll have forgotten all about that LA traffic... until it's time to head home, at least.
Eat an old-fashioned burger at Apple Pan
$
Westwood
No city has more options for those looking for America's meaty mainstay than Los Angeles, and Angelenos perpetually argue over which burger joint does it best -- we've got our own opinions on that front, too. There's no debating, though, that the 70-year-old (and cash-only) Apple Pan is about as OG a burger experience as you can get. The place hasn't been remodeled in decades, there's a Formica lunch counter, staffers wear paper hats, and even the menu's font just feels old, but the stars of the show, of course, are the burgers (both the Steakburger and Hickoryburger get top billing). Follow it up with a piece of fresh apple pie, and you'll leave feeling like you were just inside an episode of Happy Days.
Visit the world-famous Venice Boardwalk
Free
Venice
It's a wild scene all day long and not even a tenth as charming as it looked on White Men Can't Jump (where it didn't look charming at all, come to think of it) but everybody has to see the Venice Boardwalk at least once. Muscle Beach, head shops, trinket hawkers, a skate park, street performers, guys riding bikes in Speedos, it's all there. Just nod, call it "vibrant," and check it off your list.
$-$$
Various locations
Brunch is a big deal is pretty much every major city, but the fact that you've had the best brunch in Cleveland, or Chicago, or even NYC doesn't preclude you from diving into the flavor ocean that is LA's brunch scene. There are a ton of places to choose from -- so many that we've devoted an entire guide to the subject -- but if you're looking for a safe bet, look no further than SQIRL. A renowned LA brunch classic with lines to match, the move at SQIRL is to avoid peak hours, or bring a way to pass the time. It's totally worth it, though.
Free
Downtown
It may not have the notoriety of the Empire State Building, but the 27th-floor observation deck of Los Angeles City Hall (LA's tallest building many moons ago) is open to the public Monday to Friday, providing 360-degree views of the city for free. It's a good add-on stop if you're already doing something else Downtown, but keep in mind it closes at 5pm.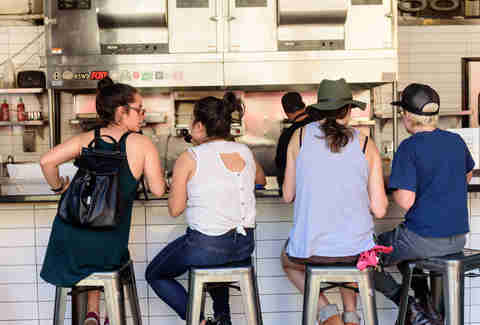 $-$$$
Downtown
While Downtown's dizzying Grand Central Market has been around for more than a century, it's undergone serious gentrification (along with the rest of Downtown)  in recent years, which means old-school stalls like wonton soup stalwart China Cafe and Latin grocer Chiles Secos now sit alongside hipster magnets including the world-conquering breakfast sandwich powerhouse Eggslut (never without a line) and Thai comfort food counter Sticky Rice. We've put together a guide to the essentials, but whichever spots you hit, it's a delicious destination your visitors will enjoy.  
Blow everything on a crazy tasting menu at Vespertine
$$$
Culver City
Vespertine, according to Vespertine, "is a gastronomical experience seeking to disrupt the course of the modern restaurant." And it's pretty much doing just that thanks to chef Jordan Kahn's $250 over-the-top tasting menu filled with course after course of food-as-art that diners devour inside a four-story glass-and-orange-steel architectural structure. We can't tell you whether you'll leave feeling it was worth it or not, but we can confidently say it's a meal you won't ever forget. Make reservations on Tock.
$-$$$
Various locations
Dining at Vespertine is an admittedly tall order, but you can still get a taste of what LA's best chefs have to offer by checking out one of our picks for the best restaurants in town. If that's still too much choice for you, here's an abridged selection that won't steer you wrong: hit up Howlin' Ray's for Nashville hot chicken, Q Sushi for a premium omakase experience, or Felix for impossibly good pasta (if you can get a table).
$-$$$
Venice, Melrose, Downtown
LA was, for a while, surprisingly low on high-level libations compared to other cities -- puzzling, given our temperate weather -- but these days there are enough options to fill an evening, at least. High Bar at Venice's Hotel Erwin towers over the beach; the expansive, lushly landscaped roofdeck bar LP overlooking the Hollywood Hills does seasonally inspired cocktails and Asian small bites; the poolside Upstairs Bar at hipster haven The Ace Hotel Downtown boasts DJ sets many evenings a week; and the InterContinental Hotel's Spire 73 became the country's highest open-air bar when it launched last year.
Go wine tasting
$-$$$
Malibu
Malibu may not be an international destination for oenophiles, but it's completely serviceable for LA peeps who want to spend the day sipping. Malibu Wines – with its rambling grounds in the canyons, picnic tables, and live music on Saturday and Sunday is one of the better-known spots, and gets crazy crowded on weekends, so you might want to reserve a picnic table ($85 for three hours for four people, while tastings start at $17). Rosenthal's tasting room is across the street from the beach and offers live music and food trucks on weekends (tastings are $17 for four wines). And don't even consider trying to bring your pup. Despite being outdoors, all the wineries are some of the least dog-friendly spots in town.   
$$
San Marino
The 120-acre botanical gardens at Huntington Library is made up of a bunch of different gardens in one – including Japanese gardens with bonsai trees, bridges, and tea houses; a glass-covered conservatory; an area dedicated to desert fauna and succulents; and ancillary gardens filled with roses, herbs, jungle plants, and much more (let's just say you've got to be seriously into plants to want to see them all). Since you'll be paying admission ($25 on weekdays, $29 on weekends) to the whole Huntington complex, you might as well visit the fabled Huntington Library along with its art galleries and special exhibitions while you're there.  
$-$$
Hollywood
Yeah, we know it sounds kind of creepy (and guess it is, actually) but it's also one of the most fun ways to spend an evening. Throughout the summer, Cinespia does a screening of a movie ranging from classic to cult hit (Casablanca will be the Memorial Weekend feature but you can also expect more modern flicks like Drive and Almost Famous) on the lawn of the landmark Hollywood Forever Cemetery, often preceded and followed up by DJ sets. You buy a ticket online (and grab a parking pass for extra if you like), bring a blanket and some wine and try to forget about all the dead people nearby.
$
Marina del Rey
The slow-moving reptiles have been competing in world-famous turtle races for nearly 45 years in the parking lot of Brennan's, a formerly divey pub about a mile and a half from the beach. After a change of ownership, remodel, and turtle-racing hiatus, the kids (who now live in newly herpetologist-approved sanctuaries) are back participating in now-monthly races. Stick around for dinner and drinks afterward with a vegetarian-friendly menu of bar bites, pizzas, and sandwiches.
$$-$$$
Venice
If Gjusta -- the counter-service sibling Abbot Kinney attitudey favorite Gjelina -- didn't dole out absolutely amazing everything, there would be no way we would deal with the Hunger Games-style parking, against-the-clock ordering, and reflex-testing seating situation, along with prices that will change your concept of fair market value ($17 for a sausage and egg sandwich? $45 a pound for lox? Sounds totally fair). Unfortunately, all of it -- from the freshly baked bialys to the house-smoked mackerel to the seasonal veggie plates -- make for a transformative experience you'll keep coming back for. Tip: The place opens at 7am, when everyone else is sleeping. Use that time wisely.
Free
North Hollywood
We dare you to find an American human who isn't wowed by a drive by the iconic Brady Bunch house. While it doesn't look quite the same as it did in its '70s heyday, you'll recognize that groovy stonework and angular roofline and someone in your car will inevitably wonder aloud whatever happened to cousin Oliver.  
$
Downtown
Every Sunday, vendors hawking Instagrammable eats from fried chicken sandwiches to horchata cupcakes to sustainable oysters along with micheladas, fresh fruit slushies, and boba teas gather at the five-acre site downtown for an all-day outdoor food and drink extravaganza called Smorgasburg LA (an offshoot of the NYC markets). Take a break between courses by perusing some of the stands selling handmade and vintage goods.
$$
Atwater Village
It's a trend, you know, because blisteringly hot; power; stand-up paddleboard; aerial; and nude versions of the ancient practice just aren't enough. So you can now do downward dog along with a cute little farm animal at this Eastside brewery. Price of admission comes with a post-yoga beer. Because yoga with goats just isn't enough...
$
Downtown
LA's street art scene is an impressive one, but rather than just walk on by all those murals without giving them a second thought, you can actually follow along with a local artist who'll point out some of the Downtown's most magnificent urban art -- including some stellar sculptures -- and share the stories behind them.  
Walk Rodeo Drive
Free
Beverly Hills
The Lamborghinis, the plastic surgery, the Real Housewives lookalikes. We don't recommend spending much time blowing your paycheck at all the pricey chain stores your friends can find back in New Jersey anyway (Hey look, it's Tiffany!), but dedicating an hour or so cruising through the 90210 always makes for a good-for-gawking stop.
$$
Downtown
Little Tokyo's Baldoria -- best known for its inventive pies like charred baby octopus and miso-marinated flat-iron steak versions – is now trying to make pizza pros out of mere mortals. Head chef Duke Gervais runs intimate pizza classes on the second Sunday of the month (though they'll most likely become more frequent over the summer) where he shares tips on making his formidable dough, how to form pizzas, and then the best strategy for baking them. Afterward, you get to indulge in your own creation along with a free glass of vino or a beer for a reasonable $30.
$
Westside
Nobody needs an excuse to check out the Jim Henson exhibition (opening June 1) at the Skirball Cultural Center, which'll feature 25 puppets on display from Sesame Street, The Muppets, and Fraggle Rock, along with scripts, storyboards, photos, and interactive stuff like a chance to fulfill your lifelong dream of puppeteering.
$$$
East Hollywood
Part restaurant, part dinner party, part underground supper club, the fun of Wolvesmouth dinners is getting to meet new people, share wine (it's BYO!), and try a parade of chef Craig Thornton's inventive and artful dishes served inside a cozy East Hollywood house, where the only menu you'll see is the one pinned to the refrigerator. You'll need to sign up for the email list to be able to book a spot. Also be on the lookout for the seafood-centric Sharksteeth dinners that get rotated in throughout the year. How much you pay is up to you, but the consensus is to leave around $100 or so per guest.  
Free
Hollywood
One Saturday a month the Griffith Observatory, which sits on the south side of Mount Hollywood, hosts a "free public star party" where you can try out a gaggle of telescopes and peer at the sun, moon, planets, stars, and other celestial stuff out in the universe. In case you're not an astronomer yourself, volunteers from smart-people clubs Los Angeles Astronomical Society, the Los Angeles Sidewalk Astronomers, and The Planetary Society will be on hand to answer questions. 
Sign up here for our daily LA email and be the first to get all the food/drink/fun Los Angeles has to offer.