At some point this month, you'll have that realization that it's ACTUALLY SUMMER, and that you should ACTUALLY START DOING SUMMER THINGS, or else Summer's just gonna pass you by, and then what? Fall??? Boring. Here're 12 things to do in July to get you started.
When: July 4
Where: All over the city
In case you missed it, we made a list of the best places to watch fireworks in the city, from the rooftop of a hotel in Venice, to a seaside hang in the marina, to the Hollywood Bowl's annual stunner, which features Steve Martin (yes, that Steve Martin). He's also at the Bowl with fireworks on July 2nd, and we've got free tickets to that one if you just tweet this. [THIS CONTEST IS NOW OVER!!!]

When: July 8
Where: Smoqued BBQ (address and info)
The guys at this OC BBQ palace are doing it up piggie-style, with $45 getting you a piece of a whole roast hog, canned beer, and "American fixings".
When: July 11-13
Where: Parts unknown
Consider this your "buy tickets right now" reminder -- this crazy scavenger hunt (which'll take you all over Cali to visit odd places like abandoned, rusted out submarines and giant, metal dinosaurs that weren't featured in Pee-wee) is definitely about to sell out.

When: July 12
Where: Angel City Brewery (address and info); Chinatown
You can definitely rock both of these sweet Downtown events on the 12th -- spend your afternoon playing games like corn hole and Twister while sucking down brews at Angel City, and then head to Chinatown for a massive free festival with crazy-good Asian food and music programmed by KCRW & local music guru Kevin Bronson. Added bonus: use the code "Thrillist" for $5 off the field day admission.
When: July 13
Where: Central Plaza, Chinatown
This was one of our best events of the Summer, and now we've got even more info: the full list of ribbers includes The Park's Finest and Mexicali, desserts from Portland's Salt & Straw ice creamery, and drinks from former Roger Room guys. Yeah. It's gonna be great.

When: July 17
Where: The Mayan (address and info)
The costumed, over-the-top, comedy-meets-Mexican-wrestling-meets-burlesque extravaganza returns, promising the kind of standard issue that show fans have come to expect. So... midgets, acrobats, and all-out insanity.
When: July 19
Where: Syrup Loft (address and info)
This is an art party dedicated entirely to submitted works that feature the face of Nicolas Cage in some way. There will also be music. And booze. Yes, seriously.

When: July 22
Where: Bigfoot Lodge East (address and info)
Sure, these days it's all like, "the X-Men are the best", "No, The Avengers are the best", "No, Ant-Man is the best", and people take you seriously. But that hasn't always been the case, which is why this party's going to be epic -- they're gonna show a ton of old-school Marvel "classics" (Dolph Lundgren as The Punisher? CHECK! David Hasselhoff as Nick Fury?? DOUBLE CHECK!!!), with surprise stop-ins from actors from the movies, drinking games, live comedy, and more.
When: July 23
Where: The Wiltern (address and info)
So, there's a dude who has snuck into every major music festival -- from Coachella to Bonnaroo -- by any means necessary (posing as press, copying wristbands, hiding in a port-a-potty), and somehow befriended some of the musicians, ending up on the road with Mumford & Sons and Edward Sharpe and the Magnetic Zeros. Thankfully, he had the foresight to document it all, and this is the open-to-the-public premiere, which features Jay Z and The Naked and Famous, and promises an acoustic performance from one of the artists (hint: probably not Jay Z).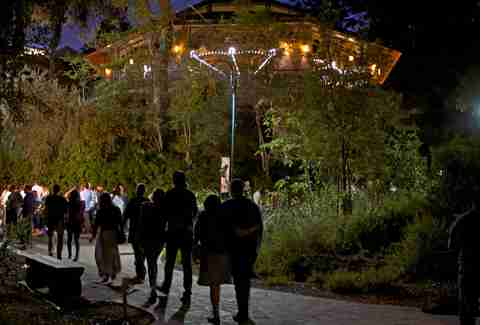 When: July 25
Where: Los Angeles Zoo (address and info)
If you've ever gone to the zoo and thought, "All these animals would be so much cooler to look at if there were bands, food, and booze here", then this is the jam for you. Coolhaus, Umami, and the Lobsta Truck will be serving food, full bars will be serving, uh, drinks, and the band Kiven will be serving "heavy and hypnotic" rock music.

When: July 26
Where: Santa Monica High
The food-and-bands-and-a-movie-outside series is featuring one of the best comedies of our generation (that's not How High or Half Baked), and they've got a super deal for the first 150 Thrillist readers: click here, enter the code "Thrillist" and your ticket'll be half-off, leaving you some extra cash for... uh... party supplies. Yeah. Like... uh... pizza. Riiiiiight, pizza.
When: July 27
Where: Santa Monica Pier
So the concept for this recurring party (which is huge in San Francisco) is that DJs play, people drink, and everyone dances -- except there's no amplified music, only what's playing through headphones given to attendees... meaning anyone watching is wondering what's happening, and everyone that's in on it is giving each other knowing winks while singing along to "The Choice Is Yours".
Jeff Miller is Thrillist LA's Senior City Editor and looooooves giving knowing winks. Follow him on Twitter and Instagram.