2Pac once rapped, "'Cause would it be LA without Mexicans?" The answer? Uh, no -- but he also could have included Brazilians, Cubans, and many more -ans. Latinos make up approximately HALF of the city's population, which means you get two bucket lists, Los Angeles. This one, and also the one below, which lays out 31 Latino things all Angelenos must experience before eating their final taco on the way to the pearly gates.

Residing on the unofficial theater and arts row of Boyle Heights, Casa 0101 Theater is home to independent theater, filmmaking, and arts, with a large focus on Latino culture and issues. In other words, it's where the Latino Shakespeare will be discovered when he/she arrives.

Mariachi musicians have gathered here since the 1930s to show off their mariachi-ing in the hopes of getting hired for backyard gigs or -- even better -- actual stages. Today, the mariachi musicians are still there, but the Plaza now also hosts events and shopping on the regular.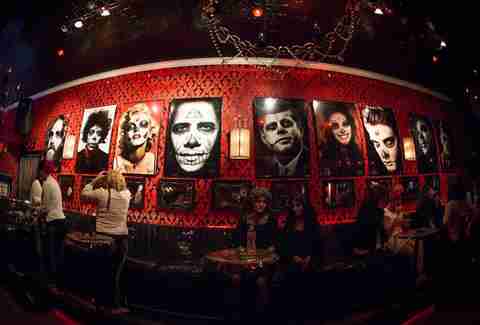 It's exactly what you think it is: an all-night Morrissey karaoke party. Latinos, particularly Mexicans (especially those from LA), worship the pope of mope, and this themed night, held every first Thursday of the month, is their haven. The hipsters in Silverlake and Echo Park can keep their Part Time Punks Smiths/Morrissey Nite -- this Boyle Heights bar hosts the real deal.

While not as gritty as the nearby hole-in-the-wall eateries, this part restaurant, part art gallery's menu is authentic Mexican and comes as pretty as the art exhibits hanging on the walls.
We've said it before and we'll say it again: Lucha VaVOOM kicks major ass.

The self-proclaimed "Voltron of retail and community radio," this hybrid collective -- composed of community-based radio station Radio Sombra and associated show Discos Inmigrantes, bookstore Imix Books, and art gallery Teocintli -- celebrates Latino culture in LA. You'll find funny screen tees, powerful words, and anything your rebel heart can imagine.

Trust us: the drive to Long Beach is worth it. Super worth it.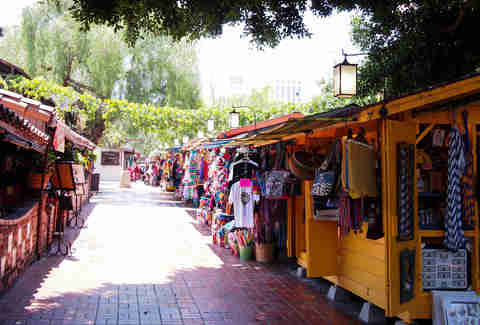 The cultural plaza at Olvera St is as authentic Latino-California as it gets. Dubbed the "Birthplace of Los Angeles," this Mexican marketplace is lined with vendors, classically designed structures, vintage painted walls, gift shops, and plenty of food options. It's reminiscent of a time when Los Angeles was pronounced with a Latin accent.

The award-winning K-Town restaurant specializes in Oaxacan cuisine, which varies from other regions of the country due to the state's geography and indigenous cultures. Much like Oaxaca, Guelaguetza is best known for its mole, a complicated sauce based on one or more chili peppers. It's one of Pulitzer Prize-winning LA Times critic Jonathan Gold's 101 Best Restaurants, and this year it received the America's Classics award from the James Beard Foundation.
Yes, it's a chain, but yes, it's also a Brazilian steakhouse chain with unlimited meat, sooo...

Let's face it: MacArthur Park is dangerous. It's full of gangs, homeless people, and drug dealers. But a daytime visit on the weekends reveals a wild display of street vendors featuring goodies from all kinds of Latin American countries.

For residents in host city of Lynwood, it'll forever be known by its original name: the Marketplace. Since its renovation and renaming in 2004, Plaza Mexico has become one of the crown jewels in LA Mexican cultural centers. Designed to look like the ancient city of Monte Alban, Plaza Mexico features 650,000sqft of shopping, dining, and entertainment set against classical Mexican design and colonial architecture. It's the closest thing to stepping onto Mexican turf without crossing the border.

This swap meet features more than 600 daily vendors, cheap (between $1-$2.50) admission, and free entry Tuesday through Thursday. It also hosts regular cover bands, including The Cure, Led Zeppelin, The Who, U2, The Smiths, and Rage Against the Machine tributes. Need more? With the purchase of a large Bud Light, you'll receive a free regular-sized bowl of menudo on Saturday and Sunday mornings (between 9-11am), perfect for that weekend hangover.

What's better than perfect chicken fajitas? Nothing. (But authentic mariachi bands playing while you eat is a nice bonus either way.)
The fifth installment of this annual food festival happens Saturday, October 17th, and features more than 5,000 of LA's top Mexican restaurateurs.

Documentaries never sounded so amazing. Presented by Ambulante California, a non-profit organization that promotes social and cultural change via documentary films, the film festival partners with local organizations to offer free documentary screenings that aim to push pro-social awareness and involvement. Ambulante California is an offshoot of Ambulante Global, which was founded in 2005 by Mexican actors and filmmakers Gael García Bernal, Diego Luna, Pablo Cruz, and Elena Fortes.

Yup.
Latinos are professional shoppers in LA's callejones (alleys), but even Santee Alley is a lot to handle. It's one of the busiest and most crowded shopping areas in the fashion district in DTLA, so prepare to get yelled at and accosted. But it's all for good measure. The local merchants are just trying to offer you the cheapest price, and simultaneously lowball their competitors, on that bedazzled dog chain/furry sunglasses/oversized boa necklace. You can find anything your mind can imagine within the more than 150 stores here. So go find it, already.

Anyone is welcome to donate their skills in poetry, yoga, Jiu-Jitsu, women's self defense, Nahuatl studies, knitting, jewelry, Zumba, salsa, conga, and more at this volunteer-run, non-profit community cultural center. Be that anyone at least once.

Pick up low-cost and/or no-cost books, or volunteer your time (or donate money) to help put books in the hands of locals, nearby Angelenos, and immigrants.

Unleash your inner Eddy Gordo (ya know, from your favorite video game Tekken?) at this acclaimed academy, which schools you in the Brazilian style of martial arts, combining elements of dance, music, and acrobatics. It's kinda like violent breakdancing.
You'll see the coolest and most colorful skeleton costumes, face paintings, and altars at the sweetest cemetery in Los Angeles, PLUS celebrate and remember deceased friends and family members as they make their spiritual journeys. This all-day event is more of a party than your usual cemetery visit, featuring altar exhibits, traditional dances and rituals, costume contests, food, arts & crafts vendors, musical performances from Grammy-nominated recording artists, and more.

The official Eastside Mural Ride just happened, but you can/should take this journey through the streets of Boyle Heights and East LA solo anytime.

With more than 20 years experience, El Charrito does mariachi and charro (traditional Mexican horsemen) suits better than anyone. Whether you're shopping for a Halloween costume or making a drastic career change, the folks here will provide the most authentic threads in town.
The drinks here make Intelligentsia look like Starbucks. We recommend the Mocha Mexicano, Horchata Latte Cupcake, and Très Leches Muffin.

There's a reason the line at Porto's is always around the block. Those savory potato balls are to die for. Ever have chorizo pie? No!? Then you're missing out. With locations now in Glendale, Burbank, and Downey, the Cuban-style family bakery and café offers a slice of buttery heaven.

Step into Versailles for an array of traditional Cuban plates, like Yuca Rellena (pork-and-beef-stuffed yucca), Croquetas de Jamon (ham croquettes), and the almighty favorite Sandwich Cubano. Come for the Pan Con Lechon (shredded roast pork on Cuban bread), stay for the Cuban flan.
Before Roy Choi and the whole food truck movement took off, Mariscos Jalisco was holding it down off Olympic Blvd in East LA. Its world-famous crispy shrimp tacos and cold seafood dishes, including ceviche and tostadas, helped it win Best Taco Truck in Los Angeles in 2013 from LA Weekly and led Jonathan Gold to include it in his 101 Best Restaurants list. Twice. Kudos if you know its secret menu. Bummer if you don't.

Easily among the best liquid gold in Los Angeles.

30. Go on a low-budget shopping spree on Pacific Boulevard
Huntington Park's Pacific Boulevard commercial district, the third-highest-grossing commercial district in LA County, is so flooded with foot traffic that it often feels like the 405 in peak rush hour traffic; hence why it's referred to as the Hispanic Mecca. The Santa Claus Lane Parade and Spring Carnaval Primavera draw hundreds of thousands of spectators each year (go to both of those), but it's also where you'll find everything you need on any random day of the week, from your firstborn's tiny baptism suit to your extravagant quinceañera dress.

This Santa Monica resto beckons Venezuelans with one of LA's only real interpretations of the arepa, a national dish that's basically cornmeal stuffed with everything from black beans to duck bacon to tuna.
Sign up here for our daily LA email and be the first to get all the food/drink/fun Los Angeles has to offer.
John Ochoa is a self-proclaimed Morrissey-obsessed Mexican-American, who grew up in the city of Lynwood, where he shopped at the Marketplace before they changed the name to Plaza Mexico. He's currently a full-time editor at Insomniac.com. Follow him on Twitter at @JohnAOchoa and on Instagram at @JohnAOchoa.