The Long Beach Bucket List: 29 Things to Do Before You Die
Bad news, chief, you are going to die. Maybe not today, maybe not tomorrow, but definitely two days from now. Before you do though, 1) can we have your BIG JAMBOX when you're dead?, and 2) make sure you do all 29 of the things on our Long Beach bucket list below.
Around Halloween, the moored ship's netherparts (including its creepy empty pool) are opened up for ghost-hunting tours and killer mazes. Have a few drinks in the bar and then stumble around hunting the spirits of dead passengers.

Some of the best beer in the country comes via this downtown brewpub, which always has some new, probably-future-award-winning IPA (or stout [or saison]) on draft. Get whatever it is and drink up. (Getting a pulled pork sandwich isn't necessarily required for this, but you'll wanna get that, too.)

Sure, you can get a deep-fried catfish or banh chiao at any of the restaurants that dot Anaheim St (aka Cambodia Town), but venture a few blocks off the strip for a bowl of kuy teav at Phnom Penh Noodle Shack (aka The Shack). It's like Cambodia's version of pho, except with pork broth that's filled with all sorts of jiggly, delicious animal bits. Just don't think about what they are too much.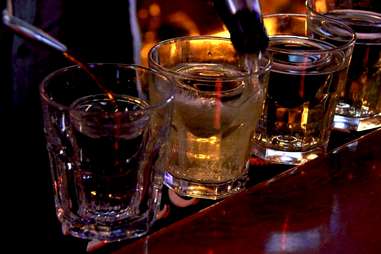 We know it sounds horrifying -- a shot of root beer schnapps dropped into a pint of Coors Light -- but we swear it's officially the unofficial drink of Belmont Shore. As lore would have it, it's an invention of Shannon's Bayshore Saloon, one of Second Street's original dives and Sublime's favorite hangout in their heyday.

Hollywood Forever, Shmollywood Shmorever. Turns out we have our own creepy old cemetery and as of a few years ago, our own awesome movie-screening series hosted by Long Beach Cinematheque inside of it. Bring a blanket and chill on the graves of the city's founding fathers while watching flicks like Donnie Darko and Harold and Maude.

6. Hook a left at 21st Street and Lewis Avenue
One of the most infamous intersections in West Coast hip-hop was placed into the pop culture pantheon by the Warren G song "Regulate." In reality, it's a pretty unremarkable intersection in Eastside Long Beach, but you can still do as the song says and "hook a left at 21 and Lewis." There may or may not be guys rolling dice for you to say, "Let's do this."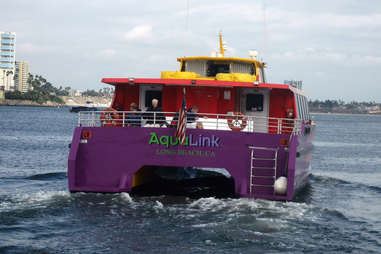 Oh, did we not mention that our public transit system has BOATS and for $5 they'll shuttle you around the shoreline, from downtown to the Queen Mary to Belmont Shore? Because we do. And you can get both snacks or Bloody Marys at the full bar on board. Way better than taking the bus, amirite?

If you thought Long Beach ended at the 405, you clearly haven't discovered Bixby Knolls, a quaint neighborhood between downtown and North Long Beach that hosts a popular art walk on the first Friday of every month. Bands play in every storefront, restaurants and bars have deals, and every spare wall in most businesses is filled up with local art.

9. Do a couple of laps through the traffic circle
Some people freak out when they approach the massive traffic circle that serves as the intersection of Pacific Coast Highway, Lakewood Boulevard, and Los Coyotes Diagonal, but if you follow the signs and use your blinker (ummm common sense?), you'll survive. For fun, though, miss that exit the first time around and keep going. And keep going. You'll feel like a rule-breaker as you do donuts around the largest traffic circle in SoCal.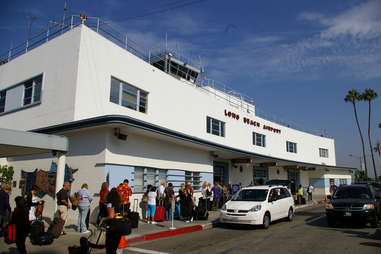 Arrive or depart from Long Beach Airport for your next trip and we promise you'll never go back to the chaos of LAX (or worse, John Wayne). It's a cute little municipal thing with a historic Art Deco terminal and Depression-era mosaic floors. There are only a few gates in the recently opened new concourse, but it comes complete with free Wi-Fi, iPad food-ordering from local restaurants, and a throwback boarding system that lets you walk directly onto the tarmac and up some stairs to your plane.

Get acquainted with heaven ahead of time. Because we assume puttering around the various inland waterways at 2mph with six of your friends and your own stash of booze is what heaven is like.

12. Walk the Naples canals at Christmastime
You'll never be able to afford to live in Naples, so you might as well enjoy walking around it. The best time is Christmas when everyone decks out their dockside homes and you can stroll the canals like it's Christmas Tree Lane. Because it kind of is. Minus the snow.
Long Beach goes off for Gay Pride month, and everyone from the school district to the mayor (who's also gay) sends in a float for the long-running parade, which every year cruises its little hot pants down Ocean Boulevard -- and continues all night at the gay dive bars on Broadway.

14. Have a Sunday Funday
Sunday Fundays are a weekly ritual in Long Beach. Here's how to pull them off the right way.

If you need to get away but can't, you know, get away, go to the El Dorado Nature Center, where you can actually hear birds chirping and touch native plants. Never mind that one pocket of trail where you can hear the 605 freeway rushing by, the rest is an outdoorsy escape unlike anything else in town.
It's not quite NASCAR, but it's pretty close. Watch Indy cars loop around the only street course in America, drink overpriced cups of Tecate, and shove those ear plugs in so you don't die listening to the deafening buzz of high-performance race cars.

17. Hike Signal Hill
Once blanketed by oil wells, Signal Hill is now blanketed by tract homes and oil wells, many of which are still bobbing around between houses. Drive to the top and hike any of the multiple trails around the mound's perimeter and you'll get views of Orange County, Downtown LA, and Catalina Island.

Not much has changed at Joe Jost's -- one of our picks for the best bars in Long Beach -- since it opened in 1920. It still serves the same Polish bar food and frosty schooners of light beer as it did when it was a speakeasy during Prohibition, and you can still play the long-dead game of snooker on full-size tables in the wooden back room. Eat one of the yellow pickled eggs (served in a napkin with some pepperoncini and pretzel sticks) and your life will never be the same again.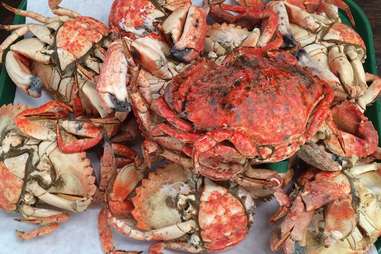 The last bastion of public access in the Port of Long Beach is this fish market where you can buy live lobster, grilled salmon, and/or fresh Alaskan king crab legs and eat them off paper plates at red picnic tables overlooking the looming shipping cranes of the city's largest economic engine.

20. Visit the Jenni Rivera mural
The newest addition to Long Beach's public art arsenal, the mural devoted to La Diva de la Banda is an epic montage along a wall inside the recently christened Jenni Rivera Memorial Park. Walk through, hang out with the butterflies that are inevitably fluttering around, and remember how one of the biggest female singers in Mexican regional music was straight outta La Playa Larga.

You probably recognize VIP Records from its appearance in, oh, about a dozen gangster rap videos (Snoop Dogg danced on its roof in his "Say My Name" vid), but have you ever actually gone inside? It threatened to close a few years ago, but VIP is totally alive and well in a truncated space in the same shopping center. Stop by and keep the spirit alive by buying an old-school hip-hop CD or an obscure '90s mixtape cassette -- all at rock-bottom prices.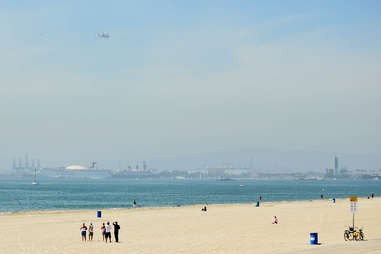 22. Put your foot in the water
If you're not scared to be in Long Beach, you shouldn't be scared to dip your toes in the water. Sure, there's a massive breakwater that prevents waves from happening and there's that huge industrial port over yonder, but Heal the Bay continually gives the water at Long Beach's beaches positive grades. Unless it just rained -- then it's gross.

Outer Limits is the last standing business from the days when Long Beach's waterfront was known as the Coney Island of the West Coast, and it's also the oldest operating tattoo parlor in the country. To prove it, it's dedicated a section of the shop to all the old flash photos and tattoo guns that were used there over the decades. If you really want the full experience, book an appointment months in advance and get a permanent reminder of your time inside.

24. Step back in time at one of the historic ranchos
Back in the days of Spanish ownership, the land that is now Long Beach was actually on two ranches: Rancho Los Alamitos and Rancho Los Cerritos. Today, the houses lived in by the last generation to own the properties (the Bixbys for both) are historic sites where you can check out the furnished homes, wander the gardens, see the stables, and pretend it's still 1865.
There's no pro sports team in town, so the only thing we have to root for is Cal State Long Beach's baseball team, which unfortunately (or amazingly?), is called the Dirtbags.

26. Three words: drag queen brunch
Sundays are made for brunching in Long Beach and there is no better way to suck down bottomless mimosas until you need a disco nap than while getting yelled at by a bunch of feisty drag queens. Some bars put on a drag show, others make them call out bingo numbers, but either way the city has more drag queen brunches than biker bars, which says... something. Like... "we didn't love the last season of Sons of Anarchy."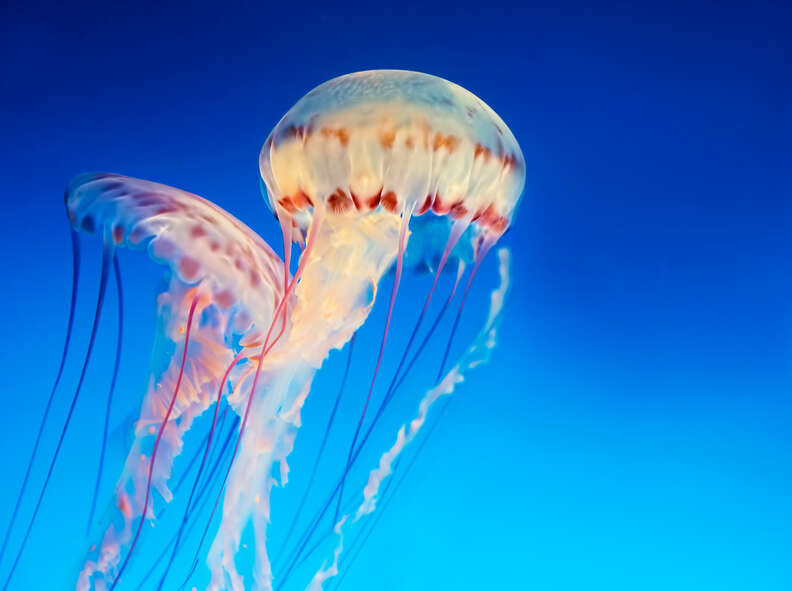 27. Go to the aquarium
It's full of screaming children on field trips most weekdays and screaming children and their tired parents on weekends, but braving young heathens is a small price to pay to marvel at the sheer beauty of Pacific Ocean sea life. More than 11,000 fish, sharks, penguins, and other water creatures call the Aquarium of the Pacific home (tanks on tanks on tanks). And with the new jellyfish exhibit, you can pet the creepy, spineless animals and then eat one cooked at the on-site cafe.

28. Ride a bike
Seriously, this should be something on your bucket list no matter where you are, but there are billions of dollars now dropped into bicycle infrastructure in this town, meaning it's easier and safer than ever to roll around on two wheels. Go down Broadway or Third Street on Southern California's first separated bike lanes (with their own traffic lights too!), and if you're on the East side, there's the Vista Bike Boulevard, which lets you blaze through roundabouts all the way to Belmont Shore.
29. Wait in line for breakfast on a Sunday
Of course you'd eat breakfast in any city, but in Long Beach, breakfast is more of a religion rather than the first meal of the day. There are dozens of breakfast-only spots throughout the city and the lines outside of each of them on Sunday mornings rival the crowds at nearby churches. No matter where you go to eat yours on Sunday, there will be a line. Don't try to go to the next place in the hopes that it doesn't have a line, just put your name down and wait in it. If there is no line, it's not good.
Sign up here for our daily LA email and be the first to get all the food/drink/fun Los Angeles has to offer.
Sarah Bennett is the food editor at LA Weekly and a freelance writer covering beer, music, culture, Long Beach, and beyond. Follow her on Twitter: @thesarahbennett.