The Weekend Playbook: A legit excuse to wear Hawaiian shirts, eat ribs, and drink frozen beer foam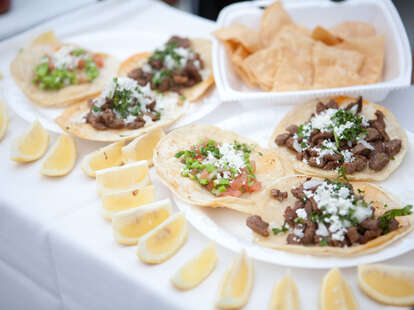 Event of the WeekThe LA Taco Fest hits Mariachi Plaza, which means crazy amounts of super-legit tacos, including ones mentioned on our sweet East LA Taco Crawl. Find all the vendors here
Freebie of the WeekTake a photo of yourself wearing one of your many Hawaiian shirts around town on Friday and submit it via this here Facebook, and you're ALMOST DEFINITELY going to win a trip for two to Hawaii, just for lookin' so silly.
Thursday, August 15thFiveOFour is celebrating their third b-day New Orleans-style with 2-for-1 drinks and $3 pints, a whole new menu, and live drummers and DJs. RSVP and get all the info here
Barsha Wine and Spirits's having a Mini Beer Fest, with an all-you-can-sample from brewers including Strand Brewing and El Segundo -- plus free grub -- for just $15. Reserve your spot
Sunday, August 18th Hit the schmancy resto Luques for their not-so-schmancy-but-insanely-delicious rib-fest on Sunday; if you get there before 3p, you'll get a cocktail totally gratis. Make a reservation and peep the menu here
The 9th Annual Johnny Ramone Tribute's tonight right under his statue at Hollywood Forever, w/ Traci Lords and John Waters hosting a showing of their classic cult film Cry-Baby. Ticketfly's got your tixFreddy Smalls Backyard BBQ's just $45 for all-you-can-eatness including beer-steamed Maryland blue crab, grilled tri-tip, Texas toast and chimichurri, and roasted pork shoulder tacos. (Plus, live music!). Here's your link to tix
Top Chefs Suzanne Tracht and Nyesha Arrington are collabbing for a prix-fixe dinner based on a whole Duroc pig roast at Jar. Get the rundown here
OngoingMonsier Marcel's got a stacked basket for 8/21's all-white-themed Diner En Blanc -- grab your stack here
What You Need To Drink This Week:Kirin dropped an already-big-in-Japan (duh!) taste explosion on LA this summer: we're the first city with machines doling out frozen beer foam, which keeps your brew cold for half an hour longer than usual and has the consistency of slurpee-ness. Drink up at Chaya, Dodger Stadium, or Katsuya in Glendale. And check out a video on it right here.