The Weekend Playbook: Free tickets for Alt-J and so. Many. Lobsters.
Event of the Week: Somehow, there are still tickets available for FYF this weekend, which's got its best-ever lineup, with the Yeah Yeah Yeahs, MGMT, and the Breeders, as well as dozens more bands, playing downtown. Check out the whole lineup here
Freebie of the Week: Want to see moody rockers Alt-J at The Palladium next Wed? We've got free tickets for you: just tweet "Yeah, @Thrillistla and @PinnacleVodka, I wanna see Alt-J, dammit! And I hear there're more contests on their Facebook!" (which you can also check out here)
Thursday, August 22ndNick + Stef's downtown's flying in fresh lobsters every day until Saturday for a multi-course menu. See what's on it here
It's the first official day of LA Food and Wine! There're still tickets for a ton of events all weekend, and bonus: WE'RE GOING TO BE THERE, EATING AND DRINKING STUFF. Pick up said tix at LAFW.com
The actually-sweet art gallery iam8bit has an actually-sweet art show with artists re-interpreting those "Little Miss/Mr. Men" characters and making them do weird things like stomp through towns. But, more importantly: free booze. Here's the info.
Friday, August 23rdAt the for-charity Depressed Cake Shop pop-up, all of the cakes and goodies are gray on the outside, colorful on the inside -- and, to make you extra-happy, they've also got complimentary cocktails and great silent auction items. Find out more on their FB page.
Sunday, August 25th: Your beer pong skills are about to pay off at STIR's beer pong tournament, where $30 buys the beer for your team and makes you eligible for a cool hundy. Sign up here
Ongoing:Coco Laurent's got a new Summer cocktail program with 12 new selections like the "Insane Bolt" (featuring Smith & Cross rum, bitters, maraschino liqueur, and orgeat) and the "For Queen & Country" (Brokers gin, Zubrowka Bison Grass vidka, and Lillet Blanc). See pictures of what you'll be sipping here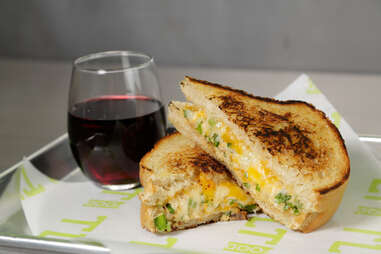 What to eat this week: Blue crab grilled cheeseWestwood take-out spot TLT's blue crab grilled cheese is a gooey mess of three cheeses, scallions, mayo, lime juice, and crustaceans between two slabs of gluten goodness. Check out their whole menu here