The New Year's Eve Playbook: $4500 parties and free Uber credits
Los Angeles Because there are only so many house parties in the Hills you can hear about (but not get invited to) before you're pretty sure you're gonna end up spending New Year's Eve at Q's (again), here're five parties you can still snag tickets to (if you hurry!!!!), all with different vibes, and none of which involve navigating Mulholland.
Acabar: The Middle Eastern-vibing restaurant has a "Tribal Disco" with a NYC DJ, a worldbeat percussion band, fire eaters, and a variety of food options, ranging from a $50 just-entree to a $125 four-courser that also includes a midnight toast. Tribal wear is "encouraged"
Continue Reading
DBA: This just-opened, over-the-top new oontzery (right now being run by the dudes from NYC's lauded, super-sexy The Box) has packages (hee-hee) ranging from $150 expedited-entry with a hosted bar, to a nutso $4500 great booth with right-there views of the oft-topless mid-club dancers.


Rockwell Table & Stage: The actually-cool Los Feliz supperclub's got a Gatsby-themed night, with a live band, buffet, ball drop, and a green light at the end of Daisy's dock and a show replicating the best moments from all of Baz Luhrmann's films. Get more info here

The Bungalow: Santa Monica's beachside chill-out spot's gonna be partying it up with an all-night black tie bash, with a premium open bar and a pretty-people-populated dance floor for $150. More 411 here

The Echoplex: In case you don't feel like dropping a hundie but still feel like getting down, The Echoplex's got a dance party with the mash-up specialists from Bootie LA for just $30 at the door or $20 in advance, which includes two dance rooms, a cash bar, and of course, a midnight toast. Reserve your ticket here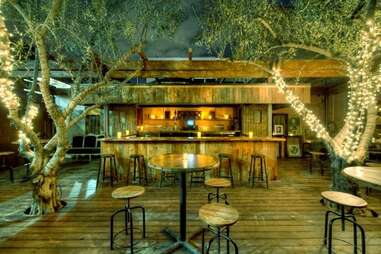 Aventine: All-you-can-drink AND all-you-can-eat? Yeah -- this party from the kinda-dating-ish-but-not-really ragers at Three Day Rule's a blowout with three different rooms, an open bar, and unlimited pizza, salumi & dessert, as well as a $50 Uber credit to make sure you don't need to worry about being too full to drive. More 411 here
Warehouse: The Marina Del Rey mini-HOB blasts back to 1999 for their NYE bash, which's got four sets from crazy-fun '90s tribute band Becky Kramer's Brother, plus a Champagne toast at midnight -- all for just $20. Scoop 'em up here