An "I Heart Santa Monica" party, and an actually fun prom
Los Angeles Freebie of the Week
Sunday marks the first "Beats Bistro" at Troubadour -- a series of shows paired with LA chefs who'll be doling out bites while people get down. First up's a groove-night, with soul food and tunes from local fave hip-hopper Medusa. We've got three pairs of tickets for random fans who tweet THIS RIGHT NOW.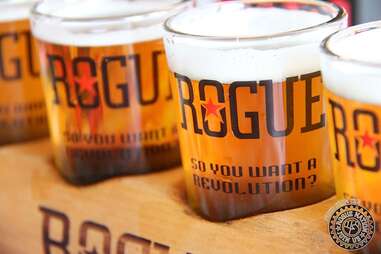 Thursday, February 13th: If you're a fan of Rogue Ales (Editor's Note: you're a fan of Rogue Ales), hit up their tap takeover at The Surly Goat and try seven of their craft beers (including the new Crustacean Barley Wine Imperial IPA Sorta). Also like cocktails? (Editor's Note: dude, c'mon) Well, they'll also be mixing up craft cocktails with Chipotle Spirit, Dead Guy Whiskey, and Spruce Gin. The event starts at 6pm -- get all the need-to-know info here.

Continue Reading
Friday, February 14th: No date necessary at Wokcano's "I Heart Santa Monica" party, where there'll be free hors d'oeuvres from 9-10pm, two-for-one oysters, and drink deals. Save five bucks off the $15 at-the-door price by buying your tickets in advance here.
Friday, February 14th: It's like prom, but this time the drinking's totally legal! Join other revelers at The Unique Space for their second annual "Fake Prom," replete with awkward photo booth opps, all-night DJ action, free munchies, open bar (spiked punch is a given), and a Coolhaus sundae station. Date optional, prom gear mandatory. Get all the 411
Saturday, February 15th: Freddy Smalls is channeling the '60s with their new "Saturday Night Specials". Prime rib dinners and house-made gin & tonics're on the menu, and if you dress like a member of The Rat Pack, they'll even give you a free cocktail. Make your reservation by calling 310.479.3000.


Monday, February 17th: If the movie Rushmore is your Rushmore (meta bonus, +1), head over to Cinefamily for a live Film Club Podcast with improv comic Greg Proops, followed by a screening of the Bill Murray cult classic. Tickets available... here.