Breaking down the 5 best delivery services in LA
Los Angeles That stuff in the sky? It's... rain!!! Or at least... drizzle!!! Or maybe some fog? Anyway, there's no way you're leaving the house today (or potentially, all weekend), so here're five delivery services that can keep you awesomely satiated in the meantime.
GrubHub/Seamless: The merger of these two companies last year made a mega-glomerate delivery empire, with multiple restaurants orderable online or by phone app, just by clicking on menu items. The only downside? There's a fee for most restaurants, and delivery usually takes an hour-plus, even if the restaurant you're ordering from would have a shorter wait if you'd just called. Continue Reading
LABite: This longtime, local-only service has deals with name restaurants like Katsuya and The Ivy, as well as local favorites like Guelaguetza. However, they've got a service fee built into each order based on the price of the food.


Eat 24: This food-to-your-door service's got a ton of Mom & Pop restaurants under its operation, which means they're dropping off everything from sushi to Middle Eastern to alcohol (!).
Pink Dot: The grandfather of the we'll-give-you-whatever-you-want-whenever-you-want delivery service has become less ubiquitous by closing a couple of locations recently (which is too bad, because those silly cars are totally ridiculous), but you can still hit 'em up 'til 3am for not-bad pizza, totally great sandwiches, and anything you can get in a convenience store, from Funyuns to booze to condoms to magnum condoms.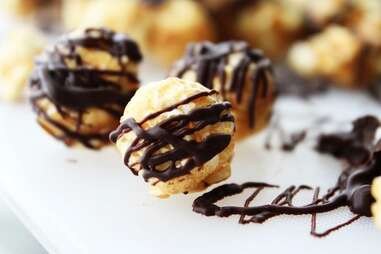 Yummy: Similar to Pink Dot, this mini-chain of delivery supermarkets (in Silverlake, Hollywood, Santa Monica, and Playa Vista) has a bunch of stuff you'd find in a non-delivery market, from canned soups to fresh meat (and yes, more booze), as well as a deli with made-to-order sandwiches and fresh sushi. If you're in their delivery area, there's a $3.99 fee -- but that's waived if you get over $100 of stuff, so yeah, it's stock-up time.