5 dishes Umami Burger king Adam Fleischman insists you try
Los Angeles Because, um, he invented Umami Burger and 800 Degrees, we trust Adam Fleischman's taste buds implicitly -- which's why we asked him, and only him, what and where we should be eating this weekend.
The Restaurant: The Factory Kitchen
The Dish: Focaccina Calda Di Recco Al Formaggio
The Lowdown: This light, fluffy, crusted dough -- available in three variations -- has become a favorite. "It re-energizes bread service," Fleischman says. "Irresistible." Continue Reading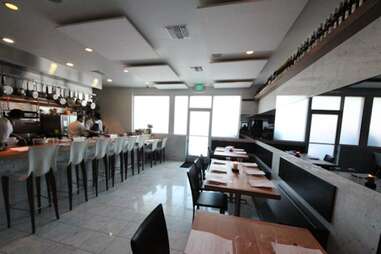 The Restaurant: Trois Mec
The Dish: Whipped Brie with Apple Butter
The Lowdown: This dessert-and-cheese pairing from Ludo's super-acclaimed collab with the Animal guys is, according to Fleischman, "sublime."
The Restaurant: Ditmas Kitchen
The Dish: Homemade Pretzel
The Lowdown: We're not gonna argue with a giant, twisted dough-monster that's served with horseradish mustard. And neither is Fleischman: "Love me some tasty carbs."


The Restaurant: Mari Vanna
The Dish: Blini with Veal
The Lowdown: This app is essentially three crepes full of veal, and served with sour cream. "It's soulful home-cooking," says Fleischman.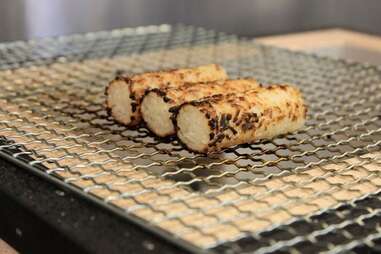 The Restaurant: Red Med at Formosa
The Dish: Shanghai Rice Cakes
The Lowdown: Fleischman's involved at this new extension of Red Medicine, but he swears he's not biased when "bacon XO Sauce" is involved. And it's very much involved here.