The Weekend Playbook: Cotton candy truffle dumplings and 21yr Scotch tastings
Los Angeles Freebie of the Week This Saturday, Wine Riot's six-city tour hits LA. Expect 35 wine booths at Majestic Halls, a bubbly bar, and a photo booth, plus, get schooled at the "Wine 101" booth, where you can learn obscure wine terms ("decanter!") while you taste. And guess what? We've got ELEVEN tickets we're giving to one lucky dude/lady-dude. Tweet THIS to enter, you wine-drinking bastard, you.
Friday, November 8th: This Friday's one of the last Fridays you can try Chef Jose Andres' White Truffle Dinner Series: a 21-course tasting menu filled with truffle-y goodness (a Truffle Mist cocktail, cotton candy truffle dumplings) plucked straight from the hills of Abruzzo, Italy. Find out about the Iberico pork cheeks, lobster with dashi, and more, here Continue Reading
Saturday, November 9th: The monthly MST3K-ish Horrible Movie Night (prizes for best shout-out!) totally ups the ante this week, with Bobcat Goldthwait do-hosting a screening of 1979's C.H.O.M.P.S., although Shakes The Clown would have been slightly more appropriate, right? Here's the info


Monday, November 11th: Usher in mustache-growing month with "Movember Mondays" at Del Frisco's over in SaMo, where your 'stache (or your willingness to rock 'stache-related apparel) will snag you a free app. Also, check out the new Moustache Menu , featuring dishes like the Philly Fuzz (cheesesteak egg rolls with chili sauce) and the Food Man Chew (seared Asian tuna salad). See the whole menu here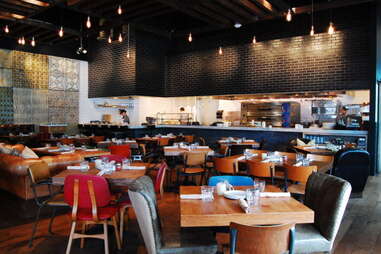 Tuesday, November 12th: You've already tasted wine and whiskey this week -- so why not make it a holy booze-umvirate with beer, too? Stella Barra Hollywood's hosting a craft brew tasting for just 25 dolla dolla bills, complete with tastes of five crafts, plus small-bite food pairings. Reserve your space by calling 323.301.4001.