The Weekend Playbook: A beachside "happening" and all-you-can-drink beer
Event of the Week This Saturday marks the return of GLOW, a totally-free KCRW-presented art "happening" that goes 'til 3a on the beach in Santa Monica and includes a myriad of tripped-out art installations and a bevy of tripped-out people blown away by them. Check out the info on the app you NEED to download before you go, at GlowSantaMonica.org
Freebie of the WeekSaturday's the annual all-you-can-drink-for-one-low price Septemberfest Beer Festival, which, this year, is at downtown's LA Center Studios and country-themed, though you'll be apt to forget that after trying your 27th brew. Wanna go for free? Tweet at us for a chance to win a pair of tix
Friday, September 27thIn case you haven't gotten your fill of Beer Week events, Eagle Rock Brewery's got an Oktoberfest Carnival, replete with a beer pairing booth, hot dog truck, and, oh, did we mention the arm-wrestling invitational? Yep. That's all happening.
There's a Mad Men-themed cocktail-and-costume benefit at the Park Plaza downtown with period-relevant burlesquers, throwback cocktails from Balvenie, and DJs spinning retro-ness. DON'T BE PETE! Hamm it up here
Saturday, September 28thThe annual Feast Of San Gennaro returns to Hollywood through the weekend, with a shload of Italian vendors doling out boot-worthy, gut-busting foodstuffs. Like who? And what? Find out here.
Sunday, September 29th Thai one on at LA's very first Thai Food Festival, taking place at Paramount Studios and featuring all-you-can-stomach Thai food stylings from chefs like Curtis Stone, Jet Tila, and Lukshon's Sang Yoon. It's gonna be good -- get the 411 here
OngoingBrats, schnitzel, and beer? Three magical words, all available at Bar Bouchon for its new Oktoberfest menu, available now through October 6th. See the whole menu here.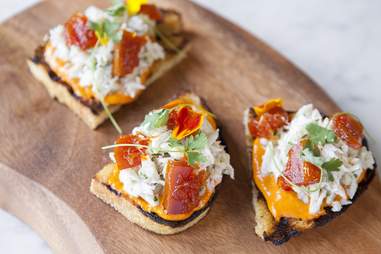 Comme Ca
What to Eat Right Now:
The Frenchie Melrose mainstay Comme Ca's just dropped a new menu, which includes beauties like this blue crab toast, as well as a roasted lobster with sweet corn, bacon & spinach. The menu's on their site