Event of the Week The dudes from NY's famed The Meatball Shop have been hinting at an LA location for years -- but, on Sat, they'll be doling out delicious balls at Sunny Spot in Venice, where they're also dropping... limited-edition Vans? Here's more info

Freebie of the Week There's an invite-only dinner at Animal on September 11th celebrating Jon & Vinny (their chefs, duh) being the newest Lexus Culinary Masters... and this is your invite. One winner's gonna get a table for four. To enter, tweet at us

Thursday, September 5th Hit the just-opened second outpost of the beloved Santa Monica taqueria Mercado right by the Grove for delicious day-drinking margs. Here's the whole menu The Princess Bride. Outside screening. Silverlake. Here's the scoop

Friday, September 6th The sweet new downtown bar Ebanos Crossing's got their opening party, which means discount booze and FREE FOOD. Oh, and live music. Check out their fullness here

Saturday, September 7th Hit the California Beer Festival in San Dimas for Bikini Bocce Ball -- oh yeah, and 70+ all-you-can-drink-beers. More info right here

There's an all-you-can-eat, Ecuardorian-themed, roasted pig "Fritada de Bucay" feast, helmed by Gastrobus chef Antonio Medina at Villains Tavern. Yep. All-you-can-eat pig. Get cheaper tix right here

Hare pie stuffed with slow-braised rabbit and a pie-in-a-glass cocktail? Taste it to believe it, at Ray's & Stark Bar, where Chef Kris Morningstar will be continuing the fun from KCRW's Good Food Pie Contest, which hits the courtyard adjacent to the restaurant earlier in the day. Read more here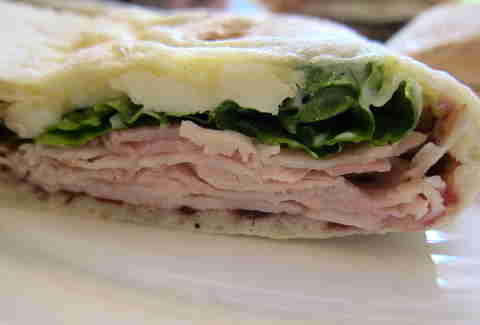 What to Eat This Week
The totally-great pizza spot 800 Degrees has opened a brand new to-go location, with pies and exclusive-to-take-out, calzone-like panzuonno sandwiches, like this monster stuffed w/ turkey, Taleggio cheese, and sweet and tart cranberry relish. What else is on the menu? Find out here.