People in other places love to brag about how special their city is, but in LA, we don't brag, we just put on our shades, step into the perpetually-perfect weather, and head out to do things you just can't do anywhere else in America (or the world) (or other worlds). From entering Magic Castles to checking out Thai Elvis impersonators, here are 16 things you can do in Los Angeles, and only Los Angeles.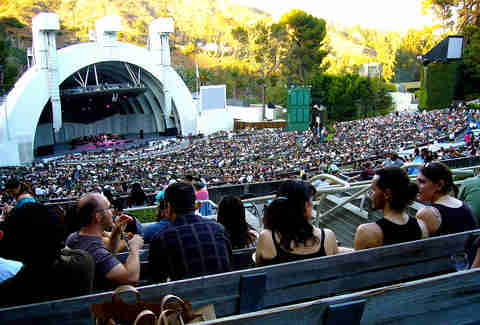 2. Drive up the steepest street in California (take that SF!)
At a 33.3% gradient (thanks math class), Eldred is considered to be the steepest street in the state and the third steepest in the country. This beast of an incline has been known to cause trucks to lose their cargo, the USPS to give up, and unsuspecting manual transmission drivers to totally freak out. We've also got three other streets with similarly mind-boggling slopes (32%), all of which still beat out San Francisco's steepest (22nd St. and Filbert at 31.5%).
3. Get your mind blown at a Magic Castle
How about visiting a members-only castle where the planet's greatest magicians perform nightly? Just another night in Hollywood. Sure, there's a Magic Circle in London, but we'd take a castle over a circle any day. And besides they only have one bar there. We have five. Five bars! Now, that's magic.
4. Visit a sunken city
Beginning in 1929, a sizable chunk of San Pedro's southern tip began to slide towards the sea. Sinking at a rate of nearly a foot per day at its fastest, the sliding land eventually took the eastern portion of Point Fermin Park, along with sidewalks, pavement, streetcar tracks, and two homes that failed to move in time, tumbling down to the shoreline. Yes, the Sunken City's ruins are fenced off -- and we certainly wouldn't condone trespassing -- but you can scope out the site (and a few nearby filming locations from Chinatown) from the south end of Pacific Ave. or the east end of Point Fermin.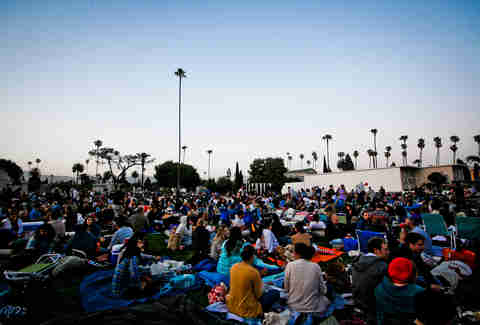 5. Watch movies in a cemetery
Watching famous actors while surrounded by the elaborate tombstones of other famous actors? Now that's how you watch a movie in LA. And no, Cinespia at Hollywood Forever is not creepy. Okay, maybe a little. But pack a picnic and some wine, and you've got yourself a creepy, sweet date spot. Oh, did we mention they also have amazing concerts in the cemetery's stunning Masonic Temple? Well, they do.
6. Witness a talented Thai Elvis impersonator in the only Thai Town in America
Okay, maybe there are some better options for Thai food in the neighborhood than Palms Thai, but none of them have an award-winning Thai Elvis impersonator. And neither do any of the Thai restaurants in New York, Chicago, or... Cleveland.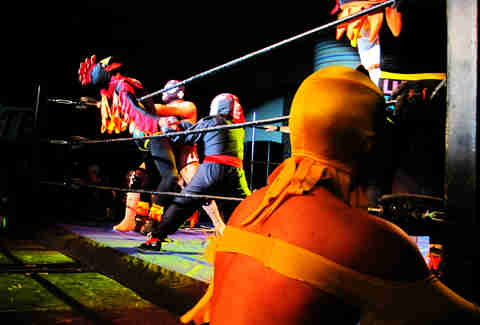 8. Take a gripping tour of your own mortality/capacity for evil!
You know, just your typical museum collection of crime scene photos, serial killer artwork, body bags and coffins, and full-sized execution devices. Alright, so maybe there's a Museum of Death in New Orleans, too, but that's merely a spin-off of this O.G. creepshow.
9. Confound your notion of natural history
At the Museum of Jurassic Technology, you'll find... fruit stone carvings of animals, cosmonaut dogs, and historical dioramas of trailer parks? What… is… going… on…
11. Divine what kind of day you're going to have based on a foot clinic sign
In some places people read horoscopes. Elsewhere they check the weather forecast. In LA., you can know whether you're going to have a good day or a bad day based on whether you see the smiling face of a cartoon foot or his busted-toe-crutch-walking counterpart on the rotating sign of a podiatrist along Sunset Blvd. #thestruggleisreal.

12. Get more excited about spotting local eccentrics than celebrities
Friends in other cities might get pumped about seeing a famous-so-and-so ordering a skinny vanilla latte, but if you live here, you're definitely more stoked to spot the Dancing Man, Angelyne or Hollywood Jesus. That excitement is a residents-only perk.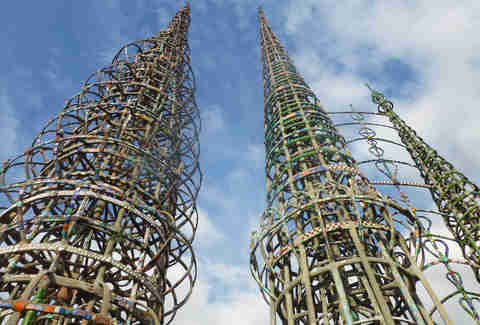 13. Gaze upon a 99½ foot art tower hand-built by one dude
After sobering up in 1921, formerly transient construction worker Simon Rodia spent 33 years building a boat-shaped sculpture with multiple towers, the tallest reaching 99½ feet. Without blueprints, proper construction gear, or assistance, this guy welded structural steel, covered it with mortar, and embedded it with glass bottles, ceramic pieces, seashells, etc. Keep your skyscrapers, financial capitals -- the Watts Towers is the world's largest construction project created by a single person, and here in LA, we're all about doing it ourselves. Or we're all about ourselves. Whatever!

14. Be haunted by the ghosts of animals & playwrights
As if it weren't cool enough that we have an abandoned zoo that you can totally explore, it's also the place to check out a super-spooky haunted hayride, a total freak-out of a horror campout, and most terrifying of all (for some people!), a Shakespeare festival.
15. Wait in line for hot dogs for an hour and a half... or grab a quick delicious different dog on nearly any corner
Pink's Hot Dogs is an LA institution, one that must be experienced (especially after a long night), but sometimes that line is just too dang long. That's when you head to another LA institution: Danger Dogs. The tiny carts of sizzling, bacon-wrapped dogs seem to magically appear just when you need them the most, aka "always."
16. Study, animal-style
Where else can you get a double-double degree, besides In-N-Out University in LA's own Baldwin Park? Okay, maybe it's more of a manager's training school than an institution of higher burger education, but you can still get your In-N-Out fix and pick up some sweet merch at the store. Then head down the road to a replica of the original restaurant opened in 1948, which is credited as being the first drive-thru ever.

Danny Jensen is a freelance writer who plans on attending as many screenings at the cemetery and concerts at the Bowl as possible this year. Share your favorite LA experience with him on Twitter and Instagram.