23 things you don't understand about Venice (unless you're from there)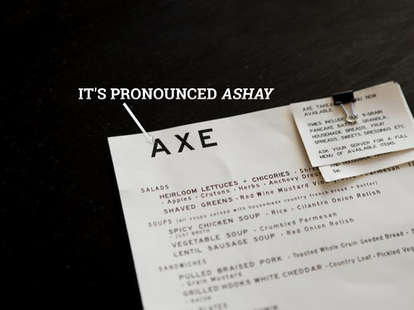 Things you know about Venice: there are surfer girls, and muscly dudes, and also a skateboarding dog. Things you don't: basically everything else. Well, time to get you edumacated. Here are 23 things you don't understand about Venice (unless you're from there).
1. AWOL is not only a military term
In Venice, AWOL refers to "Anywhere West of Lincoln". Translation: the only area you'd ever live.

2. We don't know where you live, either
Ask anyone in Venice to point out Los Feliz on a map, and their finger will likely land somewhere near Downey.
3. We think the Pacific Ocean is our front yard
When someone says they went surfing "out front", it means they surfed the Venice Pier or Breakwater. Regardless of where they live in Venice, it's still "out front".

4. Ocean Ave is not along the ocean
Unless you're in Santa Monica. And then it is. But those are not the same streets. They don't even connect. Check a map.

5. The Venice Pier and Washington Blvd are actually in Marina del Rey, not Venice
Seriously. Check a map.

6. The strip of Main St with stores and restaurants is actually not in Venice
It's in Santa Monica. NO SERIOUSLY CHECK A MAP.
7. The "G" is silent
As in Gjelina, Gjelina Take Away, and Gjusta -- the restaurants we all basically live at. Only in Venice do the consonants "G" and "J" go together. And man, we are so happy they do.

8. And speaking of, no, we can't get a reservation either
The local thing doesn't work at Gjelina, so don't even ask.

9. Ask for skim milk, and prepare for a lecture on GMOs
Ask for it at any restaurant or coffee shop on Abbot Kinney, and 1) the staff doesn't have it, and 2) they're prepared with lots of hormone-related facts as to why they don't. They will, however, happily serve you their $4.50 homemade almond milk. Yum?
10. We love Hank Moody
He may or may not have been a factor in us moving to Venice. Emphasis on may have. Was. Definitely was.

11. We see alleys as opportunities
Just because it's a tiny alley you'd never even noticed existed, doesn't mean we can't set up shop there. Real estate on Abbot Kinney is precious. Wander down one of its tiny alleys, and you'll likely stumble upon a quaint eatery, a quaint boutique, or a quaint, um, homeless dude.

12. We lost the fight against chain stores
For years, Venice locals made sure no chain stores called Abbot Kinney home. As the story goes, they even got Pinkberry to move off the street. Yes, we can plainly see Lucky Brand, GANT, and tons of others have now opened outposts there. You don't need to rub it in.
13. We get super excited when the sun sets into the ocean
At the Whaler, they ring a bell when it happens, and everyone cheers. It's very exciting. Even though it happens, like, every day.

14. The marine layer is a real thing, and it doesn't necessarily go away at 10am
More often than not, when you're driving on the 10 West in the summer, you'll enter a thick fog as soon as you cross the 405. Sad face.
15. Don't let the boardwalk food scare you
Some of the best ahi tuna poke anywhere can be found on the Venice Boardwalk. Seriously.

16. Yep, there are still gangs
If you heard something that sounded like a gunshot, it was very likely actually a gunshot. And if your building hasn't been tagged yet, you're clearly not really a local.

17. We're not hipsters
We're beach-bum surfers. There's a difference. It's in the beards.
18. Equator books forever. FOREVER.
Sorry, Junk Food Clothing Co. and Blue Bottle Coffee. You will always be Equator Books to us.

19. We have free parking
Abbot Kinney is one of the last streets in LA with free parking. Theoretically. Because there are never spaces when we need 'em, either.

20. Looking for local news? Screw the big guys and follow Venice 311.
The killer Twitter account is the source for everything you need to know in terms of local happenings (read: why three helicopters have been circling your apartment building for the last three hours).
21. We're not that psyched about Silicon Beach
It really upped our rents. And we don't feel any smarter. Why couldn't those tech guys have stayed up North?

22. It's pronounced Ashay
Even though it's spelled AXE. We don't know why either.

23. It IS always 10 degrees cooler than... wherever you are
Bring a sweater when you visit. Seriously.
Sign up here for our daily LA email and be the first to get all the food/drink/fun Los Angeles has to offer.
Sari Anne Tuschman is a writer/editor living in Venice. Previously, she was the Editor-in-Chief of FOAM magazine and Los Angeles Confidential magazine and the senior editor of Aspen Magazine. Find her to talk about skiing and surfing at @sarituschmanla on Twitter and @tuschman on Instagram.