This ongoing series of free shows at the Roxy (which's being broadcast live on AXS TV) is devoted to performers who basically are their idols, and it was totally sold out 'til today, when they unleashed 150 tix to each show for Thrillist readers, meaning you can sign up now to see Wild Child play The Doors and the Hollywood U2 play, um, like The Cranberries or something?
Recommended Video
Spinach and Artichoke Dip Pizza, the Ultimate Party Appetizer
Previous Venue
Next Venue
Venue Description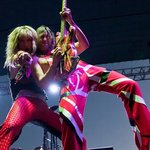 1. The Roxy
9009 W Sunset Blvd, West Hollywood, CA 90069
Amongst the numerous clubs along the Sunset Strip, one stands out for its meritage of musical talent performers. The Roxy opened its doors in 1973 with Neil Young and has featured performers from David Bowie, Guns 'N Roses, Nirvana, the Foo Fighters and Tori Amos. This is a venue for the true music fan - all acts, famous or soon-to-be-famous will play here.