Tinder is not what it used to be. A once fertile land, lush with flora and fauna, is now nothing more than a picked-over clearance rack at the Guess outlet in Camarillo. Working with what the Tinder Universe has left me, I ventured out on an ambitious swiping journey -- to match with 100 dudes on Tinder -- armed with an opening line unlike any I had ever used: "If I were to ask you to have sex right now, what would you say?" To say I was surprised by my findings would be putting it lightly.
 
30% of guys didn't even write back
Nothing. Nada. Zip. Zilch. In their defense (and mine as well... I can't have you thinking I'm undesirable) I did check their profiles to see the last time they were active and I would say about half of them hadn't been active on Tinder since I dropped my opener. For those who did see it and chose not to respond, that's a win for you and a loss for Thrillist's investigative reporting.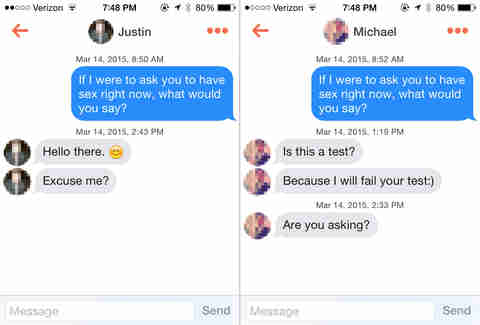 A bunch experienced confusion and disbelief
Let's be honest about one thing -- when it comes to initiating a sexual advance on Tinder (or anywhere really) guys are typically the first ones out of the gate. With that said, I was surprised that these guys didn't just jump on my, uh, gravy train. Instead they were confused, lost little boys in the land of aggressive straightforward women. I also revel in the fact that rather than clearing things up for them, I just left them wondering.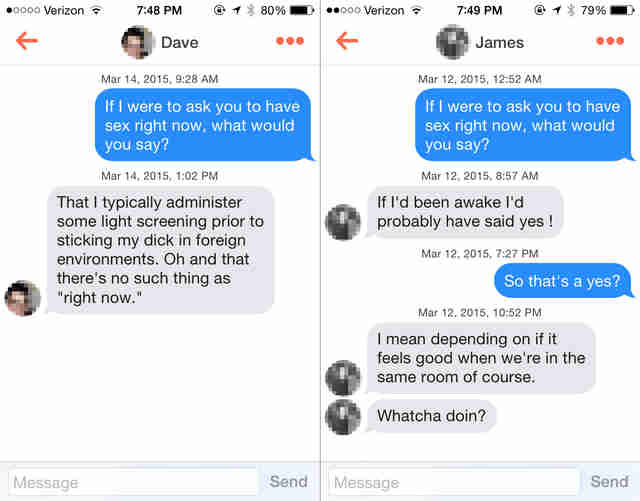 About 1 in 10 wanted to know more before proceeding
This was the probably the most surprising group of responses for me. In my mind, any guy would jump at the opportunity to have sex (hypothetical or otherwise), so when they wanted to know more about me besides where I lived so they could come over and bang, I was taken aback. Some were eloquent in their desire to get to know me first, while others were a little insulting. One of them even had a xenophobic wiener.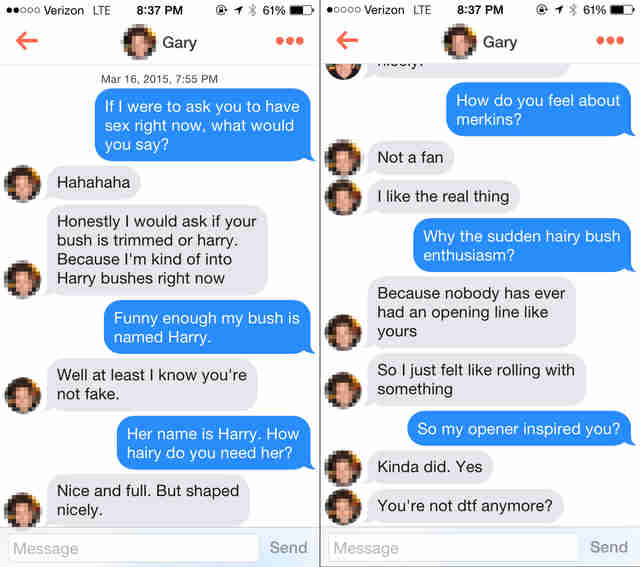 One dude had a thing for a "natural lady"
I came in hot and this guy came in hotter. For you ladies on Tinder rocking the throwback bush, the hip-to-hip, the thigh-to-thigh, the '70s porn star, the mom explosion... this lover is for you. Bald eagles need not apply. In light of the fact that he did not get the hairy/harry joke I made, me and my, uh, full bush ultimately passed.
14% were feminists who wanted to be treated like a lady
Thankfully a lot of guys had a sense of humor about the hypothetical proposal, otherwise I would have lost all faith in men. These lovely gems enjoyed the gender role reversal and ran with it. Ya know ladies, we aren't the only ones who want a free meal. They may have been joking around, but all jest stems from truth and the truth of this matter is that "hypothetical" sex requires "hypothetical" dinner.
Five dudes just wanted to give me props, not penis
I was pleasantly surprised that this handful of guys saw the humor in my edgy opener and gave me the virtual fist bump I rightfully deserved.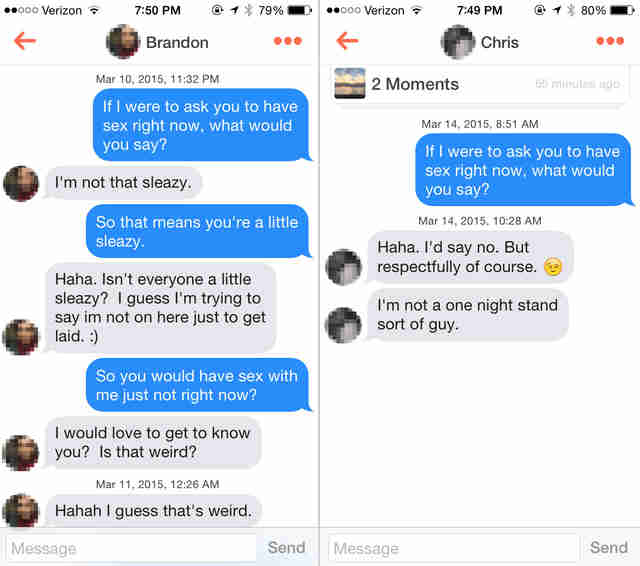 A crazy-surprising bunch of dudes aren't that kind of guy
Sleaze bag is a spectrum affliction. Every guy has it in them to be a sleaze, but there are a special few who take pride in not being "those" guys. These rare little gems showed up in surprising quantities on Tinder. From "I'm not that kind of guy" to "one night stands aren't my thing, but good luck out there," I really feel like my overly forward intro may have completely scared off these keepers. Hopefully when I send them the link to this article they will give me another chance or they will hate me for making them my guinea pigs. Either way, ladies, let's gladly accept and acknowledge that these unicorns are actually out there.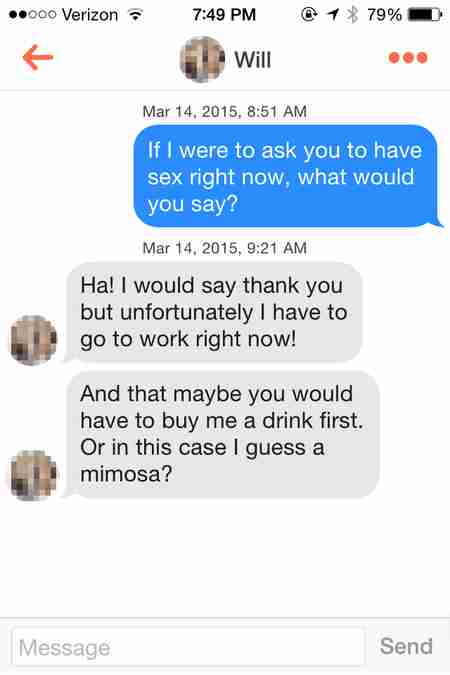 1 in 10 was at work
Sometimes it's all about timing. In this land of unemployed actors, there seem to be a bundle of guys out there willing to turn down sex because they have actual jobs! The moral of this story: if you want to find a man with a job, hop on Tinder during the day and ask him for sex.
One of them... someone maybe already banged
Ever find yourself in that awkward moment when you proposition a guy with a one night stand when you've already had a one night stand with him? No? Okay, then I guess it's just me.
A few of them got the joke... and ran with it
It may have been me running with the joke most of the time, but I was really happy that a few of the guys were down for playing along, even if they suspected nothing was going to happen. Not all guys on Tinder are creeps. Maybe some of them are just playing the part of creep because that's what they think they are supposed to do.
Sign up here for our daily LA email and be the first to get all the food/drink/fun Los Angeles has to offer.
Nicole Aimee Schreiber is a part-time quirky café waitress by day and joke-slinging comedian by night, and one of the stars of the new Oxygen Network show Funny Girls. Follow her on Twitter at @nicoleaimee or Instagram at @NicoleAimee, or, uh, on Tinder. Good luck.