The 10 Best Places to Cabin Near LA
Big Bear Cool Cabins
Big Bear Lake and Lake Arrowhead
Amenities: Wi-Fi, full kitchens, foosball, pool or Ping-Pong tables, flat-screen TVs, Blu-ray/DVD players, fireplaces, decks, BBQs, hot tubs
How to book: Reserve online or call 800.550.8779
The Airbnb of San Bernardino County cabin rentals, this service lists a mountainous array of styles and sizes, from one- to five-bedroom digs that run laid-back to luxury. Some come with two hours of free Hummer limo service (just like camping!), while others have access to community pools, plus most are pet-friendly. Within three hours of DTLA, you and your whole squad can hang by a lake or hide out in the woods in a tricked-out A-frame.
Castlewood Cottages
Big Bear Lake
Amenities: Wood-burning fireplaces, jacuzzis, TVs, in-room coffee makers, access to a heated pool
How to book: Reserve online or call 909.866.2720
Imagine a mix of Disneyland and the Renaissance faire in the woods, and you've got yourself a romantic vacation that's a guaranteed good time: each one of these 12 stand-alone cabins has a different wacky theme, from King Arthur to a two-story tree house perched 15ft above the ground.
 
Crestline
Amenities: Pool, full kitchens, fireplaces, flat-screen TVs, decks, free Wi-Fi, picnic area with BBQ
How to book: Reserve online or call 909.338.2718
Crestline is the first town you hit on the way up to Lake Arrowhead, but it's still high enough in the San Bernardinos to qualify as a full-on mountain escape. Somewhere between good looking enough to impress your significant other (daily housekeeping will help) and low key enough that you can (read: should) wear sweatpants all weekend, the cabins here sleep anywhere from two to 12 and range from $89 to $325 a night. Some units are pet-friendly, and the hot tub will be open all summer and fall. BYO Chernobly.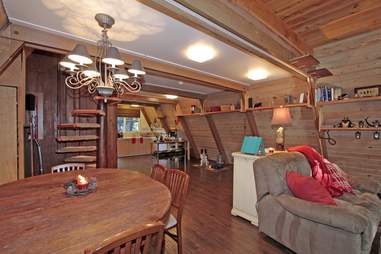 Idyllcreek A-Frame Cabin
Idyllwild
Amenities: Full kitchen, washer/dryer, deck, outdoor grill, Wi-Fi
How to book: Reserve online or call 760.275.4426
That's right, this is a single cabin -- and it's a doozy. A 1960s A-frame surrounded by pine forest, but still walking distance from Idyllwild's town center, this two-bedroom, one and one-half-bath dealio can accommodate two to six people (for $139 a night or $1,050 a week) and has everything you need for a cozy weekend in, from a wood-stove fireplace to a spiral staircase leading to a double bed. Your backyard (and front yard, for that matter) are the full-on, no bullshit, straight-up WOODS, and there's a built-in summer bonus: set just an hour from LA in the San Jacinto Mountains, the air here is a good 20-30 degrees cooler than wherever you are.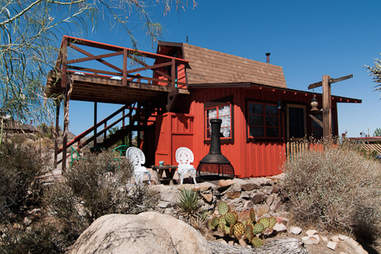 The Desert Lily
Joshua Tree
Amenities: TVs, wood stoves, patios, fully stocked kitchens and baths
How to book: Reserve online or call 760.366.4676
Five minutes outside Joshua Tree National Park, this part B&B, part cabin-rental rentable is like a hipster oasis in the high desert. Decorated by local artists and surrounded by the San Jacinto Highlands, the property's four renovated homestead cabins (which can sleep between two and seven people, depending on the unit) each have hammocks and rustic hot tubs called "cowboy spas," so you can kick the hell back, or whatever. Rates start at $225 for a minimum two-night stay, and if you can't bear to return to the city, know that the seventh night is free. Pets are allowed in some units, in case it's been awhile since you and Morgan Freedog gazed up at the night stars together.
Mt. Baldy Lodge
Mt. Baldy
Amenities: Full baths, coffeemakers, TVs, heaters, wood-burning fireplaces
How to book: Only by phone, at 909.982.1115
If Dirty Dancing had been set in the San Bernardino Mountains, this über-retro place would have made a great backdrop. At this 1950s-era lodge set just an hour from LA, you'll find six cabins, a huge pool, and a dive bar/restaurant with a jukebox and pool table -- karaoke and free Wi-Fi almost spoil the vintage vibe, but then totally DON'T 'cause c'mon. The spare, laid-back cabins sleep either two or four people, no pets are allowed, and you'll need to bring your own wood (HEY NOW) for the fireplaces. Lest you think you're roughing it, though, know that there'll be homemade cinnamon buns at breakfast. Rates start at $109 for one night or $89 per for two to three nights.
Rimrock Ranch Cabins
Pioneertown
Amenities: Plunge pool, full baths
How to book: Call 760.369.3012 or email rimrockranchjack@gmail.com
The rustic, funky cabins right by Pappy & Harriet's evoke a desert version of Silver Lake -- rattlesnakes, chiminea fireplaces, Airstream trailer, and all. Set near a campfire pit and a deep-pit BBQ (bring your own wood and charcoal), three of the renovated 1940s cabins are tricked out with full kitchens, while one has only a mini-fridge, coffee maker, and microwave. The trailer is available, too, but has no kitchen and a separate bath. The streamlined, art-filled Hatch House is like a cabin on steroids, ideal for cozying up and closing the deal. Rates range from $61 to $175 a night, and there's a two-night minimum over weekends.
 
Santa Barbara
Amenities: Full bathrooms, kitchenettes, picnic tables, grills, fireplaces, sleeping lofts, soaking tubs
How to book: Reserve online or call 866.352.2729
Sprawling over 300-plus acres of Pacific coastline that's technically a good 20 miles north of Santa Barbara, this simultaneously high-end and laid-back retreat offers 108 cedar cabins that will make you question your city-dwelling choices. At one of eight different types of cabins (which sleep between two to six and start at $245 a night), you'll have a forest or canyon view, starry skies and chirping frogs all night, and your own front porch and outdoor fire pit. For more privacy, book the two-bedroom, hilltop Safari Cabin, and enjoy seeing absolutely no one from your deck, skylights, and French doors. You'll find Wi-Fi at the on-site market and pool, and jazz, blues, or bluegrass concerts on Saturday nights in the summer.
Cachuma Lake Cabin Courtesy of Santa Barbara County
Santa Barbara
Amenities: Queen beds, sleeper sofas, full kitchens and baths, front porches, charcoal BBQs, fire pits, TVs, Blu-ray/DVD players
How to book: Reserve online
The four blond-wood cabins here -- Condor, Eagle, Falcon and Hawk -- give you front-door access to a wide-open patch of sky where you're likely to see all four types of birds soaring high above you. You'll also be surrounded by two mountain ranges and a shimmering lake, where you can go boating, fishing, or take a naturalist-led wildlife cruise. Each cabin has at least one bedroom with pocket doors and a sleeper sofa in the living room -- you'll need to bring your own sheets, pillows, blankets, and towels -- and summer rates start at $110 a night. For a per-dog fee, you can also bring along your pooch(es).
 
San Luis Obispo
Amenities: Full kitchen, hot tub, BBQ, deck, Queen bed
How to book:Reserve online, via VRBO, or by phone at 805.801.7128
Set on 11 acres of former ranchland with views of (wait for it) olive trees (!), this rustic former tack room has a retro '60s interior full of vintage stuff that ranges from quirky to cool. There's no TV, but there IS a hot tub and comfy bed that sleeps two -- so bring along a book, another person, or both. (If you want to travel with a group, know that there's also the adjoining Libretto Cottage that sleeps four.) Tap into the hippie vibe of the property and book a workshop for Creativity Awareness or go on a fasting retreat. Not your thing? Check out some of the 15 nearby Central Coast wineries -- and know that you'll find a wine opener and glasses in the kitchen. Rate is $165 per night with a two night-minimum, up to five nights.
Sign up here for our daily LA email and be the first to get all the food/drink/fun Los Angeles has to offer.
Melanie Wynne is the Travel Editor of The Points Guy, and while she loves winging off to exotic places, she'll never kick a California road trip out of bed. Find her on Instagram at @wynne_win and on Twitter at @wynnewin.