Why I'm Breaking Up With the Lakers (and You Should, Too)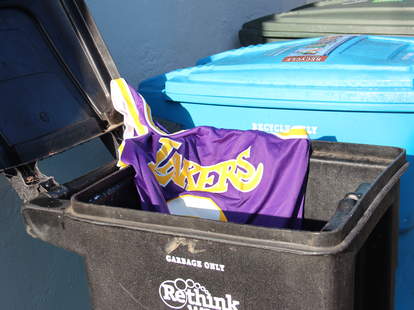 It's not that this Lakers team sucks. I mean, it does. God, it really does. But here's the thing: lots of LA teams have sucked (see: interim "coach" Magic Johnson in 1993, Cedric WTF Ceballos renting a houseboat in the middle of a season and disappearing for like a week in 1995, and all-time-suck Chucky Atkins and Chris Mihm in the starting lineup in 2004).
This team, though, is a different kind of suck.
The kind of suck usually reserved for mouth breathers and one-light-out high beamers. The kind of suck that means, after 30 years of wearing Nick Van Exel jerseys to bed and doting on Elden Campbell rookie cards, I'm freaking done. I quit you, Los Angeles Lakers, and here's why:
Chick Hearn is dead
Even when he was calling Kobe Bryant "Eddie Jones" and Eddie Jones "Kobe Bryant" FOR AN ENTIRE SEASON, he still made every Lakers team -- even the really, really, REALLY bad ones -- worth watching.
 

This
Just... this.
Jim Buss is a huge idiot
Jeremy Lin after Kobe missed a game-winning shot this season: "I would love to shoot some"
Kobe Bryant career game winners: 29. Jeremy Lin career game winners: STFU bro.
Lakers lottery pick Julius Randle broke his leg during his first goddamn game
The only thing that maybe wouldn't have sucked this season, sucked this season.
 
Steve Nash is a POS
Okay, so just to be clear, Steve Nash hurt his back CARRYING HIS BAGS AT AN AIRPORT, was ruled out for the year, basically left the team, didn't return calls from head coach Byron Scott for more than a month, played a bunch of golf (WTF??), but continued to collect his $9.7 million paycheck? Right.
Jim Buss is a huge idiot
All-time Lakers great Magic Johnson thinks the team isn't tanking hard enough
"I hope the Lakers lose every game," Johnson told reporters in December. "Because if you're going to lose, lose. And I'm serious." I mean, this is just sad, right?
 
Ronnie Price, Wayne Ellington, Wesley Johnson, Ed Davis, and Jordan Hill started on Sunday
This would be like Captain Planet putting together a team of Planeteers that were all that Heart kid.
Pau Gasol is... good again?
After being mostly terrible both of the last two years in LA, the Lakers let him bounce to Chicago where he's putting up career best numbers. Fun times. Which brings me to my final point...
Jim Buss is a huge idiot
I'm out.
Sign up here for our daily LA email and be the first to get all the food/drink/fun Los Angeles has to offer.
Grant Marek is a Senior Editor at Thrillist and, while he is quitting the Lakers, he's not quitting the Laker Girls. Follow him on Twitter to NBA basketball team-lessness at @grant_marek.