50 great things LA has that NYC doesn't
In case you missed it, our bros at Thrillist San Francisco just totally pantsed NYC in a pretty epic takedown, all because of some flagrant NY Mag piece about SF being the worst. Luckily, we don't need flagrant NY Mag pieces about how LA is inferior in order to pwn NYC, which's why we've totally decided to pile on. Here are 50 things LA has that NYC doesn't, and never will, because they're the worst at everything. Ever.
1. Bacon-wrapped hot dog carts
Yes, they're probably illegal. Also, yes, they're wrapped in bacon and topped with pepper, onion, and mayo.
2. Beaches that don't remind you of the beginning of Law & Order
3. Sugarfish

4. The Griffith Observatory
5. Jazz Singsanong at Jitlada
She won't be impressed by your famous friends (probably because she's already met them), but she will call you honey, ply you with beer, and make you astonishingly spicy mussels.
6. Live TV police chases
No real freeways + Limited airspace for choppers = Boring news reporting.
7. Malls that don't suck
Because they're outdoors. And it's sunny. All the time.
8. Walt Disney Concert Hall
Yeah, you've got symphony halls, but your conductor doesn't have seizures onstage. FACE.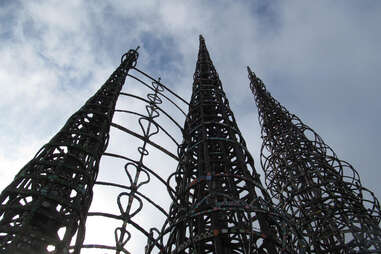 9. The Watts Towers
10. Conan O'Brien
You guys: he MOVED HERE FROM NY. Your dude! Bam.
11. The Greek Theatre
12. The Airliner
There must be an underground hip-hop club in NY, too, but did Odd Future come out of it? No. No they didn't.
13. Medical marijuana dispensaries
14. Medical marijuana "doctors"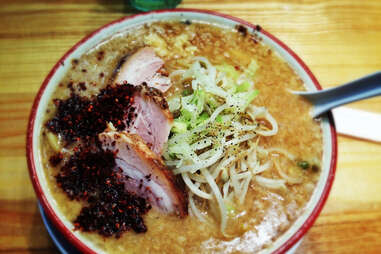 16. Coachella
17. Crappy apartments that at least have more than one room
A doorway with no door leading into a shelf with two hot plates does not count as "having a kitchen".
18. The Hollywood Bowl
19. Pink Corvettes, and the kinda-famous people inside them
20. Mariachi Plaza
It's in East LA, and yes, mariachi hang out there. And yes, it's awesome.
21. Musso & Frank Grill's octogenarian bartender, Manny
He will make you the best martini anywhere. ANYWHERE. Hear that.
22. Golden Road
24. The Clippers
26. Driving the PCH
27. Tacos. Like, actual, real, street-cart tacos.
Made by an actual Mexican. From Mexico.
28. Mammoth Mountain
29. Dallas Raines
Best. Weatherman. Name. Ever.
30. Actually getting all the jokes in every "The Californians" SNL sketch.
NYers think "take the 605 to the 405 to the 101 to Coldwater Canyon" is a joke. You know it's your commute.
31. Bikinis. Nearly year-round.
32. Backyard pool parties.
In pools. That we have.
33. Free Monday nights at The Satellite, Echo, Silverlake Lounge, and Bootleg
34. Actual mountains/hiking trails/nature
No, hiking trails in Central Park aren't the same as miles and miles of foliage-laden, actual-nature, mountain-lion-adjacent hiking trails.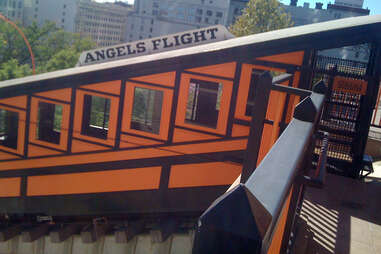 35. Angels Flight
36. Magic. Frikking. Mountain.
37. Free shows on the beach in Santa Monica
You will bring wine. You will sit on the beach. You will listen to some band you're not paying attention to at all. You will be all like, "You cannot do this in NYC".
39. Work flip-flops
Yes, there's a difference.
40. The Getty
And the view from the top of it. And, okay, we'll admit it, those gardens are pretty cool, too.
41. Roy Choi
42. UCLA Cheerleaders
43. USC Song Girls
44. The easy drive to TJ
Or Santa Barbara, depending on your level of sophistication.
45. Room for gentrification that spreads out, not up.
46. Monthly parking lots that cost less than monthly car payments
47. In-N-Out Burger
48. Cinespia's movie series in the cemetery at Hollywood Forever
You will bring wine. You will watch some movie you're not really paying attention to. You will look around and think, "I cannot do this in NYC".
49. Eric Garcetti
Did your mayor sit in on keyboard with Moby?
50. Scientology brunch
Anything involving a sort-of-creepy religious group and eggs can't be all bad.
Jeff Miller is Thrillist LA's Senior City Editor and prefers red at the cemetery, and white at the pier. Hit him at @thrillistla on Twitter and @jeffmillerla on Instagram.