The 21 Worst Decisions You Can Make in LA
Usually, you make good decisions: you ask for that Double-Double "Animal Style," you use the Canyons instead of the 405, and you get in on that $40 all-you-can-drink thing at LAX. But sometimes, definitely sometimes, you make bad ones. Like these:

1. Getting Time Warner
Even if there's no other cable provider in your area and you don't have a roof for a satellite dish, this is probably the worst decision you can make in life.

2. Taking the wrong San Vicente
Unless you want to go to Brentwood instead of WeHo. Which you... might?

3. Accidentally exiting north instead of south at La Cienega off the 10
You have this huge, weird, circular exit ramp thing that seems like a death trap and then... oops, you're going the wrong way with no way to make a U-turn, even illegally. And now you're pulling through that Del Taco before you're back on track.
4. Using the public bathrooms at the Santa Monica Pier
Hobos + grime + beach = so gross.

5. Trying to find parking in that Trader Joe's lot
Doesn't even matter which one -- just all of them.

6. Choosing anything farther than a five-mile radius when you're online dating
20 miles sounds doable, but then you'll realize that someone in Pasadena right-swiped you, and all of a sudden you're in a long-distance relationship.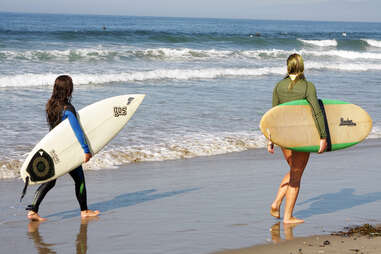 7. Thinking that you'll be "just fine" trying to surf for the first time -- in Venice
Your pride or your ankles will be shattered. Probably both.

8. Paying for Westside Rentals
Dude, even we have a password you can use.

9. Parking in the wrong "loading zone" after 6pm
Yellow only. YELLOW ONLY.
10. Deciding to get donuts at Donut Time on Highland
Unless you like being propositioned by transvestite prostitutes, in which case, this is actually a totally good decision!

11. Continuing east when you hit Los Angeles St while walking down 6th
No.

12. Chancing getting through Beverly Hills when your "needs gas" light is on
You'll pay $5.50 a gallon and feel so ridiculous. SO RIDICULOUS.
13. Offering someone a ride/pickup from LAX -- ever
Even when it's not rush hour, it's rush hour. Rideshares exist for a reason. And this is that reason.

14. Living in an apartment by the beach if your commute takes you east of La Brea
... or maybe even Lincoln. Probably Lincoln. Sure, you loved the ocean when you moved here. You know how love sometimes turns into resentment? That.

15. Shopping at Jons instead of Vons
Or vice versa. It's so confusing.

16. Taking Highland instead of Orange to get to Hollywood
You moved here yesterday, right?
17. Leaving a Dodgers game after it's actually over
Yeah, you're an awesome fan. An awesome fan who will be home in... two hours.

18. Trying to "share a car" with your girlfriend/roommate
Hahahahahahahahahahahahahahahahahahahahaha.

19. Touching your steering wheel in the summer
Or your seatbelt buckle. Or just your seat in general.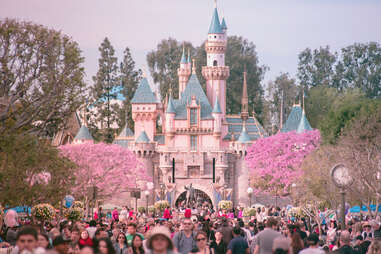 20. Going to Disneyland on a holiday weekend
Or, um, a normal weekend. Basically any day that's not a Tuesday.

21. Thinking that bacon-wrapped hot dog is going to taste as good as it smells
It never does, dude.
Sign up here for our daily LA email and be the first to get all the food/drink/fun Los Angeles has to offer.
Jeff Miller has made about half of these mistakes before, but has never actually entered Donut Time, because, uh, he's terrified. Hit him at @jeffmillerla on Instagram and @ThrillistLA on Twitter.
This article was originally published on October 22, 2014.