Look, tourists are a fact of life in LA, and that's never going to change -- between the people in bikinis, and the famous people, and the famous people... in bikinis, there's always going to be an onslaught of not-from-here people flying into LAX. And you're gonna have to deal with them, in their many terrible shapes and sizes. Just pray the ones you do aren't any of these 25.
The Hollywood Sign Hiker
Where you'll see them: On and around Beachwood
Yes, living on Beachwood opens you up to these people. These nice, nice people. Who never read the new rules. Always ask to use your bathroom. Regularly take your parking spaces. And don't understand why they can't get close enough to touch it. These lovely, LOVELY people.
 
The Guy Who LOVES NWA
Where you'll see them: Roscoe's
This guy's entire knowledge of LA comes from '90s hip hop, which means he 1) thinks Compton is totally gang infested, and 2) is terrified of it but wants to represent anyways. Dude, Roscoe's is good, but Bludso's is better. You'll be okay.
The European Bikini Dude
Where you'll see them: Santa Monica Beach
There's a place where banana hammocks are appropriate, and that place is West Hollywood.
 
The West Hollywood Homophobe
Where you'll see them: Outside RAGE
There's a place where bitching about banana hammocks is appropriate, and that place is the beach.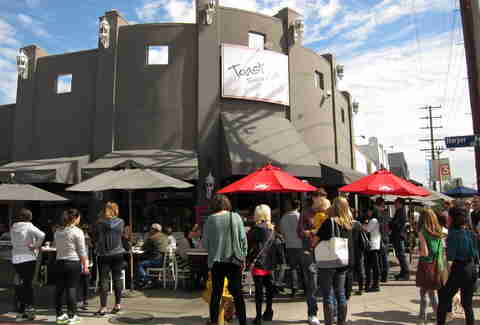 The Complaining New Yorker
Where you'll see them: Brunch, on Sunday morning
"How can you even DO BRUNCH without Mimosas?" Uh, 'cause we have to drive. That's how. "I could never live here." Don't.
The Coachella Weekender
Where you'll see them: At LAX, in April
"What do you mean it's a three-hour drive? Can you, like, take us?" No. Definitely, positively not.
 
The Guy Who Is Trying to Sell His Screenplay About Robot Dogs
Where you'll see them: Being escorted out of CAA
Just because your friend's friend moved here and is working for a Junior Account Exec doesn't mean you've got a foot in the door. Move here, get a roommate in East Hollywood, and start out as a waiter, like everyone else.
 
Girl Who Just Can't Believe Medical Marijuana Is Legal
Where you'll see them: Venice Beach
Even when you explain to them that, yes, the woman in the "nurse" uniform asking if you want marijuana is asking if you want marijuana, they think you're joking. EVEN IF YOU'RE SMOKING IN FRONT OF THEM.
The Hollywood Walk of Fame Photo-taker
Where you'll see them: The Chinese Theater
You spent thousands of dollars to come to the Mann Chinese and see if your hand is as big as Brad Pitt's. So did infinity other people. And now, you have all their germs on your hand. That's how it works. You are disgusting.
 
The Disappointed Foodie
Where you'll see them: Not Bestia, or Faith & Flower, or Animal, or...
Look, just because you didn't plan ahead, doesn't mean our food isn't as good or happening as Chicago/San Francisco/New York/ etc. It just means that that salad from Trimana sucks. Which it does.
 
The Runyon Hiker
Where you'll see them: Runyon
*Wheeze* "US Weekly never said it was this hard!" *Wheeeeeze..."
The Price is Right Loser
Where you'll see them: The Farmers Market
At least you can go home and tell your friends you saw Drew Carey in person, right?
 
The Bag-Carrier
Where you'll see them: Rodeo Dr; Abbot-Kinney
It doesn't matter if the brand's Hermes or something hipster -- a bevy of bags means you probably got suckered into buying overpriced merch you could've ordered online, but didn't, because a trip is an excuse to max out your credit cards. Congrats!
 
Guy Taking Pictures at the Beverly Hills Sign
Where you'll see them: The Beverly Hills sign. All of them.
There really isn't anything that indicates "I'm a basic tourist and literally couldn't come up with something interesting to do today" like taking your photo in front of a sign that says "Beverly Hills." Enjoy your Sprinkles cupcakes!
 
Dude Who's Never Seen Standup Comedy
Where you'll see them: The Improv, the Laugh Factory, and the Comedy Store
Somehow, when a comic says "how are you doin'?" they think it actually means, like, a conversation. They're also really x10 excited to see Dane Cook do a stop-by. Really.
The Washed-Up Metal Guy
Where you'll see them: The Sunset Strip. Duh.
Explaining to someone dressed in leather with their hair teased up that the "scene" they're itching for at the Whisky has been replaced by an onslaught of second-rate bands that're literally paying to play is disheartening enough. Doing it while a guy that looks just like Sebastian Bach walks by and asks for change makes it that much harder.
 
The Not-Yet-Washed-Up Indie Rock Guy
Where you'll see them: The Satellite. Duh.
Oh, those bright eyes... from someone who wishes the random band they were seeing was Bright Eyes.
 
The Club Kid
Where you'll see them: In line on Hollywood Blvd
Didn't someone tell you that even though you're ultra-hot in Minneapolis, in the club scene in LA that LITERALLY DOESN'T MATTER unless you're buying a bottle? Which list were you on, again?
The Giants Fan
Where you'll see them: Dodgers Stadium
There's a time and a place to deck yourself out head-to-toe in orange and black -- the time is never and that place is NEVER.
 
The Lakers Hater
Where you'll see them: Staples Center
For many years, this guy was just laughable. Now that he may be right, it's just sad.
 
The Fairweather Kings Fan
Where you'll see them: The Yard House outside Staples Center
Honestly, this guy probably isn't a tourist at all.
Micky Mouse Obsessives
Where you'll see them: Disneyland
Look, we love Disneyland, too. Especially all the secret parts of it. But there's a step too far, and that step is when you're 34 years old and the highlight of your vacation is taking a photo with Goofy.
 
Guy Who's Never Tried In-N-Out
Where you'll see them: In-N-Out
"This is overrated," they'll say. "Five Guys is better," they'll say. "Shut the hell up," you'll say.
Anyone Who Paid for the TMZ Bus
Where you'll see them: The Hills
If you actually paid to see where a Kardashian got their hair done, you're, like, The Worst. Well, almost The Worst. Because the Absolute Worst is...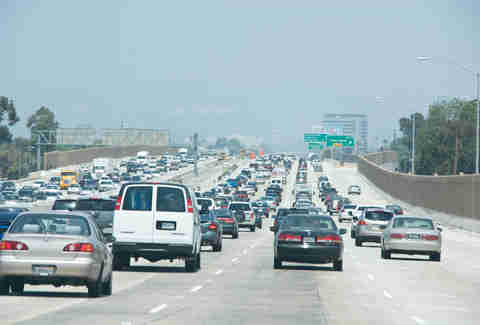 Everyone on the Road
Where you'll see them: GOD DAMN EVERYWHERE
MERGE MERGE MERGE MERGE MERGE MERGE MERGE MERGE MERGE.
Sign up here for our daily LA email and be the first to get all the food/drink/fun Los Angeles has to offer.
Jeff Miller actually loves most tourists. Seriously. Yell at him anyway at @jeffmillerla on Instagram and @ThrillistLA on Twitter.