As Biggie Smalls once famously said, "Mo' money, mo' problems... unless you're in Louisville, in which case having a little extra scratch, if anything, leads to fewer problems." Well, helping you fulfill B.I.G's routinely truncated truism, here are some totally free, cash-saving things to do in Possibility City...
Get your Bard on at the oldest free outdoor Shakespeare festival in the United States, totally free of charge.
While it remains a relatively rare occurrence, Tasty Tuxedo Treats occasionally gives out free popsicles on the most sweltering of summer days.
All the exhibits at 21C, a boutique hotel/art museum, are free. However, make a special trip down to the bottom floor to visit the wallpaper art. Trippy neon waterfalls glow under a psychedelic blacklight, and -- we are NOT recommending that you touch the art -- the piece is fuzzy to the touch.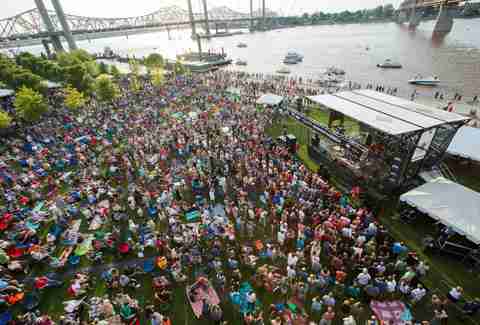 Held at Waterfront Park one Wednesday a month, you can enjoy music from hip favorites like Pokey LeFarge, Jukebox the Ghost, and Shakey Graves.
Checking out sundries at the booths of the Flea Off Market is the Louisvillian equivalent of window shopping. Pro tip: if you have a dollar or two to spare, try your luck at a game of Chicken Sh*t Bingo.
Tim Faulkner's Gallery is located in a renovated warehouse in the up-and-coming Portland neighborhood. It features rotating collections of modern art, plus you can sneak a peek at works-in-progress by some of the studio artists.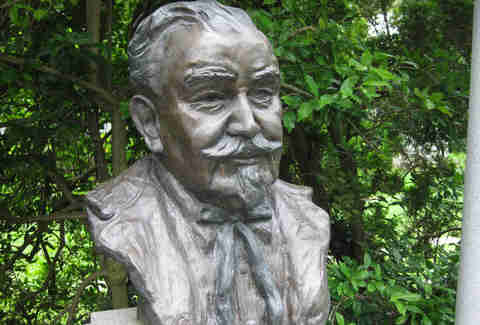 While not your average walk in the park, Cave Hill Cemetery makes for a hauntingly beautiful trek. You can also visit the grave of fried chicken mogul Colonel Sanders.
8. Find fossils at the Falls of the Ohio
While you can't remove any bones from the Falls of the Ohio National Wildlife Conservation Area, the fossils in limestone are definitely worth a look if you want to play amateur paleontologist (...or if, like us, you want to pretend you're in a scene from Jurassic Park).
Walk -- and ride -- down fashionable Frankfort Ave during the FAT Friday Trolley Hop. Pro tip: if you're really strapped for cash, many of the boutiques have free wine and snacks out for visitors. Just promise us you'll return the favor and #buylocal next paycheck.
Buffalo Trace Distillery outside of Lexington, just a short drive from Louisville, always offers free tours of its facilities -- and free tastings of its bourbon afterward. A bottle of your own, however, costs extra.
11. Catch a movie in Floyd's Fork
Grab a blanket, a special someone, and cozy up for free movies at the Parklands of Floyd's Fork -- typically offered three or four times a year. Keep an eye on their website for specific dates and what's playing.
The newly remodeled skatepark offers plenty of new twists and turns to test your skills. Alternatively, if you have no skills, there are always some talented skateboarders and bikers to watch.
13. Stand with one foot in Indiana, one foot in Kentucky
Walk the Big Four Bridge and straddle the state line on the Indiana side, this way you can experience the profound disappointment of being broke in two states at once.
14. Get photo-ready for an Instameet
These events are sponsored by @igerslouisville and are like photo tours of the city, seen through the lens of your iPhone.
15. Search for the Pope Lick Goatman
The city's most beloved urban legend.
Featuring more than 35mi of hikable and bikeable trails.
502 Power Yoga offers free yoga classes sometimes -- even going so far as to shut down Fourth Street Live! with their poses.
There's a giant chess board set up just down the corridor from the food court... where you can also take advantage of the free sweet & sour chicken samples. Checkmate, hunger!
Most likely someone else will bring the ball, so all you have to do is show up, game face on.
20. People-watch on Bardstown Rd
From the guy in the panda head who dances on the corner by Chipotle (while trying to sell art),  to the skater punk teens who have just discovered vaping, there's always someone to watch on Bardstown Road.
Sign up here for our daily Louisville email and be the first to get all the food/drink/fun in town.