The sun shines bright on my old Kentucky home, and frankly it shines the brightest in Louisville. But let's get a few things straight: no matter how sunny it is, Louisvillians do wear shoes, the grass isn't blue, and we don't walk around elbow-deep in buckets of KFC. Here are a few "facts" about living in Louisville that are actually totally untrue:
1. Louisvillians don't wear shoes
This negative stereotype about residents of Kentucky is actually pretty offensive. While there's not a single starting point for the rumor, the general consensus is that Kentucky has a reputation as a barefoot state because of the unfortunately high rates of extreme poverty in rural regions. Spoiler: we do indeed wear shoes.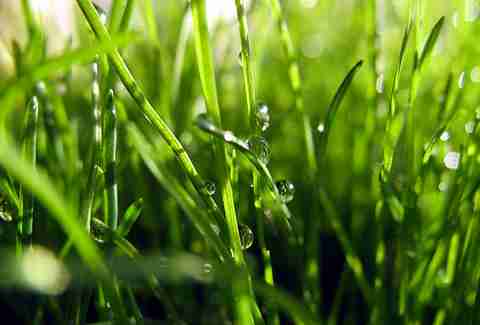 2. The grass here is blue
Yes, there is Kentucky bluegrass (poa pratensis, if you want to get all technical about it) but honestly, it's not that blue. When it's allowed to grow to its natural height of 2-3ft, the blossoms are blue, but we don't let it grow that high because we're not savages. 
 
3. Everyone in Louisville loves the Derby
This might come as a shock, but not everyone is thrilled when Louisville is annually overrun with booze-swilling, restaurant-hogging, direction-asking tourists. Even if you enjoy the Derby tourism boom (lots of us do!), it's hard to enjoy the Derby when it happens every year and every single meeting is moved to "after Derby" because suddenly there's something to do every single minute of every single day. FOMO is never higher that Derby time.
4. Louisvillians drink nothing but bourbon
Au contraire, though loving bourbon is a hallmark of Louisville life, there are many other options in The 'Ville. Copper & Kings brandy, Rivulet pecan liqueur, Against The Grain brews, and Old 502 wine are just a few examples of the many alcoholic offerings Louisvillians love along with their bourbon.
 
5. Being a Kentucky Colonel is a big deal
It's really not THAT hard to become a Colonel, you just have to be over 18 and be recommended by another Kentucky Colonel. It's not as easy as becoming an ordained Internet minister, but it's hardly a laborious process.
6. KFC is king
Speaking of colonels... Colonel Sanders isn't the king of fried chicken in Louisville (though you can see a delightfully creepy Sanders figure at Why Louisville, and there is more than one impersonator available for hire). We're really proud of our local food, and the restaurants here do a great job of providing fried chicken that, dare we say it, is better than the buckets. 
 
7. Louisvillians own horses
Hate to break it to you, but you're thinking of Lexington. Though we do love our Derby, and Churchill is hopping through the whole season, most Louisvillians are only interested in the party-oriented aspects of horse racing. 
 
8. Louisville is politically conservative
Louisville is an island of blue in a sea of red. At least compared to the rest of the state, Louisvillians tend to be more politically progressive and liberal.
9. Louisvillians love nothing but basketball
We know our obsession with basketball is, shall we say, unique. But Louisville also cares deeply about other sports: pretty obviously we love baseball (Louisville Slugger, anyone?), football, and we just got a professional soccer team.
 
10. The Ohio River is a beautiful addition to city life in Louisville
*Cough* Are you *sneeze* kidding me? *Wheeze* The Ohio River *blows nose* is the worst thing about living in this town.
11. Louisvillians survive on a diet of Hot Browns, Benedictine, pimento cheese, and burgoo
Most of us don't even like that stuff; maybe we ate it once (probably with out-of-town friends) and then went back to eating more delicious stuff. You know, like burgers from Mussel & Burger Bar or lima beans from the Mayan Café. 
 
12. Nothing good happens past 9th St
The West End has a bad rep, but it's going through a major revitalization. The Portland neighborhood, in particular, is fast becoming a great place for local businesses (like Please & Thank You's Hot Coffee) and artistic spaces like the Tim Faulkner Gallery. Don't write off big chunks of our town -- Louisvillians don't.
Sign up here for our daily Louisville email and be the first to get all the food/drink/fun in town.