A Bunch of Louisville Date Ideas You'll Actually Love
In the spring, it's the Derby. Summertime has Forecastle. And as fall approaches, we have a couple of big events, like Bourbon & Beyond as well as Louder Than Life. But what are you supposed to do for date night the rest of the year, especially in late autumn and early winter (aside from watching the best new shows on Netflix, of course)?
Although the temps will drop, Louisville is a place where there's always something to do, even when the skies are gray and the birds are down south. And to that end, we've amassed a list of some great date ideas around Louisville that are perfect for the season.
Jeffersontown
One of Louisville's great getaways for fun is out in the east end of town. Take in a rom com at the adjacent Xscape Theaters, then head to the Main Event for bowling, laser tag, mini golf, food, video games -- you name it. It will be a romantic -- and well, sweaty -- day to remember.
Get all sticky sweet with a candy shop tour
Almost everywhere
You may not be aware that Louisville is a pretty sweet city -- in terms of the number of places you can go to rot your teeth. Take a tour and share some sweets with your sweetie, starting in Jeffersonville at historic Schimpff's Confectionery, then make your way to another local classic, Muth's Candies, Cellar Door Chocolates, and the Sweet Spot Candy Shoppe.
Go antiquing at Crazy Daisy, then have lunch at Royals
NuLu
There's just something inherently romantic about shopping for antiques. Like making-out in a chair built in 1915. Crazy Daisy Antique Mall has two huge floors filled with antiques of all types, from antique furniture to vintage toys to glassware. When you're finished gazing at the antiques, skip over to Royals Hot Chicken for a taste of Nashville. You could also pop into Louisville Antique Market, just a couple blocks away.
Hayfield Dundee
Is there a better time for ice skating than when you have your winter clothes and coats in full rotation? Nope. Get your butt over to Alpine Ice Arena, a long-time Louisville staple. Check the schedule for public skate times, rent your skates, and hold onto your honey for dear life as you traverse the rink and talk about that time you played roller hockey. When you're done, grab a drink and a dog at the snack bar.
Downtown
Few things are more Louisville than the city's signature dish, a hot brown, featuring bacon, ham, cheese, and Mornay sauce, served as an open-face sandwich. The best place to have it? The hotel bar at the Brown Hotel, where the dish was freaking invented.
Downtown
You don't have to drive all the way to Bardstown to take in a distillery tour these days. Instead, check out East Market and go down the Rabbit Hole (one of our favorites)... or head Downtown to the Evan Williams Bourbon Experience, Michter's, or Old Forester. You can also hit the Angel's Envy distillery complex just down the street. There's even Kentucky Peerless Distilling, a few blocks down Main Street in Portland, among others.
Clifton
Nothing warms a belly like a piping hot bowl of noodles, and Louisville has plenty of options for pho and ramen, be it classics like Vietnam Kitchen or newer entries like Mirin and Chik'n & Mi (which we named Louisville's best restaurant of 2017), there are plenty of places to get your noods on.
Fairgrounds
Bowling is probably where your parents went on their first date, so why not rekindle a romantic tradition... but, like, without that whole thinking-of-your-parents thing. Wear uncomfortable clown shoes, grab a milkshake, roll a bunch of heavy balls into the gutter, and quote The Big Lebowski a bunch more than you normally do.
University of Louisville
Every Sunday at the Speed Art Museum, admission is free, which means you and your sweet thang can walk around and enjoy the enormous collection of works that literally spans more than 6,000 years of human creativity. If you want to step it up, catch After Hours at the Speed for live music and drinks to go with your art fix.
NuLu
From Revelry Gallery to Zephyr Boutique Gallery, there are plenty of specialty shops in NuLu. Bundle up against the cold and jump from shop to shop, then finish off your afternoon with one of the best chocolate chip cookies in town at Please & Thank You. And yes, you can get a hot cup of coffee. If you're feeling especially froggy, warm up with a bourbon flight at Taste for a comforting Kentucky hug.
Butchertown
Play's weekend drag shows are legendary. A $10 cover most weekend nights (though naturally that increases when special events are happening or special performers are brought in) gets you access to the glitziest, vampiest, craziest set of drag performers in town. It is, to put it lightly, a fucking blast.
All around the Downtown area
While a true speakeasy is a thing of the past dating back to Prohibition, Louisville has quite a few out-of-the-way bars that are speakeasy-themed. Summon an Uber and bounce around the neighborhoods near the city's heart, finding places like the hidden-away Hell or High Water, the jazzy Jimmy Can't Dance or the dark and sexy Mr. Lee's.
Take a brewery tour
All over Louisville
Louisville is best known for bourbon and horse racing, but it has a blossoming brewing scene as well. Hop on the bus with Derby City Brew Tours and get samples at every stop, from Apocalypse Brew Works to Against the Grain Brewery.
Jeffersontown
If you're into solving puzzles and working with a team to crack codes, head to Breakout Games. There are seven different games to play (all with teams), and you'll each play a crucial role -- either to escape from a kidnapper, free hostages, and/or figure out what happened to a missing secret agent. No matter what mystery you choose, you'll have 60 minutes to uncover all the clues and beat the game.
Downtown
Despite what almost any rational person will tell you, romance and learning can go together quite nicely. So get yourselves down to Frazier History Museum for a cross-section of local and national history, plus a permanent exhibit celebrating Louisville's distilling heritage. And after you've filled your brains, you can head down to Proof on Main for fine dining and some of the best food on the strip.
Jeffersontown
Named one of Louisville's best bars, Recbar is a place to have dinner with your date, enjoy $3 glasses of wine during happy hour, or get a little competitive on one of the dozens of video games and/or 30-plus pinball machines that help give this bar its name. And if you just so happen to in southern Indiana and reading this (why?), check out Recbar 812.
Clifton
The Silver Dollar is a cozy bourbon bar set in an old horse-and-carriage fire station. Country music oozes through the place from a turntable in the corner, and the bourbon selection is second to none. Order a flight and let Kentucky's favorite liquid warm you inside and out as you enjoy the setting. And then order chicken livers, which will be great (I swear!) after all that whiskey you drank.
Highlands
Step 1: Procure kitchen. Once that's accomplished, head over to ValuMarket in the Highlands, pick up all the fresh produce, meat, and other groceries you'll need, and spend an evening in the kitchen cooking together. Wine recommended.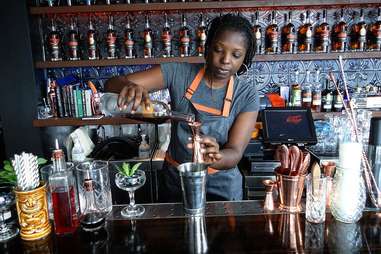 Butchertown
Bourbon is (still) all the rage in Louisville these days (can you believe it?!), but the folks over at Copper & Kings American Brandy Distillery are content to make and sip their brandy. What began as a local startup now distributes all over the U.S., and the facility is top-notch and ready for tours. When you're done, grab a craft cocktail at the rooftop bar, ALEX&NDER.
Old Louisville
Become head of the house for a night at Central Park Bed & Breakfast, set in a Victorian mansion in the city's Central Park area. Heat up the fireplace (there's one in every room), settle in with a bottle of Olde English, and go with the flow. And, hey, if Central Park is booked up, there are plenty of other B&Bs to choose from.
Downtown
Going to an NBA game can be pretty pricey. Going to a U of L game, not so much. Head on down to Yum! Center Downtown to catch both the men's and women's squads as they take on top tier teams from around the nation. Tickets start at $30 with group discounts and VIP options available.
Highlands
Winter in Louisville always brings a little snow (global warming not withstanding), and that brings sledders to Cherokee Park to take advantage of the hills. Or wipe out. More of the latter, usually. Once you've hit the point where you can no longer feel your hands, warm up a few blocks away at Heine Bros. Coffee with a steaming cup of joe.
Sign up here for our daily Louisville email and be the first to get all the food/drink/fun in town.
Kevin Gibson is a Louisville, Kentucky-based author
who writes about everything from food & beer to the city he calls home
. In his nearly three decades as a writer, he has won numerous awards but doesn't know where most of them are. He is author of
Unique Eats of Louisville, Secret Louisville, Louisville Beer,
and others. He currently lives in the Clifton neighborhood with his dog, Atticus.