Dating in Louisville can be hard enough already... and then you get the check for those cocktails. Well, it doesn't have to be that way -- in fact, we have a dozen surefire ways of sparking some romance without burning up your wallet.
Hit the Falls of the Ohio State Park
Clarksville, IN
On Riverside Dr, on the border between two southern Indiana towns with the best views of Downtown Louisville and the Ohio River that divides the two states, there is a park where you can walk around and explore 390-million-year-old fossil beds; plus, there's an ice cream shop nearby!

Prospect, KY
Thanks to donations, volunteers, and whatever else keeps this free minizoo open, you and your date can visit camels, sheep, yaks, peacocks, emus, buffalo, and more five days a week, all year round. But remember, "NO cereal or bread or you will be sent the vet bill."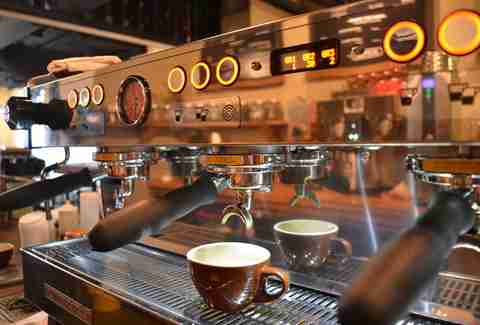 Go on a coffee date
Various locations
Our coffee culture has quickly picked up steam over the past decade, with shops like Quills and Sunergos (three local locations each) winning awards in national competitions and becoming noticed by press and peers alike. Other favorites include Vint, Heine Brothers, Highland Coffee, and Please & Thank You.

Downtown
The museum-hotel-restaurant that spawned several spinoffs and earned worldwide fame in a decade started here in no-so-humble circumstances. You don't have to be a guest or a diner to walk around and enjoy the art and the unique vibes. Men, of course, can enjoy one of the most memorable public restrooms in the country. (Ladies can try to peek, but we didn't say we endorsed that.)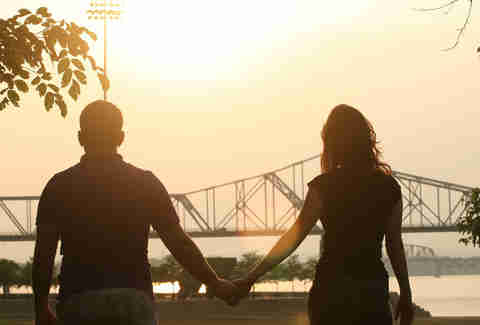 Check out Waterfront Park
Downtown
There are bigger, wealthier cities around the US that don't have an open, sprawling Downtown park (on the water, no less) where only 15 years prior, a run-down warehouse district wasted such space. Yet here we are, with a treasure that continues to sprawl in the best way. There are so many places to walk or bike, including the newish and carless Big Four Bridge, so make a day of it.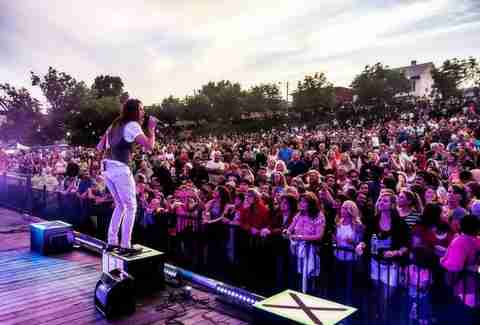 Jeffersonville, IN
At the tail end of the Big Four Bridge, you'll discover Downtown Jeffersonville, IN, which offers beer, food, candy, a floating stage docked by an amphitheater that offers music and movies, and views that can't be bought or beat. Get healthy coming in and walk back fat, buzzed, and entertained.

Peep some art in Iroquois Park
Iroquois Park
Louisville's never going to get the slogan "The City of Arts and Parks" to stick, bless our hearts, but we do have a lot of arts and a lot of parks! Iroquois offers one of the top parks, where the hiking is heavenly and the amphitheater offers everything from Wilco to Weird Al. Plus, summer movies for the whole family.
Head to the The Flea Off Market
NuLu
The monthly weekend bazaar has thrived for a few years now, filled with 100 vendors selling everything from vintage vinyl to Stevie Nicks dresses and food truck sushi, with DJs, live music, and other characters entertaining those strolling. You might want to spend more than $20 here, but you don't have to.

Go on a gallery hop
Downtown & Clifton/Crescent Hill
A city filled with many talented artists -- Julius Friedman, Julie Leidner, Ron Jasin, and Sarah Lyon to name a few -- needs two monthly art gallery hops. Jump on a Toonerville Trolley for the first time and discover how much more art is around you. It's an easy way to enjoy some occasionally expensive stuff for real cheap.
St. Matthews
At this discount palace, everything from leftover hits to art-house sleepers can be found, and the low prices will reinforce that feeling that, in this little corner of Louisville, it's still the '80s.

Get a little free music
Various locations
We dare say that music is Louisville's greatest gift to the world (well, after Muhammad Ali... and Hunter S. Thompson). There's always free options around, like Squeeze-bot's summer Sunday nights at Nachbar, the monthly warm-weather Waterfront Wednesdays in Waterfront Park, or the mayor's first Thursdays music and art, in a gallery near his office.
Check out Cherokee Park
The Highlands
The most popular and centrally located park a Louisvillian could want, Cherokee Park, is always there for walks, bikes, or drives that many still can't understand. Take a dog or two, crash someone's wedding, and work up a sweat in a more innocent way before you move up to more expensive dates.
Sign up here for our daily Louisville email and be the first to get all the food/drink/fun in town.