Louisville Is No. 1 at These 8 Things. Suck It, Every Other City.
Yes, we all know Louisville is one of the greatest cities in the country, but did you also know that was a statistical fact? Because we've done the homework and rounded up eight ways, each backed up by a recent study or survey of some kind, that The 'Ville beats every other metropolis in the nation (note: not necessarily a good thing in some cases).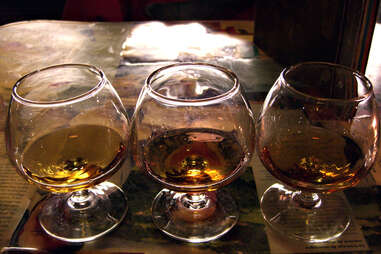 1. Best at bourbon tourism
This year was a record-breaking year for the Kentucky Bourbon Trail, and Louisville is raising a glass to its state's signature libation.
"I am more than just a serious basketball fan. I am a life-long addict. I was addicted from birth, in fact, because I was born in Kentucky." Now, Hunter S. Thompson may have been talking about the blue side of the state, but the point remains. Kentuckians are serious about their basketball. The Louisville Cardinals rank first nationally in percent to capacity attendance annually, with Freedom Hall averaging better than 100% for 10 straight years and the Downtown KFC Yum! Center follows suit with regular sellouts.
So, it's not all bad. We have more independent restos per capita than anywhere else in the country too.
6. Best at horse races
Duh.
7. Best at fireworks
Yes, Thunder Over Louisville is the largest fireworks display in North America. What's that, New York's NYE fireworks display? We couldn't hear you over the sound of our far-larger fireworks display.
8. Best at having people bet on a sporting event that's not the Super Bowl
Last year, people placed wagers of $187 million in a single day (or, possibly a single two minutes).
Sign up here for our daily Louisville email and be the first to get all the food/drink/fun in town.