12 Louisville Secrets You Had No Idea Existed
One of the greatest things about Louisville is the weirdness, and with that weirdness comes a lot of secrets. Secrets which we are spectacularly bad at keeping, because we're going to spill them all right now, in one go... weird, right?
There's a haunted cave in E. P. "Tom" Sawyer State Park that's accessible to the public
Sauerkraut Cave is right behind an archery range at E. P. "Tom" Sawyer State Park. The cave (and part of the attached tunnel) was used as storage for the Lakeland Asylum for the Insane. There are rumors that patients tried to escape through the tunnels, and there are still tales of paranormal activity in and around Sauerkraut Cave.

There's a normal-looking house in Clifton with a 25-yard lap pool inside
The "Natatorihome" at 1968 Payne St was constructed by a competitive swimmer and includes a steam room, sauna, a chromotherapy whirlpool tub, and a little living space, loft-style, above the pool. The house was on the market for years, but according to Zillow, recently sold.

There's a mummy at Southern Baptist Theological Seminary. Also tunnels.
At the James P. Boyce Centennial Library on SBTS' campus, there's a collection of antiquities including a bonafide Egyptian mummy. There are also tunnels below campus between some of the buildings, and rumors that a tunnel runs from the president's house under Lexington Road to one of the campus buildings.
There's a gangster connection at the Seelbach. Also more tunnels. And a ghost.
The Seelbach Hotel has tons of history (F. Scott Fitzgerald was once banned from the Seelbach for "carousing") and a super-interesting facet of that history is in the Oakroom -- an alcove that was once a favorite poker hangout for legendary gangster Al Capone. Capone had a giant mirror sent to the Seelbach from Chicago so he could watch his back and watch out for police. There's also a set of hidden doors behind special panels leading to secret passageways. The tunnels are closed to the public now, but that shouldn't stop you from taking a trip to the Seelbach to watch out for the Blue Lady, the legendary hotel ghost.
There was a BDSM sex club called LATEX under Whiskey Row
During construction on Whiskey Row in 2012, construction crews uncovered a sex dungeon two floors below main street. The club was called LATEX and featured still-visible (before demolition) murals, and a rack. Not a rack of coats or wine bottles -- a sex rack. The derelict place was found beyond a room filled with thousands of broken, empty whiskey bottles... which is actually a pretty good place to hide anything.

There's the biggest (vampire) bat in the world downtown
Yes, we have the world's largest baseball bat, but we also have the planet's largest vampire bat too, attached to Caufield's Novelty, a novelty and holiday supply store that began in Louisville in the 1920s.
There's an actually underground concert venue called The Workhouse Ballroom
The Workhouse Ballroom, affectionately known as "The Cave" is located right off Lexington Road. It's a cobblestone-lined cave where concerts and parties are occasionally hosted.

There's a Statue of Liberty with Nixon's face at Jerry's Junk
At 1737 E Frankfort Avenue, there's a brick house with just TONS of cool stuff in the surrounding fenced-off yard, and if you peek through the windows, in the house itself. There are old yard ornaments, genuine antiques, several ancient cars, and a Statue of Liberty with Richard Nixon's face. Jerry Lotz, who owns the place, just loves his junk, and doesn't sell much of it. Fun fact: the Nixon Statue of Liberty used to be flipping the bird, until the church across the street complained and Lotz kindly changed it to a peace sign.
There's a 40ft Derby Clock on Fourth Street
The Derby Clock is a sculpture by Barney Bright. Five hand-carved statues of locally significant figures -- George Rogers Clark, Daniel Boone, Thomas Jefferson, King Louis XVI, and the Belle of Louisville -- are supposed to race around the mechanized track. So Louisville is the only place in the world where you can watch a soldier, an explorer, a Founding Father, a French monarch, and a mermaid race each other.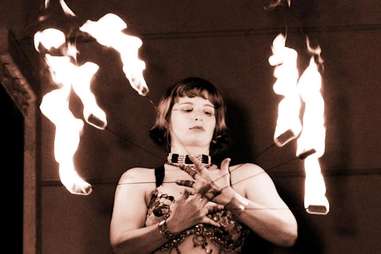 There's a group of circus performers, a burlesque troupe, and a posse of cosplaying princesses
The Blue Moon Circus, the Va Va Vixens, and the Princesses of Louisville are all doing their part to keep Louisville weird. And awesome.

Louisville was an important stop on the Underground Railroad
Louisville's geography, and position between the North and South, made it an important hub for the loose network of abolitionists that helped slaves escape the pre-war South. Rumors about secret tunnels, cellars, and holding spaces abound, and in this video, you learn more about some that actually exist.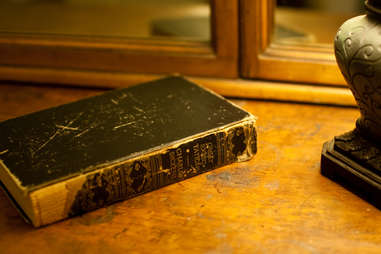 Charles Dickens visited Louisville... and he was not impressed
In 1843, Charles Dickens visited Louisville and wrote that the city presented "no objects of sufficient interest to detain us on our way." Sorry to dash your great expectations there, Chuck.
Extra credit: Southern Indiana secrets
There's a 20ft statue of hubcaps in Jeffersonville, Indiana built as a tribute to women.
The Colgate Clock, allegedly the second-largest timepiece in the world, is located in Clarksville, Indiana.
The Concrete Lady, located in Clarksville, Indiana and visible from the interstate (didn't you ever wonder about those life-size concrete gorillas and hippos?), has over 4,000 statues and ornaments for sale.
Sign up here for our daily Louisville email and be the first to get all the food/drink/fun in town.