The 7 Best Road Trip Destinations Near Louisville
There comes a time in every Louisvillian's life when the city really does start to feel like "the biggest small town in the world." You go out one night and run into three of your exes, two of their exes, and your boss who is three, four, or five sheets to the wind. That's when you realize it's probably time to hit the road for a quick break. And here's where you should go...
Lexington, KY
Distance from Louisville: 78 miles east; an hour-and-20-minute drive
Why it made our list: Welcome to Lexington, "Horse Capitol of the World." Throw on your best seersucker suit, bow tie, and make your way to Keeneland for some first-class thoroughbred racing. After throwing back a few Old Fashioneds, make your way to Windy Corner Market for some ultimate Kentucky comfort food. Try the Kentucky Colonel Boy: pulled pork in bourbon barbecue sauce, crispy fried pickles, bourbon barrel beer cheese, red onion, shredded lettuce, and special sauce.
Pro tip: Go where the spirit leads you -- like that? -- and follow the Kentucky Bourbon Trail from Downtown Louisville to Lexington and hit six of 10 of the distilleries on your way.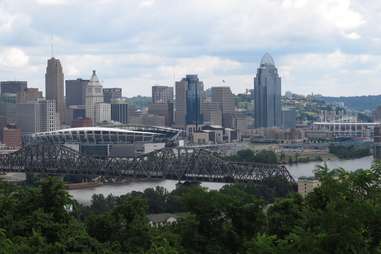 Cincinnati, OH
Distance from Louisville: 99 miles northeast; 1.5-hour drive
Why it made our list: Check out Cincinnati's Over-the-Rhine neighborhood for -- what else? -- the food, specifically The Eagle Food and Beer Hall. This soulful, Southern-inspired gastropub offers fried chicken that's to die for. Not to mention its selection of more than 100 beers. If baseball is your thing, the Great American Ball Park is home of the Cincinnati Reds, baseball's first professional franchise. The riverfront stadium pays homage to old-time baseball shrines with the Reds Hall of Fame Museum that features player appearances and interactive exhibits. The NFL's Bengals, meanwhile, play at the sleek Paul Brown Stadium; tours are available April through July.
Pro tip: Homemade Belgian waffles, courtesy of Taste of Belgium, are the perfect thing to nurse a beer-tasting-induced hangover.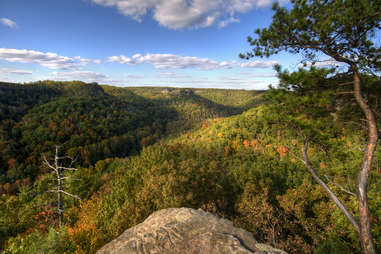 Red River Gorge, KY
Distance from Louisville: 140 miles east; 2.5-hour drive.
Why it made our list: 1) pizza 2) contraband beer (check the "pro tip"), and 3) rock-climbing. Could you plan a more manly weekend getaway than that? The Red River Gorge is a canyon system located on the Red River. This intricate canyon system features an abundance of high sandstone cliffs, rock shelters, waterfalls, and natural bridges -- making it ideal for hiking, climbing, and -- let's be real -- Instagram photos #onewithnature. Food-wise, all you really need is Miguel's Pizza, the Red River Gorge go-to.
Pro tip: Technically, Powell County, where Red River Gorge located, is a dry county, but you can get your fix from the C&S Carry Out's "Beer Trailer," located about 10 miles out of the gorge and complete with a decent selection of domestic and imported beers.
Cave City, KY
Distance from Louisville: 85 miles south; 1.5-hour drive.
Why it made our list: You can stay in an effing wigwam village. Wigwam Village #2 is one of three remaining villages of the original seven featuring nights in Native American-style teepees (or at least some guy's interpretation of them from the '30s). If that's not quirky enough, Funtown Mountain is opening this summer. Funtown Mountain -- originally Guntown mountain -- is conceptualized as a "carnival amusement park" coming to Cave City, Kentucky; this 30-acre tract will be "preserved and re-imagined as an epic playground of wonder, imagination, and dreams."
Pro tip: For an extra dose of trippy, consider paying a visit to the dinosaurs at Dinosaur World -- a park featuring 150 life-size dinosaurs -- or Big Mike's Mystery House, a funhouse/rock shop and tacky knick knack store.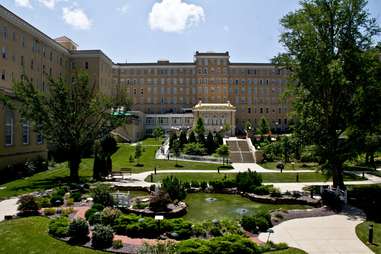 French Lick, IN
Distance from Louisville: 60 miles northwest; 1.5-hour drive
Why it made our list: Don't let its small size fool you (at the last census French Lick's population came in at under 2,000), French Lick is packed with the kind of stuff you could do at home, but wouldn't spend the money to do at home -- skiing, jet-skiing, indoor karting, ATV tours -- and stuff that is totally unique to the area, like the French Lick Resort and casino, which is totally where you are going to stay when you visit. Established in 1841, the gorgeous hotel blends history and modern amenities.
Pro tip: Get your jagerschnitzel on at the German Cafe, located within walking distance of the resort.
Cumberland Falls State Park, KY
Distance from Louisville: 178 miles southeast; three-hour drive
Why it made our list: Because Cumberland Falls is a great substitute for a nine-hour bus ride to Niagara Falls. No, really. Often times called "Little Niagara" or the "Niagara of the South," Cumberland Falls is one of the prettiest places in the state. Check out the cabins available within the state park for overnight trips.
Pro tip: Under a full moon on clear nights, an elusive lunar rainbow or "moonbow" is sometimes formed by the mist emanating from the falls.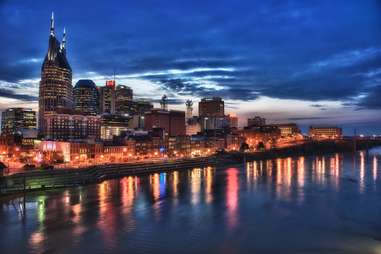 Nashville, TN
Distance from Louisville: 195 miles south; three-hour drive
Why it made our list: Because in just three hours you can be in Music City for a trip complete with food, booze, and country music. If it were up to us, we'd tell you to plan your trip around the XL Ramen Festival -- a celebration of ramen and craft beer from a cast of chefs from all over the country -- which takes place in April, or the Music City Hot Chicken Festival on July 4th.
Pro tip: Check out Thrillist Nashville. Duh.
Sign up here for our daily Louisville email and be the first to get all the food/drink/fun in town.