Hey, where did you go to high school? We're going to go ahead and guess that it was that place where everyone defiantly told you that they were "totally getting out of Louisville when I graduate," and are now still in Louisville, despite many opportunities to leave because, let's face it, this town is actually kind of amazing. If you ever do find yourself skipping town (because of a job/the Grim Reaper/you're a tourist), here are the things you need to check off before you do...
Recommended Video
France's Fête des Lumières Is a Light Festival Unlike Anything You've Ever Seen
1. Really do the Derby right, at least once
Lots of locals never do the Derby, and yes, there are tons of tourists. But how stupid will you feel if you leave this town and have to tell people you lived in Louisville and never did the Derby right? Buy the seersucker, buy the hat, buy the crazy-expensive Lily cocktail and place a bet. 
 
2. Visit the St. James Court Art Fair
This giant art fair held in and around St. James Court attracts thousands of people and hundreds of unique vendors each year. Definitely not one to miss.
 
3. Stagger through the Bambi Walk
Bardstown Rd and the Highlands is about more than just the bars, but if you want to really familiarize yourself with the bars, start at Bambi Bar and make your way down the corridor, drinking at each establishment and ending your walk, ahem, stagger, at Phoenix Hill Tavern.
4. Do the full Thunder Over Louisville day at the Waterfront
No chickening out on this one; arrive at the Waterfront in time to score a prime spot, catch the whole air show, and see all the fireworks, including the finale. Traffic schmaffic. 
 
5. Support local artists at the Flea Off Market
Flea Off is great way to give your dollars and support to local artisans, and a good excuse to explore NuLu on a weekend morning and afternoon.
6. Get scared at Waverly Hills
Waverly is supposed to be super haunted. Judge for yourself on a tour or spend the night. You won't be sorry... actually you might be sorry. You might be very, very sorry. 
 
7. Eat a Hot Brown at the Brown Hotel
It just has to be done.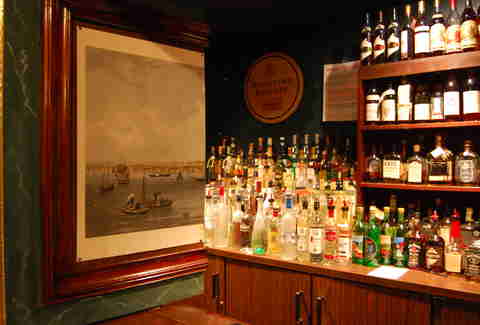 8. Drink a Seelbach at the Seelbach
The Seelbach is another Downtown institution with tons of history (check out the Al Capone room!) and a classic cocktail, the Seelbach, named for the hotel. 
 
9. Eat (and drink!) local. Seriously.
There are too many good restaurants, food trucks, bars, and food stands to name individually, so you'll have to fill out your own Louisville culinary bucket list by yourself.
10. Get your bourbon on with a distillery tour
The Evan Williams Bourbon Experience Downtown is a good place to start your bourbon education. 
 
11. Take in the art galleries
21c, Local Speed, Revelry Boutique Gallery, and the Tim Faulkner Gallery, to name a few, are great spaces to see art in Louisville.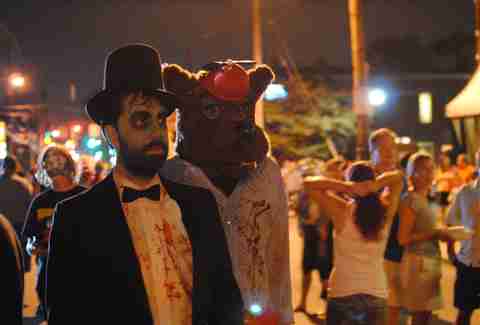 12. Stalk through the Louisville Zombie Walk
Get together a group costume and enjoy the insanity. 
 
13. Hop on a Trolley Hop
Several trolley hops run year-round in The 'Ville through popular neighborhoods like Frankfort Avenue, NuLu, South Fourth, and the Highlands on different weekends each month! 
 
14. Visit the local museums and centers
The Louisville Slugger Museum, the Frazier Arms Museum, the Kentucky Science Center, the Muhammad Ali Center, and the Center for African American Heritage are all excellent places to educate yourself about some of the things and people that make Louisville so special. 
 
15. Ride roller coasters at Kentucky Kingdom
Roller coasters not your thing? Waterslides at Hurricane Bay will do as an acceptable substitute.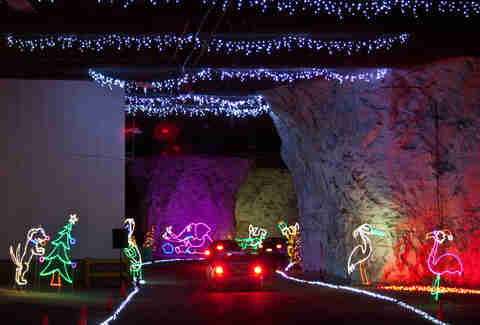 16. Visit the Louisville Mega Cavern
See its epic Christmas lights show, or zip line through. 
 
17. See live, local musicians at a live, local venue
Musicians thrive in our city (JaLin Roze, My Morning Jacket, and Twin Limb to name a few notables) and local venues big and small like Headliners, The Rudyard Kipling, Zanzabar, O'Shea's, and Hideaway Saloon (to name a few more notables) support them.
18. Walk or run the Big Four Bridge
The bridge gets crowded in nice weather, but the view is worth it. 
 
19. Ride the Louisville Loop
Also, explore all the amazing parks in the area, like Cherokee, Seneca, and The Parklands. 
 
20. Visit Cave Hill Cemetery
Be respectful while strolling through and checking out the notable monuments and famous graves (Colonel Sanders is buried there!).
21. Kill it at Forecastle
Do the whole festival at least once, see all the musicians you can, and don't forget your sunscreen. 
 
22. People-watch at the Kentucky State Fair
Don't forget to eat some deep-fried Derby Pie© while you're there.
23. Cruise on the Belle of Louisville
Travel back in time on the Belle and enjoy the view of the Ohio. Just don't dip your toes in. 
 
24. Attend at least one Louisville festival or tasting event
Louisville loves events like the Taste of Louisville, Bardstown Road Aglow, BeerFest, GonzoFest, SWIG, Best of Louisville, Arcade Expo, NuLuFest, and so many more. 
 
25. Lay out at Waterfront Wednesday
Don't forget your blanket and your cash for some funnel cake. 
 
26. Explore Old Louisville's Victorian District
Be respectful of the people who live there and don't trample their lawns.
27. Attend a Bats game
Take yourself out to the ballgame for some good, old-fashioned American fun. 
 
28. Tailgate at Cardinal Stadium
GO CARDS! But don't tailgate too long or hard and miss the game. 
 
29. Get season tickets for Actors Theatre of Louisville
It is completely worth the money.
30. Attend a basketball game at the KFC Yum! Center
In fact, if you haven't checked this one off already, do you even really live here?!
 
31. Bonus points: hit all the big Derby Festival events at least once
Great Balloon Glow. The KDF Marathon. The Pegasus Parade. The events that make up the Kentucky Derby Festival could all be entries on the bucket list on their own. 
 
32. Extra bonus points: explore Southern Indiana
Pick apples at Joe Huber's Family Farm. Shop in historic Downtown New Albany. See a movie at the Georgetown Drive-In. Eat in Jeffersonville after the stroll over the Big Four.
Sign up here for our daily Louisville email and be the first to get all the food/drink/fun in town.