12 Things You Didn't Know About the Kentucky Derby
Apart from when a streaker hits the Super Bowl, it's the most exciting two minutes in sports -- but the Kentucky Derby has lasted for over 140 years, and during that time a lot of weird and interesting stuff has happened. Here are a few things you probably didn't know...
1. The youngest jockey to win the Derby was only 15
Alonzo Clayton rode Azra into horsey history in 1892.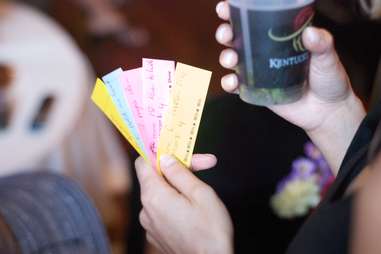 2. Over $200 million is pumped into the local economy just during Derby weekend
And that doesn't include the weeks of parties and events leading up to it.

3. Over 140 years, more than 100 winning horses were actually born in Kentucky
There's definitely something in the water here.

4. Since '90, most Derby horses can trace their bloodlines back to one sire: Bonnie Scotland
And ALL of them can trace them back to the Belle Meade Plantation in Tennessee.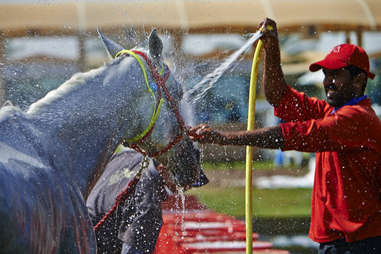 5. 1959 was the warmest day, with a high of 94
The average high is 72 and the average low is 52. In 1954, it got down to 36 degrees. In 1989, there was sleet.

6. The trophy weighs 3.5lbs and is 14-karat gold
Nicolas Cage has never knowingly attempted to save it.
7. Churchill Downs sells 425,000 cans of beer during this weekend, and 120,000 mint juleps...
And at least one of them costs $1k and has ice cubes made from Tasmanian rain water.
8. The winner's bouquet at "The Run for the Roses" is made from 60 long-stemmed roses
... and probably costs more than the 3.5lb, 14-karat-gold trophy.

9. The first three winning trainers, in the 1870s, were African-American men
The first was a former slave.
10. In 1902, Churchill Downs held the state fair...
... in which 75k people watched two freight trains deliberately crash into one another for their amusement. Seriously.

11. In 1892, only three horses competed
None of them enjoyed mint juleps.

12. Over 2,000 media credentials are issued annually
That's 4% of the entire capacity of the stands.
Sign up here for our daily Louisville email and be the first to get all the food/drink/fun in town.